Meacham: A Victory for Liberty in California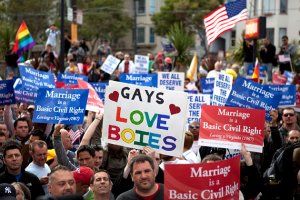 At the conclusion of the arguments in Perry v. Schwarzenegger in June—at issue was the constitutionality of the ban on gay marriage that California voters passed in 2008—the leading attorney for the state found himself in a bit of verbal jousting with the judge, Vaughn R. Walker. "The marital relationship is fundamental to the existence and survival of the race," said the lawyer, Charles J. Cooper. "Without the marital relationship, your honor, society would come to an end." As described by The New York Times, Walker pressed Cooper on this, noting, according to the Times, that "there are no rules prohibiting marriage between people who cannot have children."
It was not difficult after that to anticipate the ruling that was handed down last Wednesday. In his decision, Walker, a Reagan appointee, wrote: "Proposition 8 was premised on the belief that same-sex couples simply are not as good as opposite-sex couples. Whether that belief is based on moral disapproval of homosexuality, animus toward gays and lesbians or simply a belief that a relationship between a man and a woman is inherently better than a relationship between two men or two women, this belief is not a proper basis on which to legislate…Proposition 8 fails to advance any rational basis in singling out gay men and lesbians for denial of a marriage license. Indeed, the evidence shows Proposition 8 does nothing more than enshrine in the California Constitution the notion that opposite-sex couples are superior to same-sex couples."
At stake are our era's definitions of humanity and of liberty. There are no more fundamental questions, really, and while the California case focused on largely secular arguments about equal protection, the religious case for gay marriage is a strong one. Broadly put, the Western monotheistic traditions hold that human beings are made in the likeness and image of God, and are thus all equal in the sight of the Lord. (In his The Tenure of Kings and Magistrates, written in 1649, John Milton put the matter bluntly: "No man…can be so stupid to deny that all men naturally were born free, being the image and resemblance of God himself.") If a person is homosexual by nature—that is, if one's sexuality is as intrinsic a part of one's identity as gender or skin color—then society can no more deny a gay person access to the secular rights and religious sacraments because of his homosexuality than it can reinstate Jim Crow.
I have made this argument before (and Ted Olson, who, with David Boies, successfully argued the Proposition 8 case, wrote a cover story for us on the issue earlier this year). The reaction from the right has always been comfortably predictable, and no doubt will be again. The problem for those who assert biblical authority in support of traditional definitions of marriage is that one could, with equal validity, assert that the lending of money or certain kinds of haircuts are forbidden by God, or that slavery and the subjugation of women are authorized by the Lord. Scripture is not inerrant; believers are called to interpret biblical texts in light of tradition and reason. For now the debate is about civil marriage, but much of the opposition to opening the institution to gays and lesbians comes from those who profess a faith of charity. In the fullness of time, I suspect that bigotry against homosexuals will seem as repugnant as racial prejudice does today. Or so one hopes.
Last week, The Washington Post Company announced the sale of NEWSWEEK to Sidney Harman, the noted businessman and philanthropist. The transaction ends a half century of ownership by the Post Company and the Graham family, and we will always be grateful to them. Earlier this summer I decided that the change in ownership offered a natural occasion for me to move on after 15 years with NEWSWEEK and the Post Company. I wish Mr. Harman and his team all the success in the world, and as I have said to him, no one will be rooting for him and for the institution more than I will.
He believes that NEWSWEEK is an important force, and he will be a good steward of the magazine and of its values. Though no one can minimize the challenges facing magazines in particular and the news business in general, it is time now for a new owner and a new editor to take NEWSWEEK into its next great chapter. After a brief transition period, I will happily take my place among NEWSWEEK's enthusiastic readers.
Jon Meacham is editor of NEWSWEEK and author of American Lion: Andrew Jackson in the White House and American Gospel: God, the Founding Fathers, and the Making of a Nation.