Meadows to Testify Before Jan. 6 Committee as Other Trump Allies Cite Executive Privilege
While other Donald Trump allies have refused to appear before the January 6 investigation committee, former White House chief of staff Mark Meadows has agreed to do so for a deposition before the House panel, committee Chairman Bennie Thompson said Tuesday.
"Mr. Meadows has been engaging with the Select Committee through his attorney. He has produced records to the committee and will soon appear for an initial deposition," Thompson said in a statement. "The Select Committee expects all witnesss, including Mr. Meadows, to provide all information requested and that the Select Committee is lawfully entitled to receive."
Thompson, a Mississippi Democrat, added, "The committee will continue to assess his degree of compliance with our subpoena after the deposition."
Meadows was subpoenaed by the committee in September for records and testimony related to the attack on the U.S. Capitol last January.
After Meadows failed to show up for the original deposition, the committee was considering whether it would refer the former chief of staff to the Justice Department for criminal contempt charges.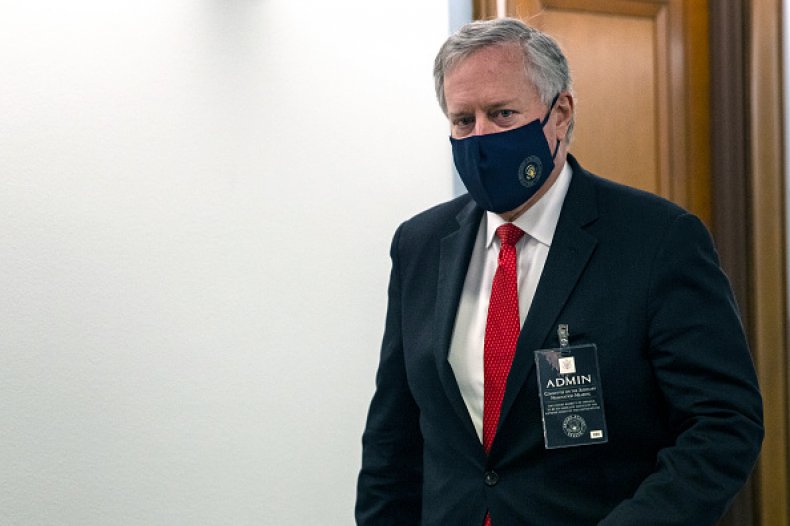 Other notable figures who have defied the committee's subpoenas are citing executive privilege. Meadows, who was serving in the White House on January 6, has a more plausible case for citing that protection, unlike former Trump adviser Steve Bannon, who was not.
However, Tuesday's announcement indicates that Meadows may comply with the panel and avoid further action from its members, at least for the time being.
A day earlier, the committee announced it would vote Wednesday to recommend to the full House that former Justice Department official Jeffrey Clark should be held in contempt of Congress for defying a subpoena.
Bannon, who was the first to face criminal charges from the House, is awaiting trial for a misdemeanor criminal contempt charge.
The announcement that Meadows will provide records to the committee comes as a federal appeals court heard arguments on Tuesday morning about whether Trump can block access to more than 760 pages of documents from his administration under executive privilege.
A judge had previously rejected Trump's argument and ruled that President Joe Biden's waiver of executive privilege overruled his predecessor.
Democratic Representative Pete Aguilar, who serves on the January 6 committee, previously told CNN that Meadows could have a "minor claim" to executive privilege. But he noted that the panel also has questions for Meadows that are unrelated to the direct discussions he had with Trump and would not be subject to that privilege.
"His conversations about stopping a free and fair election, about criticizing and stopping the counting of electoral votes, about his coordination with campaign officials on private devices that were not turned over, all of those issues are not privilege-worthy and he has some explaining to do," Aguilar said.
Update 11/30/21, 1:15 p.m. ET: This story has been updated with more background and information.