'Mean Girls' Day 2019: Where Are the Cast 15 Years After Lindsay Lohan Movie Debuted
It was perhaps the most important question anyone had ever asked Cady Heron in the blockbuster Mean Girls. On October 3, Aaron Samuels, the protagonist's teen crush, asked her what day it was. She promptly replied, "It's October 3."
Although the film debuted in April 2004, the date has since become somewhat of a national holiday with fans all across the globe celebrating Mean Girls Day by sharing clips, gifs and memes of the cute exchange between Lindsay Lohan and Jonathan Bennett's characters on social media every year on October 3. Even Lohan has participated in the fun. She posted a special reminder of the date with her nearly 8 million Instagram followers on Thursday.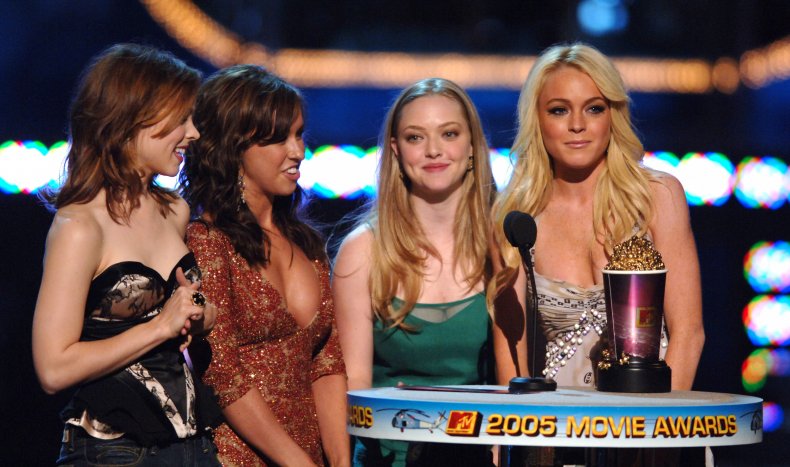 A lot has changed for Lohan since the film debuted 15 years ago and skyrocketed her and many more of her castmates to superstardom. For starters, the 33-year-old rarely appears on the silver screen now, and she no longer lives in the United States. Many of her co-stars are still stateside, though, and many of them are still maintaining successful careers as actors.
Newsweek subscription offers >
See what the Mean Girls have been up to since the movie's release below.
Newsweek subscription offers >
Lindsay Lohan
Although her Mean Girls role as Cady led Lohan to star in several more films, she became even more known for several years for her bad behavior and multiple arrests. The actress and singer has since cleaned up her act and has been staying out of the press while living abroad in places like Dubai, London and Greece, where she briefly owned a beach club.
Johnathan Bennett
The actor still appears in roles on shows like Veronica Mars and All My Children. He also competed in Season 19 of ABC's Dancing With the Stars and made it to week six.
Rachel McAdams
McAdams stared as the most popular girl in school, Cady's nemesis and leader of The Plastics. Since then, the actor has landed roles in films like The Notebook and Wedding Crashers as well as appeared in critically acclaimed TV shows, including True Detective and Spotlight.
Lacy Chabert
As fellow Plastics member Gretchen Wieners, Chabert was most known for being Regina's best friend and the daughter of the Toaster Strudel creator. Following the massive success of Mean Girls, Chabert returned to her TV roots and kept out of the spotlight by doing voiceover work. She married David Nehdar in 2013 and welcomed her only child, a daughter named Julia, in 2016.
Amanda Seyfried
Seyfried also starred as one of The Plastics—Karen Smith—in Mean Girls, and was known for having ESPN and boobs that could tell when it was raining. Nowadays, Seyfried is most known for starring in blockbusters like Mamma Mia!, Les Misérables and Big Love. She is also a mom to two-year-old Nina, whom she shares with her husband, Thomas Sadoski.
Tina Fey
The actor was already a Hollywood darling thanks to her time as a Saturday Night Live cast member long before she played Ms. Norbury in Mean Girls. After the film, Fey's career and credits only continued to advance with her creating and producing the awarding-winning sitcom 30 Rock on top of dozens of roles in various other films like Baby Mama, Date Night and Whiskey Tango Foxtrot among others.
Lizzy Caplan
Caplan, who starred as Janis Ian in Mean Girls, continued to star in feature films like Now You See Me 2, but it's television where Caplan has really thrived, appearing in shows like True Blood and Masters of Sex.
Daniel Franzese
While he was known as the "too gay to function" Damian in Mean Girls, Franzese has managed to function quite well in his real life. The actor has since appeared in a number of films including Looking, Recovery Road and Conviction.
'Mean Girls' Day 2019: Where Are the Cast 15 Years After Lindsay Lohan Movie Debuted | Culture