50 Surprisingly Fetch Facts About 'Mean Girls'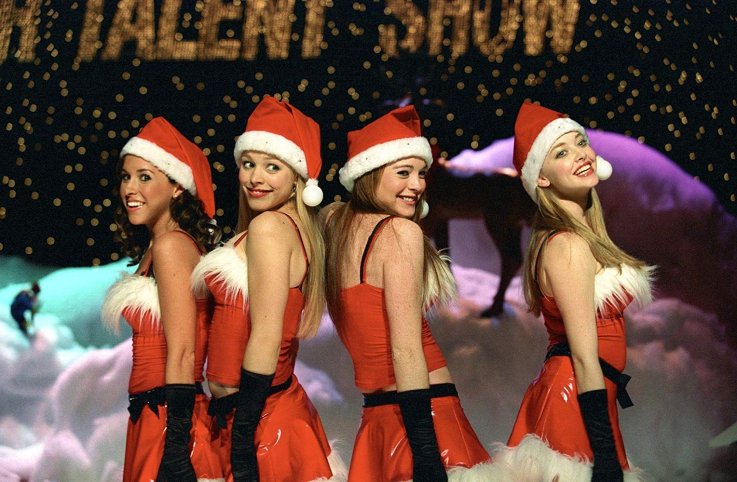 When Mean Girls hit theaters in 2004, few realized it would become a pop culture phenomenon that continues to entrance movielovers today. Returning to the U.S. after more than decade being homeschooled in Africa, 16-year-old Cady Heron (Lindsay Lohan), tries to fit in at her new school but runs afoul of the Plastics, an infamous girl clique led by queen bee Regina George (Rachel McAdams).
Lindsay Lohan was already a well-known performer before appearing in the movie, thanks to earlier films like The Parent Trap and Freaky Friday. But Mean Girls served as a bridge for her from child star to adult actress. Tina Fey made her screenwriting debut with Mean Girls, tapping fellow SNL alums Tim Meadows, Ana Gasteyer and Amy Poehler to co-star, and mining her own experience at Upper Darby High School in suburban Philadelphia for characters and incidents. (Fey also relied on Rosalind Wilson's non-fiction book, Queen Bees and Wannabes.)
Mean Girls was a critical and box office hit, grossing nearly $130 million worldwide during its theatrical run. It also marked the first real film roles for future stars Amanda Seyfried (Mamma Mia!, Big Love), Rachel McAdams (The Notebook, Spotlight) and Lizzy Caplan (Masters of Sex, Cloverfield).
Even now, years after Cady and the Plastics graduated from North Shore High, the film's catchphrases, characters and themes continues to impact on our culture: A sequel, Mean Girls 2, aired on ABC Family in 2011. (Only Meadows, Principal Duvall in the original, returned.)
In 2013, the Obama White House tweeted a photo of the First Family's dog, Bo, in the Oval Office with a tennis ball. The accompanying caption read: "Bo, stop trying to make fetch happen."
More recently, Colorado College offered a course about Mean Girls through its comparative literature department. Examining "the motives behind why women seek authority and the actions they are willing to take in order to hold onto it," the class compared the movie to classic texts like Machiavelli's The Prince and Greek mythology.
In October 2017, a Mean Girls musical premiered the National Theatre in Washington, D.C., before moving to Broadway in April 2018. It received 12 Tony nominations, the most for any show that year, but didn't take any home.
And each October 3 without fail, fans celebrate "Mean Girls Day," commemorating the scene when dreamy Aaron Samuels (Jonathan Bennett) asks Cady what day it is. "On October 3rd, he asked me what day it was," Cady says in voiceover, before telling him, "It's October 3rd."
Are you a true Mean Girls fan? Check out our slideshow of totally grool facts about the film and find out.