Teen Who Refuses To Acknowledge 'Existence' of 4-Year-Old Cousin Is Slammed
A post about a teenager who is allegedly "mean" to his 4-year-old cousin and "doesn't acknowledge her existence" has sparked debate on Reddit, where it received 9,700 upvotes at the time of writing.
In a post shared on Reddit's Am I The A****** (AITA) subforum, user Spirited_Spare1177 said their 16-year-old brother Brandon "decided he is childfree," which "basically just means he doesn't want to be around our 4 years old little cousin."
According to the user, "Brandon will 100 percent ignore her [the cousin] and if she keeps trying to talk to him, he will stand up and go to another room."
The user told their brother that "he can't be childfree when he is a child himself and he is being mean to our cousin."
However, Kyle Kunkel, a licensed clinical professional counselor (LCPC), told Newsweek that the teen in the latest post has "the right to choose his response to his cousin," and this is actually "the safest, most appropriate response" for him.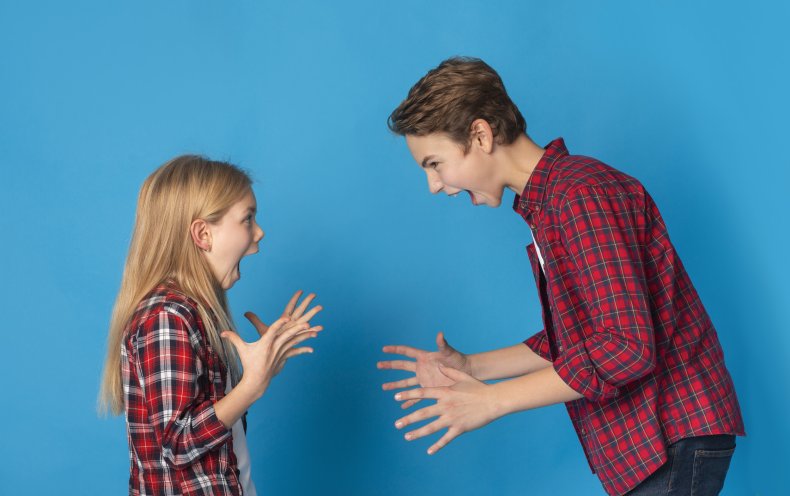 According to a March 2022 article published by the American Psychological Association (APA), eight in 10 children in the U.S. are growing up with a sibling.
Research by Susan McHale, a professor of human development and family studies at Penn State University, and her colleagues has found that kids spend more time outside school with their siblings than with anyone else (including parents and friends) and over a lifetime, siblings are often the people with whom a person will share the most years, according to the APA.
A 2010 study of sibling conflicts published in the peer-reviewed journal Child Development found that: "Conflicts overall were more frequent than intense and more likely to involve the invasion of the personal domain than conflicts involving equality and fairness, especially by early adolescent older siblings."
The user in the latest Reddit post said Brandon allegedly "never liked our little cousin, and recently he decided that that means he doesn't have to talk to her or acknowledge her existence at all."
The poster said the cousin's parents "don't really care" about what's happening and are usually busy talking to each other during their family gatherings every other weekend.
The user said Brandon recently "stood up and went away" when their cousin showed him her drawings. "She started crying and I went after Brandon to call him out on it," they wrote.
According to the poster, Brandon replied "he doesn't have to engage with children if he doesn't want to. He is not rude or mean to her, so he is not doing anything wrong."
The user said Brandon later "acted like I committed the most atrocious crime for 'not believing he knows he will never want children' and has been sending me links about people knowing really young that they don't want children."
"But that's not what I meant at all, I was calling him out on being mean to a 4 years old little girl just because and I don't care if he will ever have children or not. AITA?," the poster asked.
The Teenager Has the Right To Choose How He Wants To Respond
Kunkel is an LCPC at Thriveworks, a mental health company offering therapy and psychiatry services in-person and online.
In the case of the latest Reddit post, the LCPC said: "It is solely the responsibility of the 4-year-old's parents to shape the space their child is in and regulate how their child is interacting with others and how others interact with their child."
Kunkel said there are "strong societal views" on what "child free" looks like. However, "there is no hard and fast rule that 'being a good person' means compromising oneself for the benefit of others," she added.
The LCPC said the brother has the right to choose how he wants to respond to his cousin. Of all the responses the poster's brother could have given, "this is the safest, most appropriate response that fits into his general expression of not being in the role of a parent or guardian to entertain a child that is not his."
There's a 'Deeper' Issue Here
Kunkel said it sounds like the teenager is struggling with his own decision, or ability to express his decision, of "being childfree in a way they feel they are being heard."
The LCPC said: "If someone resorts to having to find research articles to defend their chosen way of life to their loved ones, there is a deeper communication and acceptance issue being developed.
"Being in the developmental space of identity vs role confusion and trying to understand personal lifelong desires along with societal pressures is a conflictual space for anyone, let alone a young person at the age of 16, to be in."
Kunkel advised that allowing for open communication, empathy as well as "the ability for one to change one's mind or explore different behavioral techniques to meet one's needs—as long as it is not at the expense of others—will foster healthy individual development as well as a healthier family dynamic."
You Can Decide To Be 'Childfree' and Still Be Nice to Kids
Several users on Reddit shared messages of support for the original poster.
In a comment that got 21,600 upvotes, user TheWardenDemonreach said: "NTA [not the a******], deciding you never want to have children is a completely different thing to not acknowledging children in general. He can decide he doesn't want to have kids and still be a nice person to other kids, especially his own family."
In a comment that got 9,300 upvotes, user Electric-Fun said: "Yeah, I don't think Brandon knows what the term 'child-free' means."
User itsrainingmelancholy said: "Exactly what I was gonna say... 'childfree' isn't a magic word that means you have the Black Mirror [television series] people blocking feature [seen in the show] applied to children," in a comment that got 2,400 upvotes.
CuteBunny94 said: "He thinks 'child free' means living in a world free of children, apparently. [crying laughing emoji]," in a comment that got 1,200 upvotes.
JazzyLizard27 wrote: "He's really misinterpreting what we mean. Childfree doesn't mean that you can be rude to kids that are in your life."
AlwaysandForeverRed agreed, saying: "NTA. There is a difference between not wanting children and being mean to them...hopefully he grows up soon."
Newsweek has contacted the original poster via the Reddit messaging system.
Do you have a similar family dilemma? Let us know via life@newsweek.com. We can ask experts for advice, and your story could be featured on Newsweek.