The Meaning of Good Friday Explained: Everything You Need To Know About the Holy Day In 2020
The very commercialized Easter is just around the corner, but before bringing out the bunny day décor, Christians have a heavier holiday to observe. Good Friday, which comes the Friday before Easter Sunday, has a depressing, yet very revered history.
Good Friday, according to Christian belief, marks the day that Jesus—who is considered the son of God, or God manifested in human form—was crucified and died a human death.
The day was full of suffering and pain. Jesus carried his own cross to his crucifixion with a crown of thorns on his head, which is portrayed in many religious images of the figure. So why is such a dark day called "Good"?
In the Christian faith, Jesus died on the cross as the ultimate act to forgive humanity of its sins and open the gates of heaven. This implies that without Jesus' self-sacrifice, an afterlife for the natural-born sinners of the earth would not exist.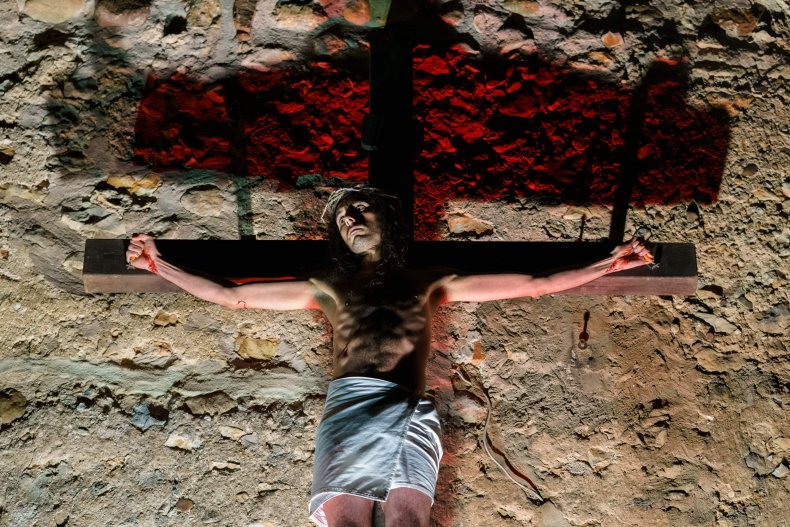 It's explained in the Bible (Romans 6:5): "For if we have been united with him in a death like his, we will certainly also be united with him in a resurrection like his."
The actual source of the term "Good Friday" name has been debated for some time. One possibility is that it comes from an interpretation of "God's Friday," according to newadvent.org. This is the version maintained in the Catholic Encyclopedia.
The Baltimore Catechism (a book that is no longer widely in use) explains that Good Friday was considered "good" because Jesus "showed His great love for man, and purchased for him every blessing," according to BBC.
While on one level Good Friday represents a depressing moment in Christian history, it is also a day of remembrance and gratitude for the love Jesus showed to his followers—and his willingness to suffer an excruciating, human death in order to save humanity from eternal suffering. That means it's "good" for Christians, who have been blessed with eternal life because of Jesus' selflessness.
The rest of the weekend is a bit more upbeat. Holy Saturday is observed as another day of remembrance and waiting for the return of Jesus, Easter Sunday is the ultimate celebration which recounts Jesus rising from the dead. It is regarded by some as the holiest day of the Christian year and altogether, this is one of the holiest weekends in the Christian faith because it focuses on Jesus' sacrifice and the celebration of eternal life, which are at the core of Christianity's beliefs.