Measles Deaths Break 140,000 Worldwide Last Year With More Expected in 2019, Despite Being a 'Wholly Preventable Disease'
Over 140,000 people died of the measles in 2018—most under the age of five—and health experts warn that 2019 might produce even worse results, with reported cases rising in every country on the planet.
In spite of the existence of effective vaccines, Albania, the Czech Republic and Greece lost their measles-free status last year. This year, the United Kingdom joined them.
In 2019, measles outbreaks occurred in the Democratic Republic of Congo, Madagascar and Ukraine. The worst-hit countries in 2018 were the Democratic Republic of Congo, Liberia, Madagascar, Somalia and Ukraine.
An outbreak of measles in Samoa is ongoing; a state of emergency has been called, public gatherings have been banned and vaccination made mandatory. So far, 62 people have died of the disease, the majority of them young children. There are currently 172 patients suffering from measles in local hospitals.
The government has instructed unvaccinated families to post red flags outside their door, to alert one of 150 mobile medical teams to their presence.
In America, the highest number of cases in 25 years has been reported, with 353,236 cases noted countrywide.
"We've had a general trajectory downwards for deaths, which is great. Everyone involved in vaccination programs should be very proud. But we've been stagnating in numbers of deaths for about the past seven years, and what's really concerning is from last year we've gone up, and it looks like we've gone backwards," Dr. Minal Patel told the BBC.
According to the World Health Organization's (WHO) figures, measles cases have gone up by 18,000 cases between 2017 and 2018. The WHO expects those numbers to go up, as vaccination rates begin to stall worldwide.
The graphic below, provided by Statista, illustrates estimated global deaths due to measles between 2010 and 2018.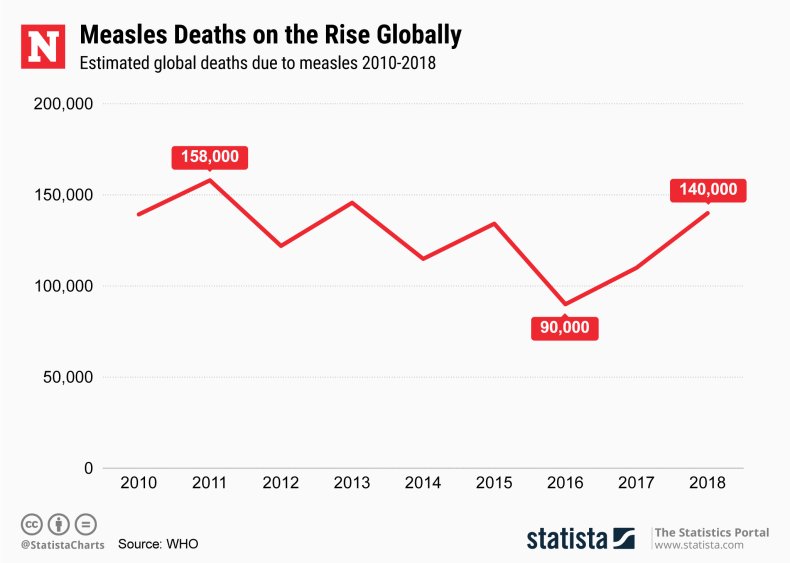 To receive full immunization against the measles, two doses of vaccine are required. Only 86 percent of children receive the first vaccine and 69 percent the last dose, according to WHO.
"The fact that any child dies from a vaccine-preventable disease like measles is frankly an outrage and a collective failure to protect the world's most vulnerable children," said Dr. Tedros Ghebreyesus, director-general of WHO.
Measles are a highly contagious virus that spreads through coughing, sneezing or direct contact. Symptoms include sore eyes, high fever, a red body rash and a cough. While in its mildest state, measles last for seven to ten days of misery, complications may set in, including pneumonia, seizures, ear infections, diarrhea and brain inflammation. More severe symptoms may be experienced by those with compromised immune systems, the very young and older adults.
"The unacceptable number of children killed last year by a wholly preventable disease is proof that measles anywhere is a threat to children everywhere," Henrietta Fore, Unicef's executive director, said.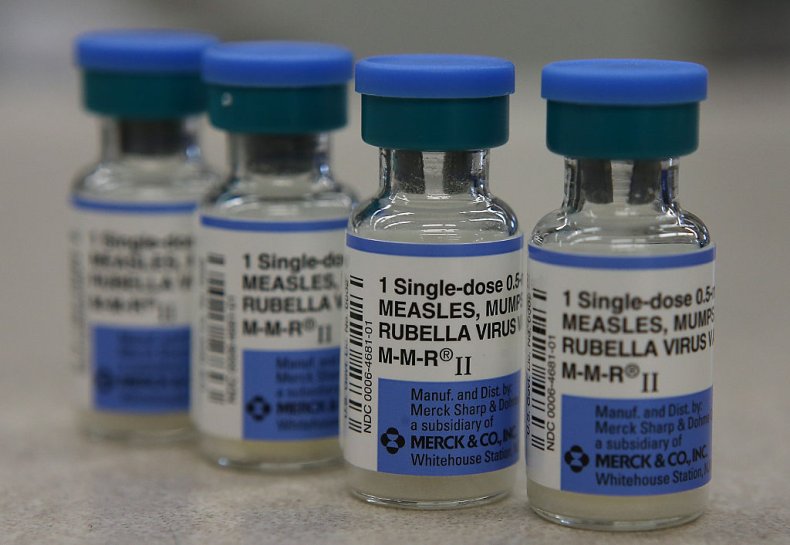 This article was updated to include an infographic.