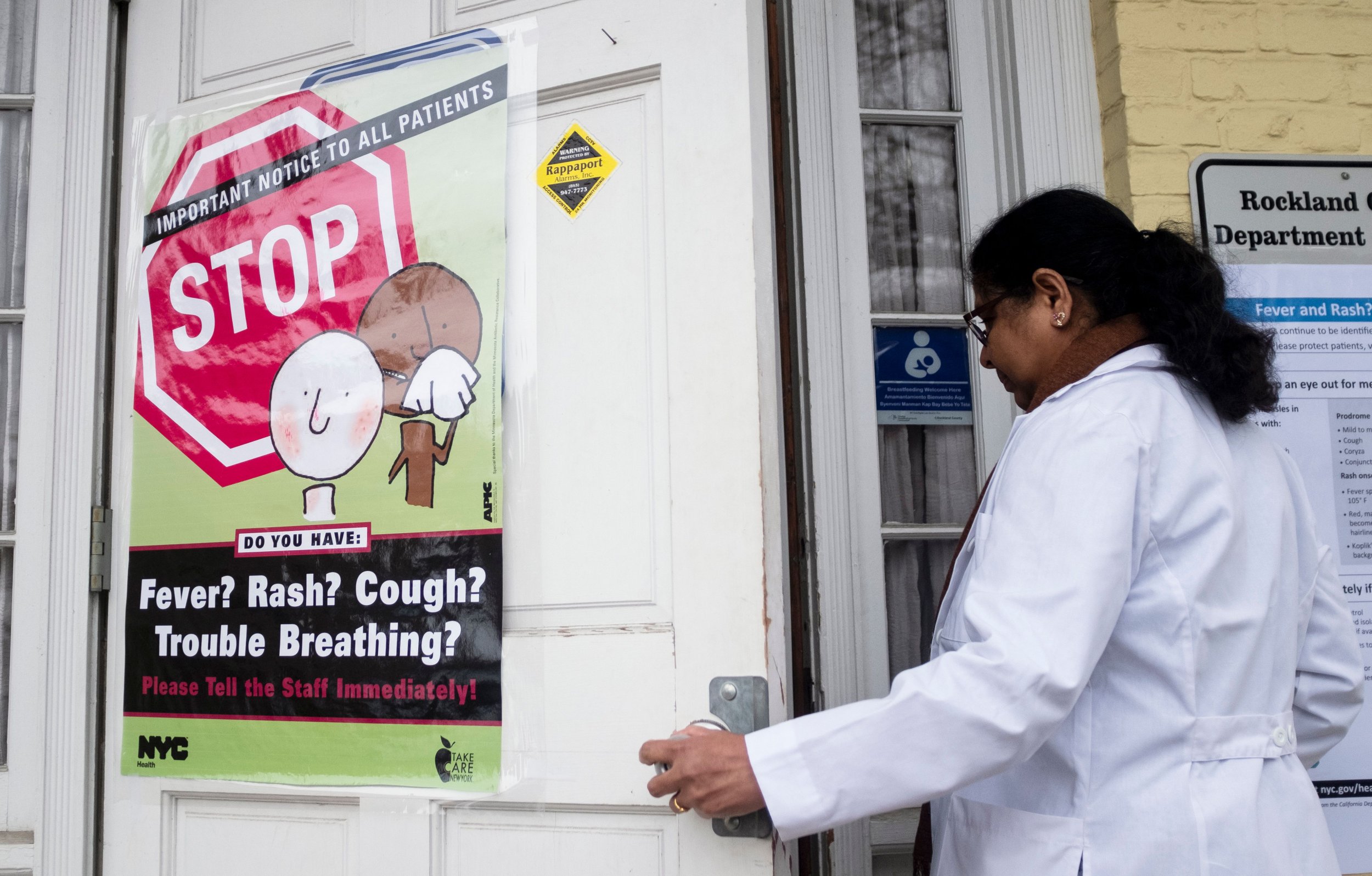 With the number of measles cases approaching a modern high in the United States, many are wondering whether or not the measles shots they got as a kid will have kept them immune in the decades since. Not only can immunity stop people from coming down with the potentially deadly disease it can also help prevent the disease from spreading.
In 2019 there have been 626 reported cases of the measles, the Centers for Disease Control and Prevention announced Monday. Those cases have been confirmed in 22 states and the CDC said that in just a few weeks the number of cases "will likely surpass 2014 levels." Those levels are the highest the country has seen since measles was eliminated in 2000.
Most Americans who have contracted measles were unvaccinated and not immune to the highly contagious disease, according to the CDC. Typically, children are vaccinated at a young age with two doses of the Measles, Mumps, Rubella vaccine to give them immunity to all three diseases.
One dose of the vaccine is 93 percent effective against measles with the effectiveness increasing to 97 percent with a second dose, according to the CDC. The agency recommends that the first dose of the vaccine be given to children between 12 and 15 months of age and the second dose administered when they're aged between four and six years. Children can actually get their second dose earlier, as long as it's a minimum of 28 days after the first dose, Dr. Melissa Stockwell, Associate Professor of Pediatrics at Columbia University Irving Medical Center, told Newsweek.
"CDC considers people who received two doses of measles vaccine as children according to the U.S. vaccination schedule protected for life, and they do not ever need a booster dose," according to the CDC. Initial doses given prior to 12 months of age aren't considered a proper dose and don't count towards immunity.
An adult is considered immune to the measles if they got their vaccination in the above-described time period. Other people who are considered "immune" by the CDC include those who had a laboratory-confirmed case of the measles, those who had a lab test that confirmed they were immune and those born before 1957. There are some people who were vaccinated but might not be fully immune.
"Initially, the U.S. vaccine schedule had only one dose of measles vaccine at 12 months. During the 1980s there were large measles outbreaks and resurgences, and the recommendation to add a second dose at four to six years of age was made in response in 1989," Dr. Johan Bester, vaccine expert with the University of Nevada, Las Vegas, told Newsweek.
Due to the change in recommendations, there are some who only got one dose of the vaccine as children and might not be fully immune or might have experienced a reduction in their immunity. "There is therefore theoretically a small portion of the population vaccinated with only one dose in the period of the '80s-'90s who may still be susceptible to measles," Dr. Bester said.
Anyone who is unsure about their immunity to measles should first check whether they have any documentation about their vaccination records. Many doctors will have records with proof of vaccination or immunity. If that's unavailable, individuals have two options, they can either get vaccinated, or they can get a blood test for antibodies.
But, given that a blood test can require a couple of trips to the doctor and be expensive, another dose of the vaccine may be the simpler solution.
"Sometimes, however, it is easier to just get a dose of the vaccine if you're unsure of your immunity level: the vaccine is cheap, effective, and have negligible adverse effects. There no downsides besides having to get a jab, and you are assured of immunity against a dangerous disease," said Dr. Bester.
Measles is highly contagious and can spread through the air where it can live for up to two hours after an infected person coughed or sneezed. It can also be transmitted on surfaces the infected person has come in contact with. Early symptoms include a fever, cough, runny nose and red watery eyes, according to the CDC. Those symptoms can then progress into white spots in the mouth and a measles rash.
Complications associated with the measles include ear infections and diarrhea and more severe complications like pneumonia or encephalitis are also possible and can be deadly.
"Non-immune adults, or those without documentation of vaccination as children, who are going to be in a setting that poses a high risk for measles transmission, such as students at post-high school education institutions, healthcare personnel and international travelers, will need two doses of MMR vaccine separated by at least 28 days," Dr. Stockwell said.
Uncommon Knowledge
Newsweek is committed to challenging conventional wisdom and finding connections in the search for common ground.
Newsweek is committed to challenging conventional wisdom and finding connections in the search for common ground.
About the writer
Nina was a breaking news reporter. She previously worked at Business Insider, The Boston Globe, and Boston.com.