Measles Outbreak in Los Angeles County: Five New Cases Confirmed As Health Officials Warn of Possible Exposure
Five new cases of measles have been confirmed by Los Angeles County health officials, who have warned of people possibly being exposed at several locations over the past two weeks.
In an advisory, the Los Angeles Department of Public Health said four residents were "exposed to an unimmunized, international visitor who was infectious with measles" in Los Angeles County.
Officials warned there was a possible risk of exposure to measles at a number of locations the individual visited between January 26 and February 1.
The patient visited a CVS Pharmacy on San Vicente Boulevard on January 26, officials said. The Starbucks, Whole Foods, CVS Pharmacy, and Souplantation on San Vicente Boulevard, as well as a Pinkberry on Montana Avenue in Santa Monica, were visited on January 27.
On January 28, locations visited by the confirmed case included three Starbucks locations in Los Angeles, a CVS Pharmacy on San Vicente Boulevard, Andy's Liquor in Inglewood, and Kye's on Montana Avenue.
Nishi Poke and Ramen Bistro on Overland Avenue, Vicente Foods on San Vicente Boulevard, and United Oil 76 Gas Station on Cloverfield Boulevard were visited on January 29.
New China Mongolian Barbecue Restaurant in Inglewood, Red Wing Shoe Store in Torrance, and Shu-Sushi House Unico in Bel Air were visited the following day.
This graphic, provided by Statista, shows the number of measles cases reported in the U.S. between 2010 and 2019.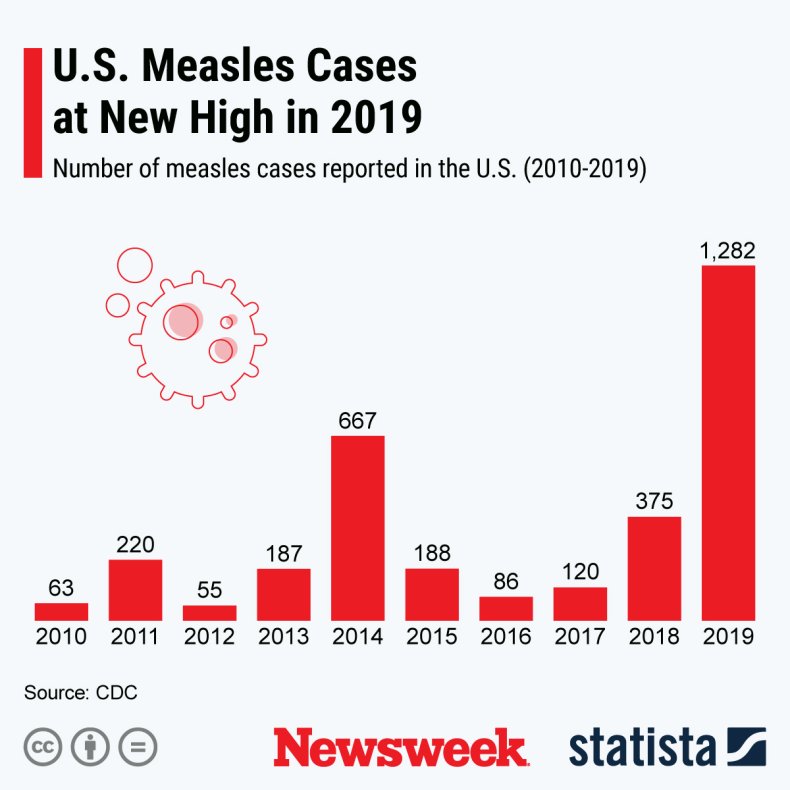 On January 31, the Buffalo Wild Wings in the Howard Hughes Center and Nordstrom and Gelson's in the Westfield Century City mall were visited.
Kreation Organic Café and Acai Nation on San Vicente Boulevard were also identified as locations the patient visited on February 1. See the full list of locations and times visited here.
Health officials said anyone who is not immunized against measles or is unsure of their immunization status who were at the locations identified is at risk of developing measles between 7 and 21 days after exposure.
Anyone who was at the locations at the times listed should review their medical records to determine if they are protected, officials said.
If anyone who is an infant, pregnant, not immunized, or has a weakened immune system was at these locations they should contact their health care provider as soon as possible about potential exposure to the measles virus.
Anyone who was at these locations should monitor themselves for illness with fever and/or an unexplained rash from 7 to 21 days after exposure. If they develop symptoms, they should stay at home and call a healthcare provider immediately.
Los Angeles County health officer Muntu Davis said, "For those who are not protected, measles is a highly contagious and potentially severe disease that initially causes fever, cough, red, watery eyes and, finally, a rash.
"Measles is spread by air and by direct contact even before you know have it. The MMR immunization is a very effective measure to protect yourself and to prevent the unintentional spread of this potentially serious infection to others."
Reports of measles patients traveling through five major airports in December sparked concerns the disease could quickly spread throughout the U.S.
The CDC reported that there have been five cases of measles in five states in the U.S. as of January 31. Last year, there were 1,282 individual cases of measles confirmed in 31 states. Of these, 128 patients were hospitalized and 61 reported having complications, including pneumonia and encephalitis.
This article has been updated with a graphic.