Measles Outbreak Update: Health Officials Warn of Exposure at LAX, Denver Airport
Health officials have warned passengers who passed through Los Angeles International Airport (LAX) and Denver International Airport last Wednesday that they may have been exposed to measles.
The Los Angeles County Department of Public Health said in a statement that three infectious, non-residents with measles travelled through LAX. Visitors to the airport may have come in contact with an infectious person at Terminals 4 and 5 on December 11, between 6:50 a.m. and 12:00 p.m.
In a similar case affecting Denver International Airport, the Tri-County Health Department said three unvaccinated children who were visiting Colorado from another state tested positive for measles after going to a country with an ongoing outbreak.
People who visited Denver International Airport (DEN), Concourse A, train to baggage claim, west baggage claim, and west level 4 passenger pick up areas on Wednesday, December 11 between 1:15 p.m. and 5:45 p.m. may have been exposed.
On Monday, the children were at Children's Hospital Colorado, according to health officials.
Those in the proximity of Children's Hospital Colorado, Anschutz Campus Emergency Department, 13123 E 16th Ave, Aurora, CO 80045 on Thursday, December 12, between 1 p.m. until 7:30 p.m. are also at risk. Health officials said the times are approximate.
"All individuals traveling on the plane with these children or who visited Children's Colorado during this time frame and are believed to be at risk are being contacted directly by public health," Tri-County Health Department said.
The authorities said there is little to no risk to other patients or visitors to the Children's Colorado Emergency Department, and no known current risk at Denver International Airport or LAX. Health officials in both states are investigating who may have been exposed to the respective measles cases.
Anyone at these locations around the stated times may be at risk of developing measles for up to 21 days after exposure, officials said. They are advised to their check immunization and medical records to ensure they are protected against the virus. Unvaccinated individuals and those who have not had measles before may not be immune, and should talk to their healthcare provider about having the measles, mumps and rubella (MMR) vaccine.
They should also tell their healthcare provider about potential exposure as soon as possible if they are pregnant, have a weakened immune system and/or are unimmunized, or on the behalf of infants. Symptoms to look out for between seven to 21 days after exposure include a fever and or unexplained rash.
"If symptoms develop, stay at home and call a healthcare provider immediately," Los Angeles County Department of Public Health said.
The department urged residents, "especially those who travel internationally and those who have not been fully protected against measles, to get the measles immunization in order to better protect their individual health and to prevent the spread of measles to others."
The incidents come as the U.S. has reported its highest number of measles cases in a quarter of a century. Between January 1 and December 5, 2019, 1,276 cases of measles were confirmed across 31 states, according to the U.S. Centers for Disease Control and Prevention.
The graphic below, provided by Statista, illustrates estimated measles deaths around the world since 2010.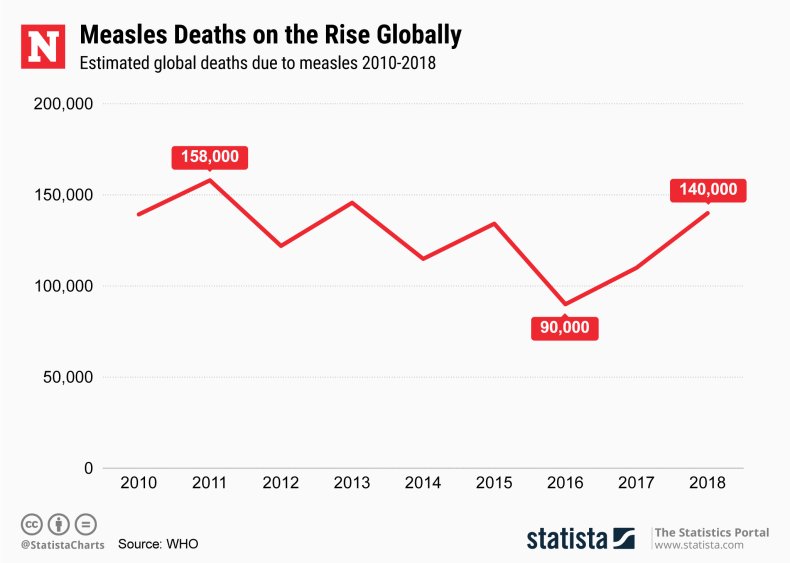 Dr. Muntu Davis, Los Angeles County Health Officer, said in a statement: "For those who are not protected, measles is a highly contagious and potentially severe disease that initially causes fever, cough, red, watery eyes, and, finally, a rash.
"Measles is spread by air and by direct contact even before you know have it. The MMR immunization is a very effective measure to protect yourself and to prevent the unintentional spread of this potentially serious infection to others."
Dr. John M. Douglas, Jr., Executive Director of Tri-County Health Department said in a statement: "I urge everyone to make sure they have gotten their Measles, Mumps, and Rubella (MMR) vaccine.
Vaccination is the only way to protect yourself and the ones you love from measles."
Measles is among the most contagious viruses, and spread through the air when an infected person coughs or sneezes. Around 90 percent of unvaccinated people who come into contact with the virus will fall sick.
The bug can be dangerous to infants and children too young to be vaccinated, those with weak immune systems, and unvaccinated individuals. Potential complications can include ear infections, pneumonia, and a condition where the brain swells, called encephalitis. Pregnant women who are unvaccinated can experience miscarriages and premature birth.