Measles Outbreak Update: Oregon, California Lawmakers Work to Pass Vaccine Laws Amid Protests While U.S. Surpasses Record Mark
New U.S. cases of measles reached a yearly high for this century on Wednesday, not even a full four months into the year. And as the Centers for Disease Control and Prevention announced the 2019 outbreak had hit a new high mark since the disease was eliminated in 2000, lawmakers worked to pass vaccination laws—despite the pressures against such mandates.
Lawmakers across the country now must decide whether to pass mandatory vaccination laws for students who attend publicly funded schools.
From California to New York, by way of other states like Texas, lawmakers have grappled with pressures to make vaccinations the law rather than an option.
The Oregon state government offers a microcosm of what elected leaders across the country face. In this particular case, the state's proposed House Bill 3063 would require that all students attending either public or private schools get vaccinated—or otherwise get homeschooled or receive their educations online.
Oregon state Senator Rob Wagner, a Democrat, said the vaccination bill had drawn as much emotion and controversy from constituents as anything the government had seen in recent years. Short of a few gun control bills, this ranks among the most controversial, Wagner said.
"It's established science," Wagner told the Salem Reporter. "The medical provider community is solidly behind it, and I do think that I am very proud to be a sponsor of the legislation."
In California, lawmakers face a tussle between doctors who say vaccines prevent children from getting sick and those who say the vaccine does more harm than good.
And while the California Medical Association and American Academy of Pediatrics support the California bill that would mandate vaccinations, more than 100 doctors in the state signed a letter calling the measure an "ill-advised bill that will have adverse impacts on our patients and their care," reported The Washington Post.
Pediatricians said vaccinations would curb the most recent measles outbreak, which has reached 695 cases so far in 2019—surpassing the 667 cases in 2014. Dr. Yvonne Maldonado, who chairs the American Academy of Pediatrics Committee on Infectious Diseases, said, "It is disappointing to see that the U.S. has lost so much ground in our efforts to prevent a childhood disease as significant and impactful as measles. This is especially discouraging, because our intervention is safe and effective. There is no reason for children to suffer from measles."
The graphic below, provided by Statista, illustrates the number of reported measles cases in the U.S. since 2010.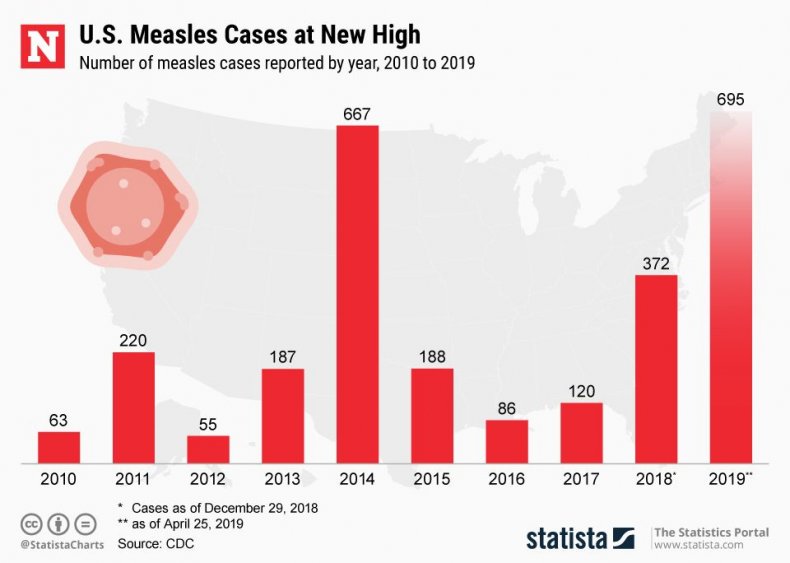 The CDC said travelers who have measles—whether Americans returning from abroad or foreigners visiting the U.S.—have contributed to the high rate of the recent outbreak that's sure to hit 700 before the weekend is over.
Measles travels from person to person and is highly contagious. Its symptoms include high fever, runny nose, cough, red and watery eyes, and a rash beginning on the face and spreading throughout the body. The disease is typically spread through a sneeze or cough, and the incubation period generally lasts 21 days.
This article was updated to include an infographic.