Orthodox Jews Are Hosting 'Measles Parties,' New York Officials Say as They Order Vaccinations to Stop Outbreak
As the measles virus continues to spread across the country, officials in New York City outlined a series of steps on Tuesday to address the large number of cases afflicting one particular Brooklyn neighborhood.
In the Orthodox Jewish community in Brooklyn, there have been 285 cases of measles reported since the outbreak began on September 30, 2018. A high population of Orthodox Jews live in the Williamsburg neighborhood. Of those cases, 246 were in children younger than 18, according to the New York City Health Department. Out of the total number of cases, 21 required hospitalization, and five ended up in intensive care.
The high rate of measles is in part attributed to the fact that there are relatively low vaccination rates in Williamsburg's Orthodox community, so the highly contagious and dangerous virus spreads easily. Additionally, Dr. Oxiris Barbot, the New York City health commissioner, said there had been reports of "measles parties" in the area as well. Those parties usually have parents deliberately exposing their children to measles so that they become naturally immune after contracting the virus. The children would then show blood immunity and could return to school.
Though the Health Department ordered yeshiva schools to exclude those students who were unvaccinated until the outbreak was declared over, not all schools have complied. In January, one school that did not comply was connected to more than 40 cases of measles, said the Health Department, which reserves the right to fine or shut down those yeshivas that do not comply.
State regulations regarding vaccines apply to all schools, whether they're public or not, Dr. Herminia Palacio, deputy mayor of Health and Human Services, said Tuesday. Health inspectors have been working with yeshivas in the area to check records on vaccination or immunity to make sure those who are a risk are excluded, she said.
In a statement to Newsweek, the United Jewish Organizations of Williamsburg and North Brooklyn said, "Fortunately well over 95 percent of the Williamsburg Jewish community heeds the advice of the Department of Health and the community medical professionals and vaccinate their children.
"During the current outbreak, we reinforced the necessity to vaccinate with support from schools, rabbinic leadership and the Department of Health and an enormous uptick in vaccinations followed," the statement read.
Tuesday, Barbot, the health commissioner, declared a public health emergency and ordered that everyone in specific Williamsburg ZIP codes get vaccinated against measles. "IT IS HEREBY ORDERED that any person who lives, works or resides within the 11205, 11206, 11211 and/or 11237 ZIP codes and who has not received the MMR vaccine within 48 (48) hours of this Order being signed by me shall be vaccinated against measles unless such person can demonstrate immunity to the disease or document to the satisfaction of the Department that he or she should be medically exempt from this requirement," read the order.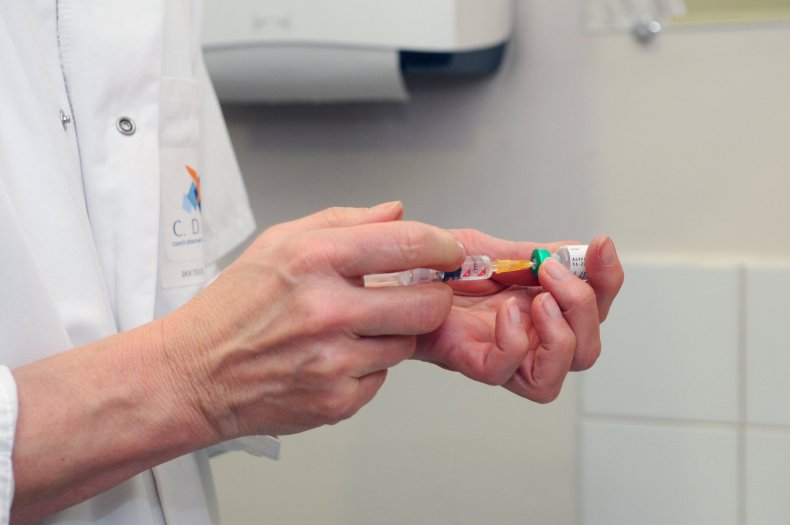 Those who are unvaccinated and do not follow the order, and do not vaccinate their children or get vaccinated themselves could face fines. "People in violation of our order to get vaccinated against measles will get a violation and could be fined $1,000 per instance," the commissioner said.
"The mayor's personal call today to highlight the health emergency going on, will definitely help persuade the hold outs to vaccinate their children, and we hope and pray that this outbreak should end soon," said the United Jewish Organizations' statement.
The measles virus is incredibly contagious and can be transmitted through the air where the virus can live for up to two hours from a cough or sneeze. It can also be transmitted on surfaces, according to the Centers for Disease Control and Prevention. If an infected person spreads the virus to a surface and then someone else touches it and transmits it to their nose, eyes or mouth they will likely get sick.
Symptoms usually develop a week to two weeks after a person is infected and starts with a high fever, cough, runny nose and sometimes red watery eyes as well, according to the CDC. A few days into the illness people also develop a rash and spots in their mouth.
People under the age of 5 or older than 20 are more likely to experience complications that can sometimes be severe. Pneumonia related to measles is the most common cause of deaths attributed to measles. Other complications include encephalitis or brain swelling, premature births and long-term complications such as subacute sclerosing panencephalitis.
This story was updated with a statement from the United Jewish Organizations of Williamsburg and North Brooklyn.
This story was updated with the zip code 11211. The commissioner's order originally stated the 11221 zip code was required to get the vaccine but changed it to 11211.