Measles Outbreak 2019: Which States Have Reported Cases to CDC? How Does It Spread?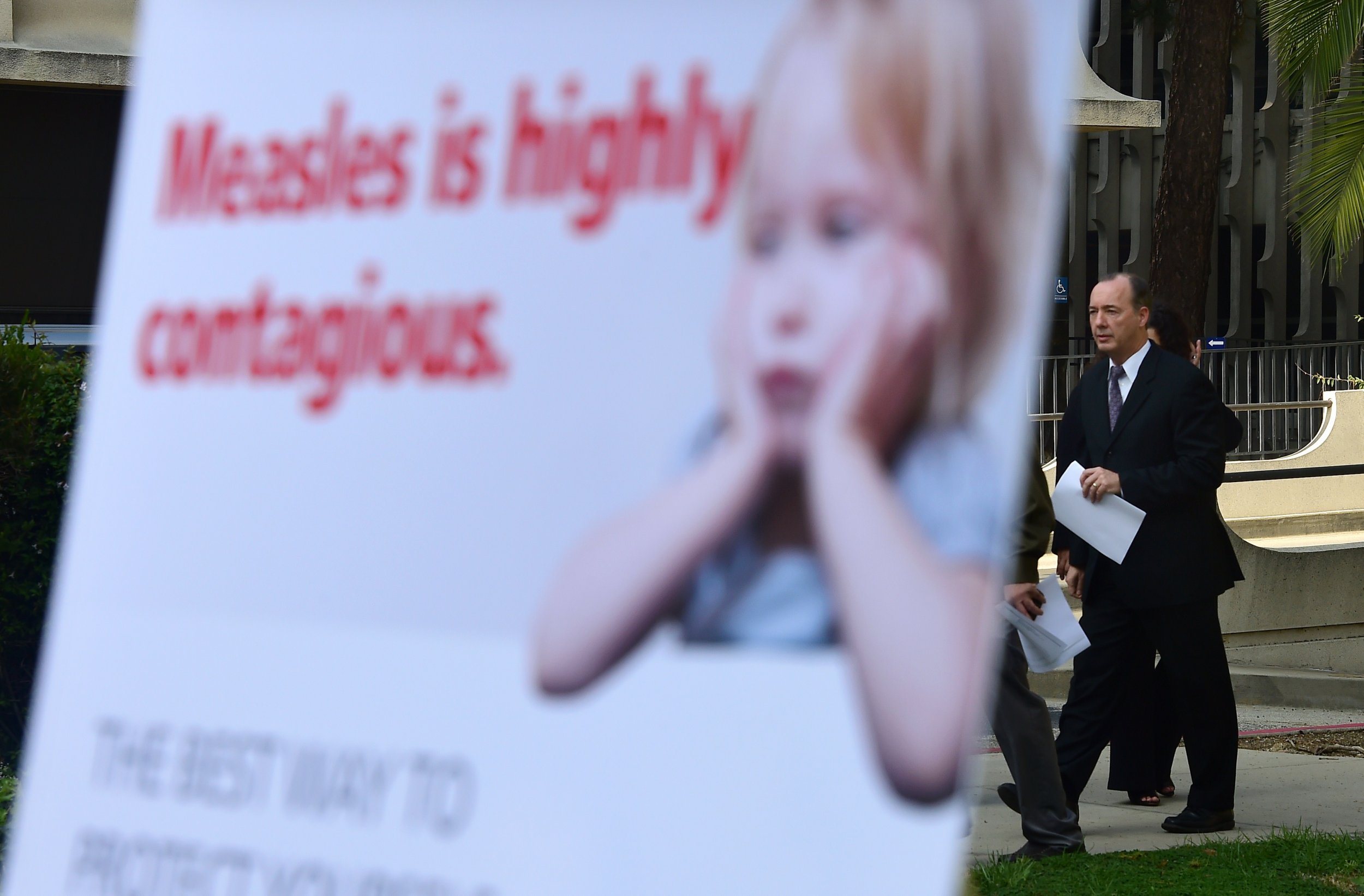 As measles cases in the U.S. continue to balloon, more states are recording outbreaks. So far in 2019, more measles cases have been reported than occurred in all of 2018.
As of the latest data update Monday, cases have been reported in 15 states across the country, and there have been outbreaks in four of those states as well. An outbreak is considered three or more cases in one area.
"CDC is monitoring six outbreaks of measles in the United States. The biggest are two outbreaks in New York," Dr. Manisha Patel of the Centers for Disease Control and Prevention, which tracks reported cases, told Newsweek. The other outbreaks are in California, New Jersey and Washington state.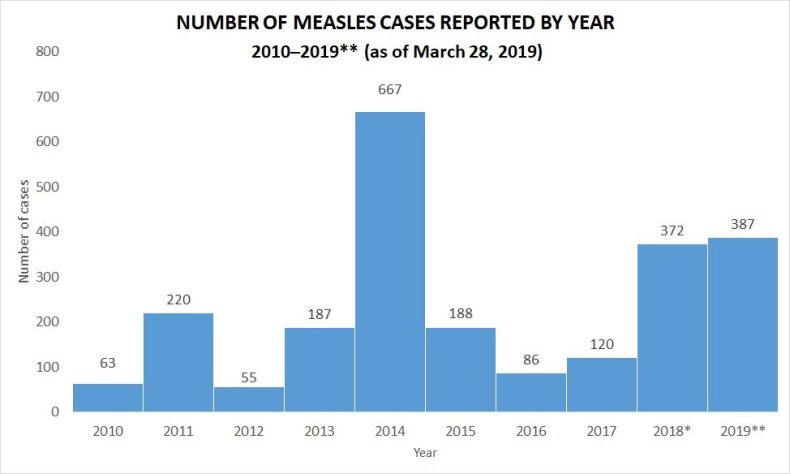 How Many Cases Are There and Where Are They?
New York: There are now two outbreaks in New York state and a total of 420 cases since October 2018, so these reports are not confined to 2019. In New York City, there were 259 confirmed cases as of Wednesday, while in Rockland County there were 161.
Washington: Washington state hasn't updated its total for the outbreak since March 22. As of then, there were 74 confirmed cases.
California: There were 16 cases in California as of March 27, with six of them affecting children. The outbreaks, linked to patients who had traveled internationally, were reported in Santa Cruz and Butte counties.
New Jersey: As of Tuesday, there have been 11 confirmed cases this year.
Cases have also been reported in Arizona, Colorado, Connecticut, Georgia, Illinois, Kentucky, Michigan, Missouri, New Hampshire, Oregon and Texas, according to the CDC. Cases have been confirmed in other states as well, and these might appear once the CDC's weekly list is updated.
This week, Maine's Center for Disease Control and Prevention reported that someone from Massachusetts who was recently diagnosed with measles traveled to the state and visited several businesses, putting residents at risk. It said: "Maine CDC notified the two facilities and is working with them to ensure individuals who were potentially exposed are made aware." The person visited the Skin Clinic in Falmouth and the Maine Centers for Healthcare Endoscopy in Westbrook on March 27.
Patel said: "Measles is a highly contagious virus that can spread to others through coughing and sneezing. Also, measles virus can live for up to two hours in an airspace where the infected person coughed or sneezed. If other people breathe the contaminated air or touch the infected surface, then touch their eyes, noses or mouths, they can become infected."
It can take anywhere from 10 to 21 days for symptoms to appear once a person has been exposed. If people develop symptoms, they should contact their health care provider before going to their doctor's office. This precaution can help protect others from becoming infected, the Maine CDC said.
The virus typically causes a high fever, cough, runny nose and pink eye. Later, white spots develop inside the mouth, along with a rash of flat red spots covering the body several days after the first symptoms appear, according to the CDC.
"The best way people can protect themselves from measles is to make sure they have been vaccinated with two doses of MMR vaccine. Two doses of MMR vaccine are 97 percent effective in protecting against measles," Patel said, referring to the measles, mumps and rubella vaccine.