Measles Outbreak in Texas As First Case Reported in Travis County for 20 Years
A person in Travis County, Texas, has been diagnosed with the region's first measles case for two decades, sparking an investigation into who else may have been exposed to it.
The age or gender of the person has not been revealed but a list of places where the person had been over the last week has been released by Austin Public Health, which it said was "out of an abundance of caution."
"Local, state and federal health officials are mounting a coordinated effort to inform people who may have been exposed," it said in a statement, adding that if anyone was in the locations and started to develop a fever in the following days should contact a doctor.
The locations included Mexican, Thai and Italian restaurants between December 14 and 16 as well as Austin-Bergstrom International Airport (ABIA) on December 17.
Austin Public Health officials are working with the Centers for Disease Control (CDC) to get in touch with anyone who is experiencing symptoms and may have been exposed to the person, especially if they had been at the airport and were on the same plane.
Austin Public Health Officials said it was a connecting flight, and did not know its final destination.
Highly infectious, measles can spread from contact, coughs and sneezes and often starts with a fever and sore eyes followed by a rash. It can take up to 10 days to recover from but complications for those who have not been vaccinated can be fatal.
Mark Escott, interim health authority and medical director for Austin Public Health, said in a statement: "Measles is an acute, highly contagious viral disease. A small number of cases are capable of quickly producing epidemics.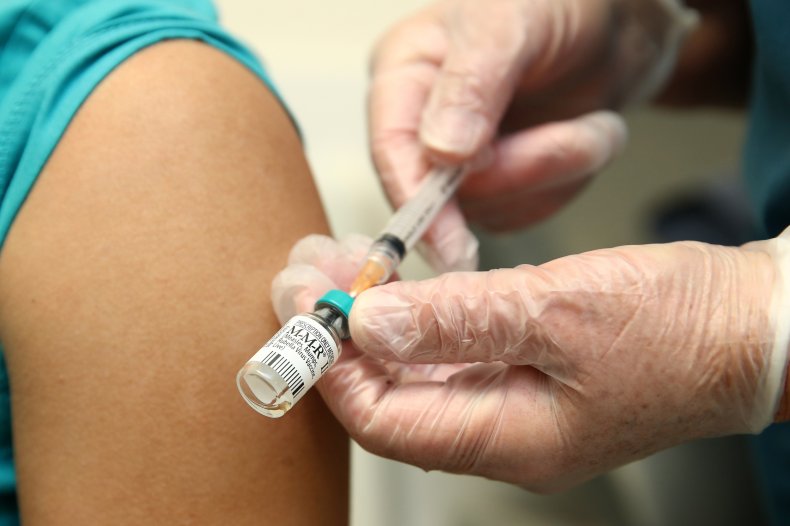 "The best way to protect yourself and your family against measles and other vaccine-preventable diseases is by immunization." Newsweek has contacted Austin Public Health for further information.
Earlier this month, the World Health Organization sounded the alarm over measles which it says killed more than 140,000 people globally in 2018, most of the victims under the age of five.
It said it expects a higher number when figures for 2019 become available, with the U.S. reporting its highest number of cases for 25 years, while there are also outbreaks in the Democratic Republic of Congo, Madagascar and Ukraine.
It says for measles to stop spreading, 95% of children need to get two doses of the vaccine, but only around 86 percent get the first jab and 69 percent, the second jab, according to the BBC.
This month, the Pacific nation of Samoa declared a state of emergency after an outbreak killed at least 76 people, with at least 60 of them children under the age of four.
Measles Outbreak in Texas As First Case Reported in Travis County for 20 Years | Health