Meat Loaf Dead: 'Bat out of Hell' Singer Passes Away Aged 74 With Wife By His Side
Grammy-winning musician Meat Loaf has died at the age of 74, his agent, Michael Greene, confirmed on Thursday night.
The "Bat Out Of Hell" singer—born Marvin Lee Aday—passed away with loved ones by his side, according to a statement shared on behalf of the the star's family on his official Facebook account. A cause of death has not been revealed.
"Our hearts are broken to announce that the incomparable Meat Loaf passed away tonight with his wife Deborah by his side," read the statement. "Daughters Pearl and Amanda and close friends have been with him throughout the last 24 hours."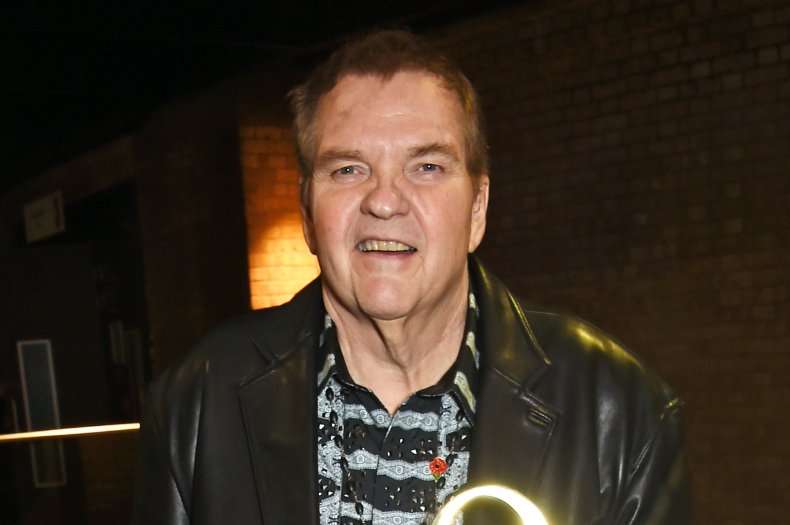 The statement continued: "His amazing career spanned 6 decades that saw him sell over 100 Million albums worldwide and star in over 65 movies, including Fight Club, Focus, Rocky Horror Picture Show and Wayne's World."
Continuing to list Meat Loaf's accomplishments throughout his illustrious career, the statement also touched on his musical success, sharing that "Bat Out of Hell" "remains one of the top 10 selling albums of all time."
The statement concluded: "We know how much he meant to so many of you and we truly appreciate all of the love and support as we move through this time of grief in losing such an inspiring artist and beautiful man.
"We thank you for your understanding of our need for privacy at this time.
From his heart to your souls...don't ever stop rocking!"
Bat Out of Hell, which was written and produced by Jim Steinman, holds the distinction of being among the best-selling albums in U.S. history, with 14 million units sold, according to the Recording Industry Association of America.
As a testimony to the album's enduring quality, it spent 522 weeks—an entire decade— on the U.K. album chart following its 1977 release. Bat Out of Hell also spawned a stage musical which premiered in Manchester, England, in 2017. A North American tour followed in 2018.
While he achieved great musical success, Meat Loaf also enjoyed a prolific film career, stealing the show and winning over legions of fans through his role as unlucky delivery boy Eddie in the cult classic 1975 screen adaptation of The Rocky Horror Picture Show. Meat Loaf reprised the role onstage.
The Dallas-born star had been on course to enter the realm of dating reality shows, as last year he signed a deal to develop a series based on his Grammy-winning hit "I'd Do Anything For Love (But I Won't Do That)," according to Deadline.
Deadline reported that he was listed as executive producer on the project, in which he also would have appeared. The show, which was announced in March, was set to feature couples taking on a variety of physical games to see how well they worked together.
Marrying Meat Loaf's multiple talents, the show was also set to feature a soundtrack of classic hits, performed live in the studio by both the original artists and new stars.
Health concerns were sparked for the star back in the summer of 2016, when he collapsed while performing onstage in Edmonton, Canada.
In a September 2016 interview with The Guardian, he insisted that "nothing happened," explaining: "I had the flu for two days before. I'd been on stage for nearly two hours. The show isn't a normal one when people stop their song, sip some water and speak to the audience. We do it like a symphony. It doesn't stop, so I had dehydration. That's all it was."
He added: "In Edmonton, I hit the highest note in 'I'd Do Anything for Love (But I Won't Do That)' and just felt really dizzy. I thought I'd finish the song sitting down, and as I started to sit down I passed out. We did another seven gigs, but by the time we got to Moose Jaw in Canada I felt like I was dying."
The incident led to the New York Post erroneously reporting that Meat Loaf had passed away, a moment that the star looked back on with humor.
"Oh, I was first pronounced dead by another newspaper in 1978," he told The Guardian. "I must hold the record. This time, my daughter's godfather phoned me and said: 'Are you dead?' I went: 'If I was dead, I wouldn't be talking to you.' He went: 'Oh, yeah.'"