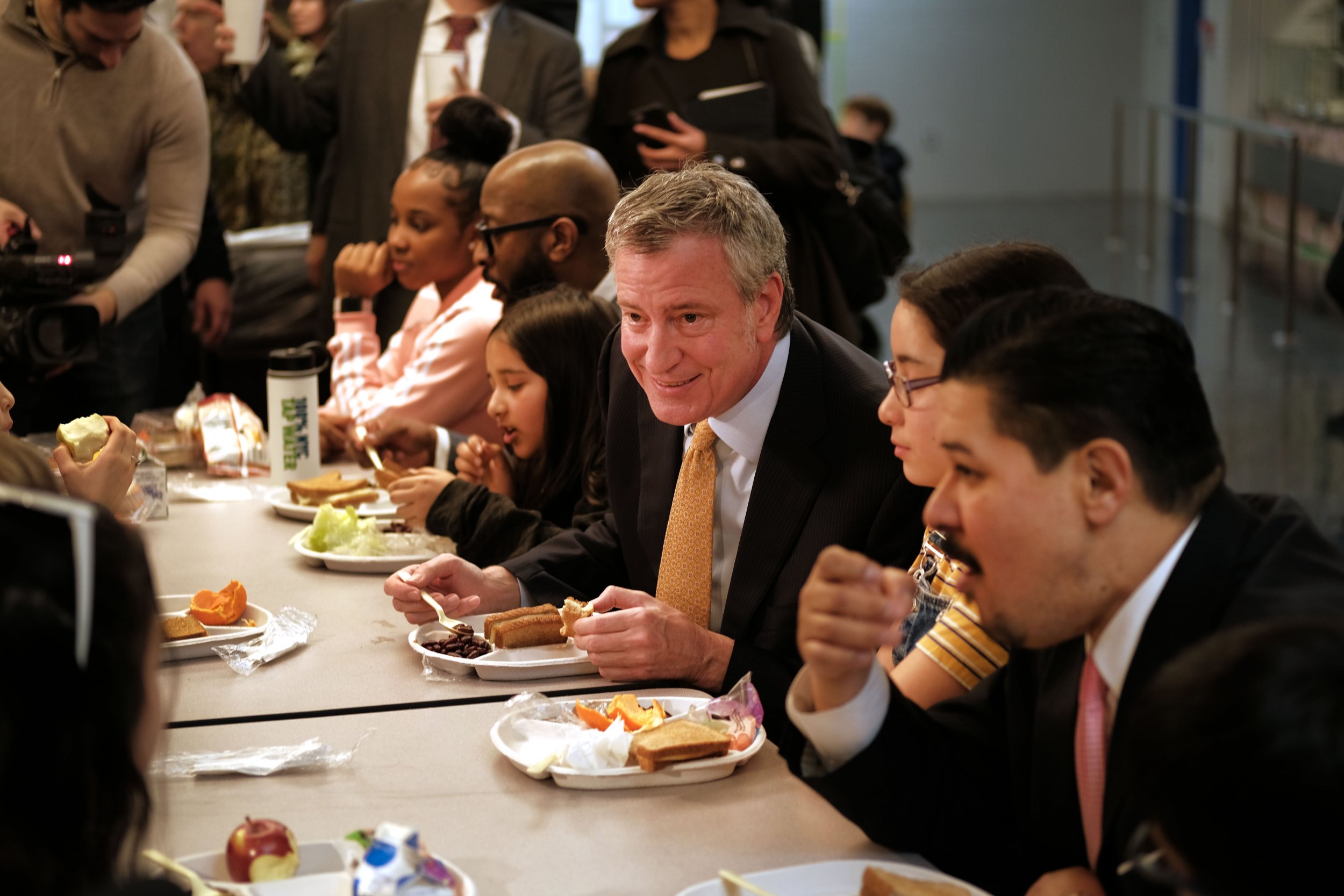 Starting in the fall, New York City Public School breakfasts and lunches will look a little different on Mondays. This week Mayor Bill de Blasio announced a plan for "Meatless Mondays" in all of the city's public schools starting with the 2019-2020 school year.
The reason behind the change to meat-free Monday menus is to help reduce greenhouse gas emissions and to help students adapt healthier lifestyles, de Blasio said. But can reducing meat intake help to lower greenhouse gas emissions and reduce the amount of farmland used all over the world?
"Replacing meat even one day a week can improve our health and cut greenhouse gas emissions," said Robert Jackson, a professor in the Earth System Science Department at Stanford University, told Newsweek. The city tested the new plan with a pilot program in 15 schools across the city before making the change system-wide.
"Consuming beef raises our carbon footprint more than eating any other meat," Jackson said. Raising livestock, in addition to slaughtering, producing and shipping it, contributes to the high greenhouse gas emissions.
"Fast-food beef, often shipped from the tropics, can release carbon from deforestation. Belching cattle are one of the biggest methane sources from human activities. And eating plants is almost universally healthier than eating meat," Jackson told Newsweek.
Global gas emissions from livestock alone, excluding those from manure, account for 7.1 gigatons of carbon dioxide each year, 14.5 percent of the human-made greenhouse gases total, according to the Food and Agricultural Organization of the United Nations. Beef and cattle milk are responsible for the majority of those emissions, 41 and 20 percent, respectively, of the greenhouse gas output for the sector, according to the FAO.
While phasing out meat one school day a week might seem like a small change, it can have big implications. Jackson put it simply: "It matters."
There are approximately 1.1 million students in the New York City Public School System. Although students don't their breakfast and lunch at school every day, "Meatless Mondays" can still significantly reduce the amount of meat the school system consumes as a whole, especially when viewed over the course of a year, or five years.
Individuals looking to follow suit but who hesitate to cut a rich protein source from their diets could start by focusing on reducing red meat specifically. "Eating chicken and fish is healthier than eating beef. They're also more efficient in turning meat to food than cattle are, and their greenhouse gas footprints are lower," Jackson said.
The benefits of reducing red meat consumption don't stop with the environment. It can have health benefits too. "Our health is probably the biggest reason to reduce the meat we eat. Red meat, and processed meats, in particular, have been linked to higher rates of cardiovascular disease, diabetes and colon cancer," Jackson told Newsweek.​