The Mechanics of an Execution by Firing Squad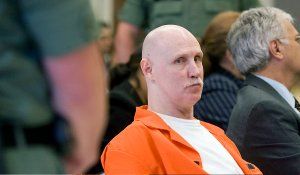 Ronnie Lee Gardner, a convicted murderer who opted to die by firing squad, was strapped to a chair at a prison in Draper, Utah, and shot with .30 caliber bullets just after midnight. Here's how it happened.
On Tuesday Gardner, found guilty in 1985 for shooting a lawyer while attempting to escape from a courthouse where he was facing another murder charge, had his last meal. He ate "steak, lobster, apple pie, vanilla ice cream and 7-Up," according to the BBC, before beginning a 48-hour fast for "spiritual reasons," according to his lawyer.
He spent his final day watching The Lord of the Rings trilogy. Yesterday, as friends and family gathered outside the prison, Utah Attorney General Mark Shurtleff took out his iPhone and opened the TwitBird Twitter application. At 12:02 a.m., in what must qualify among the most surreal uses of social media, Shurtleff, announced by tweet that he "just gave the go ahead to Corrections Director to proceed with Gardner's execution. May God grant him the mercy he denied his victims."
Gardner, 49, was strapped into a "black, straight-backed metal chair," according to Associated Press writer Jennifer Dobner, who witnessed the execution—the first by firing squad in 14 years. His head was "secured by a strap across his forehead. Harness-like straps constrained his chest. His handcuffed arms hung at his sides. A white cloth square affixed to his chest over his heart—maybe 3 inches across—bore a black target."
From 25 feet away, five marksmen—police volunteers, according to the BBC—took aim at that target, and the man behind it, with Winchester rifles. Four of the guns contained live ammunition, but one contained a blank, so that none of the executioners could know for sure they'd killed a man. When asked if he had any final words, reports the BBC, Gardner said "I do not. No."
"Seconds before the impact of the bullets," writes Dobner, "Gardner's left thumb twitched against his forefinger. When his chest was pierced, he clenched his fist. His arm pulled up slowly as if he were lifting something and then released. The motion repeated."
Blood pooled around his waist. He was pronounced dead at 12:20 a.m. Four bullet holes in a wall and a smell of bleach were the only evidence that remained.