For the past several years, major media companies have put their energy into building direct-to-consumer streaming offerings focused on the development of original programing. The next major advancement in this strategy will be to develop a gaming intellectual property (IP) arsenal to enable an interconnected bundle of film/TV media and interactive gaming experiences.
Film/TV IP and gaming IP have been interconnected for decades—there is a long list of video games based on films, as well as film and TV shows based on video games. An iconic example of the former is the hit Nintendo 64 video game GoldenEye 007 released in 1997, a direct adaptation of the 1995 James Bond film GoldenEye. More recently, Netflix has demonstrated the latter through the release of its hit show Arcane, based on Tencent studio's Riot Games' League of Legends, one of the most popular video games ever created and the number one most watched esport in the world. Netflix has also already released a second season of The Witcher, based on the gaming studio CD Projekt's franchise The Witcher. Both Arcane and The Witcher have reached record highs in popularity, both taking the No. 1 and top 10 most watched positions on Netflix for multiple weeks.
Gaming IP translates into such high engagement on a medium like film or TV because gaming is a highly interactive experience where players are deeply immersed in a fantasy world, developing intimate relationships with their characters and the universe in which they live. When a player spends hours, which turn into days, months and years, living within an alternative universe and embodying a character, particularly during some of the most formative times in life, an intimate and nearly unbreakable bond is formed permitting a strong multi-platform and medium connection.
Historically, legacy media companies with valuable IP have used amusement parks to foster this intimate and interactive connection between fans and popular characters, often referred to as a "flywheel effect." Disney and NBC Universal are great examples of organizations that have developed some of the most iconic IP (Star Wars, Marvel, Harry Potter, etc.) and enabled fans to connect at a more intimate level through parks such as Disney World and Universal Resorts. Parks have not only been strategic business units that reinforce the IP, but also are large revenue generators. In 2019, pre-pandemic, parks represented $6 billion (17 percent) of revenues for NBC Universal, and generated $26 billion (38 percent) for the Walt Disney Company.
Going forward, companies will look to create a digital entertainment flywheel with an increased focus on immersive gaming experiences to complement their streaming bundles and reinforce the value of their IP. Four major media players—Netflix, Apple, Warner Brothers and Amazon—have already been at this integration for some time now, and with their formidable assets, have emerged as leaders in the race to solidify and integrate the gaming and media ecosystem of the future.
Netflix
Netflix's focus on gaming has been evident since CEO Reed Hastings famously stated, "We compete with Fortnite more than HBO." Since then, Netflix has already established itself as a premium developer of gaming inspired content beyond what many realize, announcing planned releases this year of Angry Birds, Cyberpunk 2077 and Assassin's Creed, all shows based on famous gaming IP.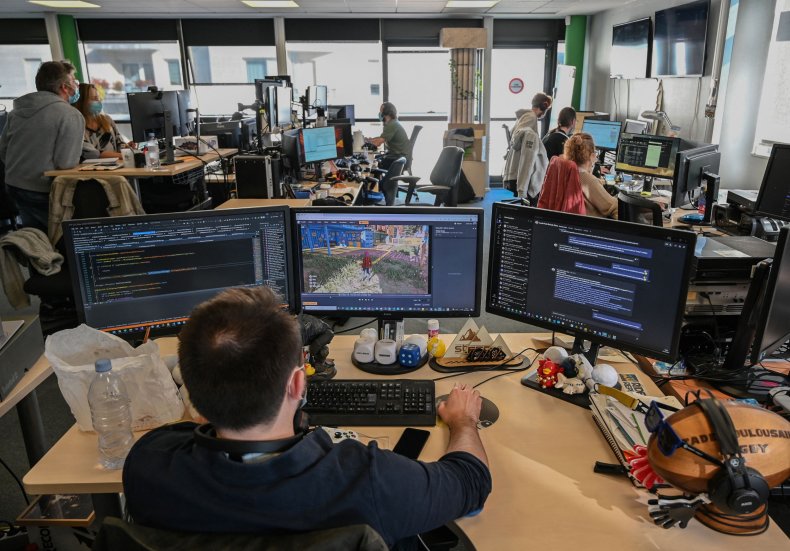 Netflix also made its first entrance into launching its own games, first by acquiring video game developer Night School Studio, and then releasing Netflix Games, a variety of light-weight free-to-play mobile games published by Netflix on both iOS and Android. Of the five games that were launched at release, two of the games, Stranger Things: 1984 and Stranger Things 3: The Game, both leverage Netflix original content, Stranger Things. The launch of the gaming service and the immediate release of two games that leverage Stranger Things IP, clearly indicate the direction Netflix is taking—developing an integrated approach to where subscribers can both watch and interact with their favorite characters in their native worlds.
Apple
With its $3 trillion market cap, two established media and gaming assets in Apple TV+ and Apple Arcade, immediate distribution to 1 in 7 people globally and a cult following, it is hard to exclude Apple from this conversation. Despite the underperforming nature of Apple's media and gaming subscriber base, Apple is a company that continues to make sizable investment in their content offerings, with reported investments of $6 billion and $500 million in 2019 for Apple TV+ and Apple Arcade, respectively. In addition, the Apple One bundle service, which includes Apple TV+ and Apple Arcade, as well as Apple Music and iCloud+, is sold at an (oddly) affordable price of only $14.95 for individuals and $19.95 for families of up to five people.
While Apple has created a valuable bundle, it has not yet created a tie between individual programs and games. Here is an idea for Apple: Apple could leverage the IP of the beloved Apple TV+ show and character Ted Lasso to create Ted Lasso Football—an iOS exclusive. This would enable Apple to leverage its Apple TV+ original content and adopt a winning global video game genre (sports/football) to boost Apple Arcade. The timing of a move like this has also never been better: FIFA, the governing body of international football (soccer), recently announced that their almost 20-year exclusive partnership with game publisher Electronic Arts would be ending. Every year, FIFA and Electronic Arts (EA) have partnered to create an exclusive football game, creating a franchise estimated to be worth more than $2 billion with over 30 million unique users globally. Electronic Arts is also the publisher behind Madden, the NFL and American football video game franchise that leveraged the rights of the late beloved football icon John Madden. If Apple were to create an international football game, they would provide a global scaled media and gaming bundle significant enough to be exploited by their global hardware footprint.
Warner Bros.
Of all the legacy media companies, Warner Bros. may be least recognized for the positioning it has to create an integrated media and gaming ecosystem. Warner Bros. has many of the foundational elements required to thrive: iconic IP, a proven gaming studio, and through its merger with Discovery, a direct-to-consumer service with soon-to-be true global reach. Warner Bros. has been able to execute elements of this integrated model for years, with hit games and movies such as Mortal Kombat and Injustice, a fighting video game franchise that leverages the characters of the DC Universe like Batman and Superman.
For some time, AT&T had reportedly been shopping the Warner Bros. gaming division. However, now that Warner Bros. IP is under a single streaming service hub in HBO Max, the to-be-formed Warner Bros. and Discovery should certainly retain the gaming studio asset and unlock the immense value from having an integrated media and gaming organization with global scale and transcendent IP.
Amazon
And then there is Amazon. Amazon is certainly the leader in terms of gaming content distribution through its live streaming service Twitch. In 2021, there were over 24 billion live-streaming hours watched on Twitch, representing over 70 percent of market share compared to other platforms such as YouTube Gaming and Facebook Gaming. Almost 900 million hours of content, predominantly gaming, was created, and this content was consumed by, at any given time, an average of 2.75 million people. Twitch distributes, makes and partners to create some of the most watched gaming events in the world.
In addition to owning the ecosystem in which most gaming content is watched, Amazon has made key investments in creating and publishing games, as well acquiring IP. Amazon recently released New World, a massive multiplayer online role-playing gaming (MMORPG), which was met with solid reviews, establishing Amazon as a real player in game development and publishing. Amazon also recently acquired MGM Studios for $8.5 billion, which includes IP rights to franchises such as James Bond, Rocky, Vikings, Robocop and others. Amazon surely invested in MGM Studios to bolster its Prime Video offering. But considering its strong gaming studio and unmatched distribution of gaming content, Amazon should also leverage this IP to create the No. 1 integrated media and gaming empire.
All four companies will certainly lean into their respective strengths to develop a premium integrated media and gaming bundle offering. The winner will be the player that can not only develop premium IP, but create exciting and fun interactive experience that drive intimate connections, leading to increased time spent with a service across all mediums. After that, gaming and media integration inevitably will become a critical first step to exploiting valuable IP into a metaverse offering—clearly a major thrust behind the Microsoft/Activision deal. But that is, of course, a whole other chapter to come.
Jason Rogers is the vice president of corporate development, partnerships and strategy for Engine Gaming & Media Holdings, Inc. (Nasdaq: GAME)
The views expressed in this article are the writer's own.