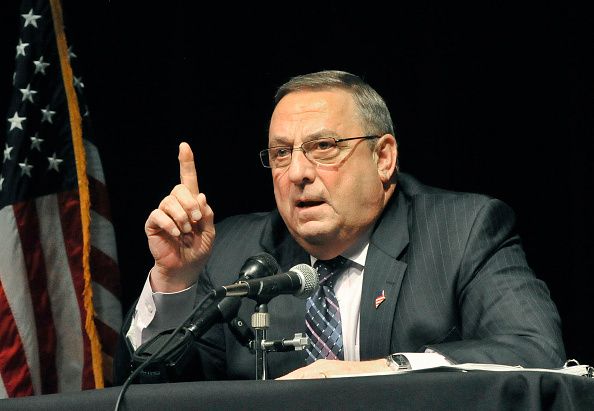 Maine Governor Paul LePage said he would rather "go to jail" than expand Medicaid programs without a long-term plan for substantial funding.
Expanding the health care system without the funding has the potential to put Maine in danger financially, LePage said during a local Maine morning talk show on WVOM-FM.
"The one thing I know is nobody can force me to put the state in red ink and I will not do that. You tell the Maine people, I will go to jail before I put the state in red ink and if the court tells me I have to do it then we'll be going to jail," LePage said on Wednesday.
His radio appearance happened the day after the Maine state legislature failed to override the governor's veto of their plan to begin funding Medicaid expansion. The legislature, which is held by a Democratic majority, voted 85-to-58 to overturn the veto, thus falling short of the required two-thirds majority.
The governor made it clear that he did not veto the expansion of the health care system, just the legislature's plan to fund the project. The legislature's proposed bill took $60 million from a surplus in the state's revenue to use towards funding the Medicaid expansion. That $60 million would have been matched by $500 million from the federal government, according to a report by the Portland Press Herald.
LePage says that he is opposed to funding Medicaid expansion through raising taxes or through tapping into the state's surplus revenues. In another radio interview, Le Page said that he will not approve the expansion until the legislature creates a "sustainable method of funding to cover hundreds of millions of dollars the state will be responsible for in the coming fiscal years."
"We could fix this this afternoon," LePage said during Wednesday's broadcast, adding that action can happen quickly if the state Democrats stop "playing their games." LePage also accused Democrats of not caring about Maine residents or Medicaid programs, and are only focused on getting clean election money.
In 2017, Maine became the first state in the country to have a citizen-initiated law that expanded Medicaid to provide health care for up to 70,000 low-income residents.
LePage's stance on Medicaid expansion echoes the views of Republicans in Congress who wish to substantially cut the federal health care program. As of April of 2018, more than 67 million Americans were covered by Medicaid, according to the program's website.
During Donald Trump's presidential campaign two years ago, he consistently promised voters he would not cut Medicaid. But the Trump administration's budget proposal for both 2018 and 2019 included large monetary slashes to the health care program.