A trio of prestigious U.S. medical boards have warned doctors that they could be decertified if they choose to spread misinformation about COVID-19.
The warning, which asserted that "providing misinformation about a lethal disease is unethical, unprofessional and dangerous," came in a joint statement issued by the American Board of Internal Medicine, the American Board of Family Medicine and the American Board of Pediatrics on Tuesday.
The boards expressed support for the organization that represents state medical licensing boards, the Federation of State Medical Boards (FSMB), and its warning to doctors in late July that they could risk losing their medical licenses if they choose to spread COVID-19 misinformation.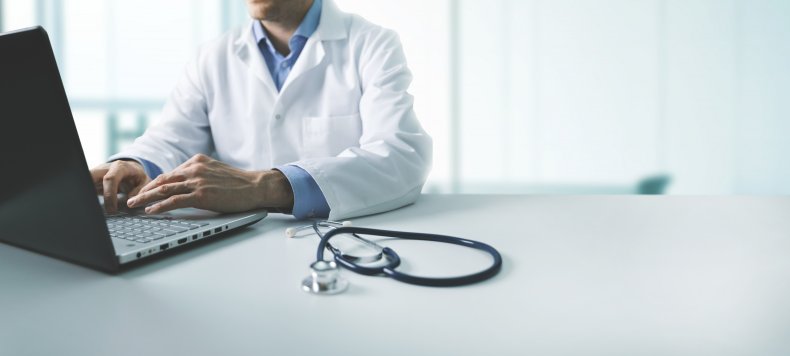 "We also want all physicians certified by our Boards to know that such unethical or unprofessional conduct may prompt their respective Board to take action that could put their certification at risk," the joint statement read. "Spreading misinformation or falsehoods to the public during a time of a public health emergency goes against everything our Boards and our community of board-certified physicians stand for."
"The evidence that we have safe, effective and widely available vaccines against COVID-19 is overwhelming," it continued. "We are particularly concerned about physicians who use their authority to denigrate vaccination at a time when vaccines continue to demonstrate excellent effectiveness against severe illness, hospitalization and death."
On July 29, the FSMB issued a similar statement regarding physicians promoting misinformation about vaccines, warning that those "who generate and spread COVID-19 vaccine misinformation or disinformation are risking disciplinary action by state medical boards, including the suspension or revocation of their medical license."
Board certification is not required for doctors to practice medicine, although obtaining and retaining board certifications can be valuable since they may indicate a level of expertise and experience in a particular field that non-certified doctors do not possess. However, having a medical license is strictly required for any doctor as practicing medicine without one is illegal.
Although an overwhelming majority of doctors and other medical professionals have advocated in favor of the safety and efficacy of COVID-19 vaccines and have resisted spreading falsehoods about the virus, a small minority have profited off of spreading lies about the vaccine and promoting unproven and potentially harmful "treatments."
It is not clear how many U.S. doctors who have spread COVID-19 misinformation, if any, have lost their licenses or board certifications as a result. A recent NPR analysis of 16 doctors known to promote COVID-19 falsehoods found that 15 were still licensed in good standing, with the sole doctor who was not licensed appeared to have voluntarily let the license expire.
Newsweek reached out to the FSMB for comment.
Uncommon Knowledge
Newsweek is committed to challenging conventional wisdom and finding connections in the search for common ground.
Newsweek is committed to challenging conventional wisdom and finding connections in the search for common ground.
About the writer
Aila Slisco is a Newsweek night reporter based in New York. Her focus is on reporting national politics, where she has covered the 2020 and 2022 elections, the impeachments of Donald Trump and multiple State of the Union addresses. Other topics she has reported on for Newsweek include crime, public health and the emergence of COVID-19. Aila was a freelance writer before joining Newsweek in 2019. You can get in touch with Aila by emailing a.slisco@newsweek.com. Languages: English.