Medics Say Seattle Police Fired Flash-Bangs at Them During Protests
Three street medics in Seattle, Washington say they were intentionally targeted by police as they attempted to treat injured protesters.
The medical volunteers say police targeted them with flash-bangs, also known as flash grenades, during a heated protest against racial injustice and police violence in the early hours of June 8. They were allegedly fired on while attempting to aid Aubreanna Inda, a 26-year-old protester who had been seriously injured by police blast balls, reportedly resulting in her almost dying after going into cardiac arrest multiple times.
"There were flash grenades being launched directly into our medic station," said Danielle Meehan, a registered nurse and one of the medics who attended to Inda, during a Thursday press conference. "The pepper spray was all-present. We could see the line of police officers right outside the medic station, and we knew we had to run."
"All along the way of leaving the medic station, we could feel the blasts of the flash grenades behind us," she continued. "We were coughing from the pepper spray... this was a very clear, marked area where the medics practice... the police were well aware of that location and we were obviously treating injured people."
Raviv Hileman, another medic helping the injured protester, said he was injured by the police flash-bangs, after being fired on despite wearing a hard hat with a bright red cross on it and a vest clearly marked "MEDICAL" and "Don't Shoot EMS."
"I was carrying the back of the stretcher and there were flash-bangs hitting within a foot or two behind me as we were trying to run out," Hileman said. "I still have bruises on the back of my legs, from the debris that goes off of those flash-bangs. They were throwing it at us while we were running away carrying someone on a stretcher."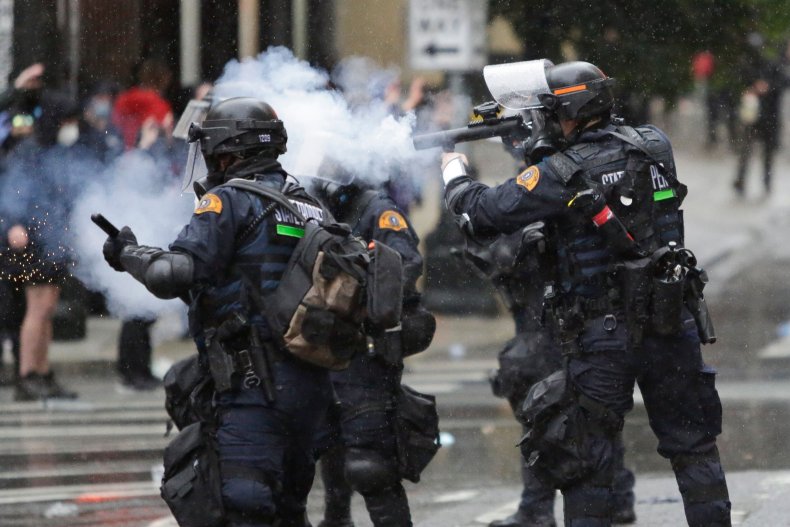 The volunteers were allegedly attacked after they had been forced to perform cardiopulmonary resuscitation on Inda, whose heart had stopped. Police claimed that they were responding to protesters "throwing bottles, rocks, fireworks and other projectiles."
"I just wanted to step out and help the community" said nurse Kim Dang, who also treated Inda. "But that night when the lady [Inda] went limp in my hand, I was holding her hand when she just dropped, I [felt] my heart break... this was shocking to me."
"I don't want anyone to ever have to experience that again," Dang added. "Not on the streets of Seattle."
The Seattle Office of Police Accountability is investigating the incident. Newsweek reached out to the Seattle Police Department for comment. This article will be updated with any response.
The incident happened during a demonstration that also saw protesters take control of several blocks in the city's Capitol Hill neighborhood, shortly after police abandoned a precinct building in the area. Demonstrators named the area the Capitol Hill Autonomous Zone, or CHAZ, before later changing the moniker to Capitol Hill Occupied Protest, or CHOP.
The situation quickly gained international attention after President Donald Trump vowed to "take back" the city from "ugly Anarchists." Trump and some of his allies have characterized the occupied zone as teeming with lawless violence, although many of those living there disagree, describing the area as peaceful while highlighting violence caused by police.