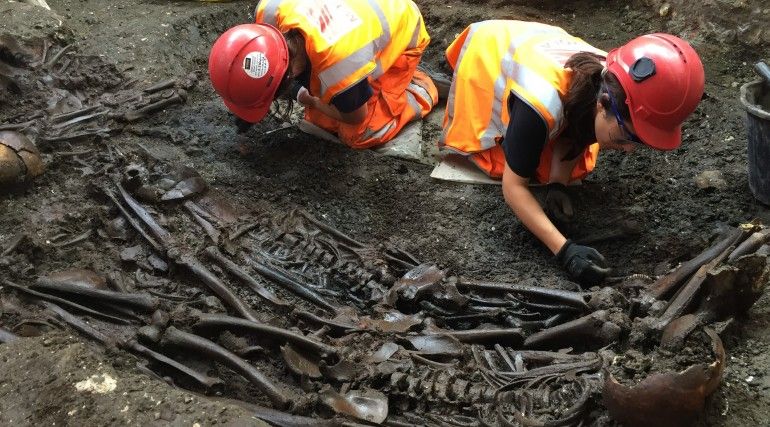 Archaeologists have discovered a centuries-old grave at a medieval burial site in London where plague victims, religious dissenters and poor people were laid to rest from the 1500s, and uncovered early evidence of people trying to stop grave robbing.
The New Churchyard, or Bedlam burial ground, is a huge graveyard in the center of London that was used for almost 200 years starting in 1569. An estimated 25,000 people had been buried there by the time it closed. In recent years, archaeologists have uncovered thousands of skeletons from that period, including many thrown into plague pits—mass graves where victims of the Black Death were often buried.
Bedlam was named after the nearby Bethlem Hospital for the mentally ill, although few patients of the infamous institution were actually buried at the site. Researchers are currently working to create a burial ground register and already have a database of over 5,000 people whose bodies have been found at the site.
Many buried there were plague victims and poor people, a cross section of society that provides archaeologists with an insight into everyday life in London in the 1600s. In addition to this glimpse of history, the graveyard has provided a more surprising insight: the earliest evidence of people trying to prevent body snatchers from operating at the site.
During excavations, the team from Museum of London Archaeology (MOLA) came across a sand-filled coffin with heavy stones placed on top of it. "We realized immediately this burial was something highly unusual," archaeologist Robert Hale said in a statement. "Archaeological evidence associated with body snatching is extremely rare. Our subsequent historical research has exposed a truly fascinating and illicit side to this burial ground." The archaeologists will publish the study reporting this research in full later this year.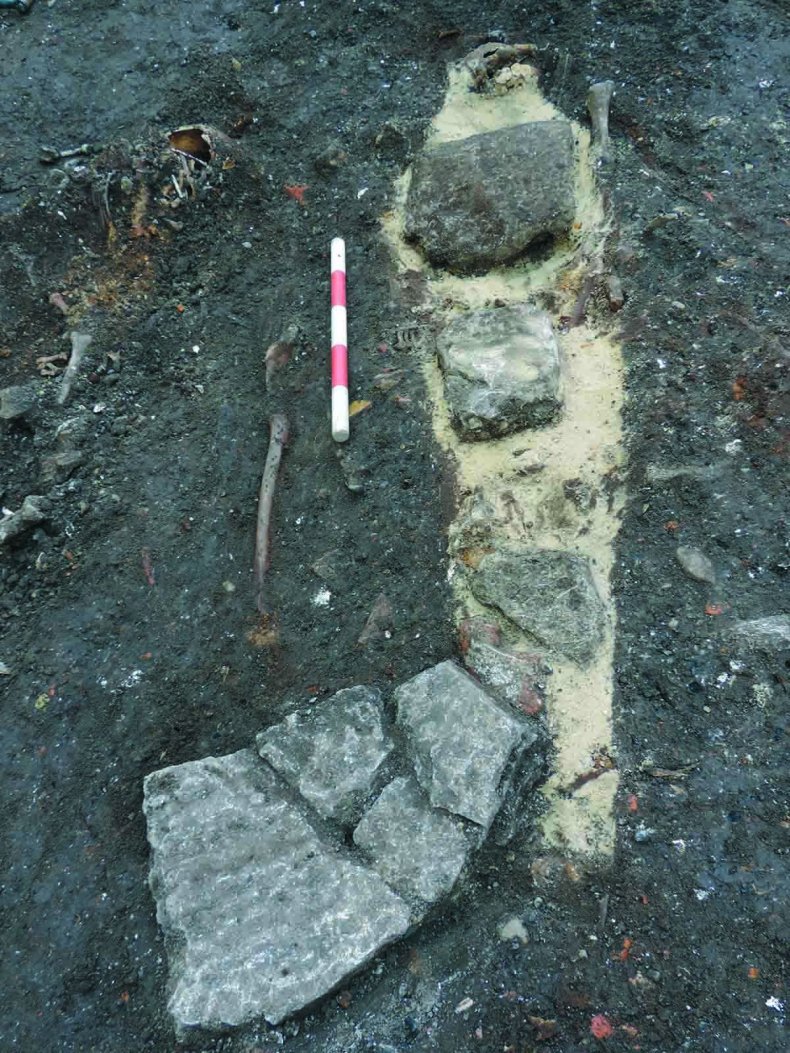 The grave dates to sometime between 1720 and 1739. During that period in history, surgeons did not have ready access to dead bodies, which are essential for learning about anatomy. The challenge spurred a highly lucrative and illegal trade of corpses, with body snatchers able to make significant sums.
Finding a grave with such prevention measures indicates a deep fear of body snatchers among Londoners at the time. Adapting coffins to thwart corpse-stealing was one way to manage that fear.
Whether the Clitherow family, keepers of the burial ground at the time, were complicit in the body-snatching trade is not known. However, researchers do believe they made money from various other schemes at the site. Thousands of items not related to burials found at the site hint at some sort of illegal waste disposal service the family may have run on the side. Researchers have also found that the family overcharged for burials and built themselves a house at the site, disturbing graves in the process.
"After many years studying my London Clitherow ancestors, I feel incredibly lucky that MOLA's research has now shed new light on our intriguing and exciting family history," said Edward G. Clitherow, a descendant of the family, "and gives a fascinating insight into the daily lives of our ancestors."