What's Next for Kentucky Derby Winner Medina Spirit and Bob Baffert After Failed Drug Test?
Medina Spirit could become only the second horse in the history of the Kentucky Derby to be disqualified for testing positive for a banned substance.
The Bob Baffert-trained three-year-old colt triumphed at Churchill Downs last week beating Mandaloun by a half-a-length, but could be stripped of his title after failing a drug test after the race.
Should the ruling be upheld, Medina Spirit will become the first Derby winner to be disqualified for failing a drug test since Dancer's Image in 1968. Baffert, the horse's Hall of Fame trainer, has denied all the allegations of wrongdoing, insisting the horse had been "wronged," and he has demanded a new test.
Here's all you need to know.
What happened to Medina Spirit?
Medina Spirit tested positive for an excessive amount of the steroid betamethasone. The drug is allowed under Kentucky racing rules, but only in limited amounts and must be cleared 14 days before a horse race.
Post-race tests detected 21 picograms per milliliter—more than double the legal threshold in Kentucky horse racing—present in Medina Spirit's system.
In a statement, race officials said Baffert had been immediately suspended from making entries at Churchill Downs "given the seriousness of the alleged offense."
What happens next?
For now, Medina Spirit's win over Mandaloun in the Derby last week still stands pending the result of a split sample test that Baffert is expected to request. Should the findings be upheld after the second test, Medina Spirit will be stripped of the Kentucky Derby crown and Mandaloun will be declared the winner.
"It is our understanding that Kentucky Derby winner Medina Spirit's post-race blood sample indicated a violation of the Commonwealth of Kentucky's equine medication protocols," Churchill Downs officials said in a statement.
"The connections of Medina Spirit have the right to request a test of a split sample and we understand they intend to do so.
"To be clear, if the findings are upheld, Medina Spirit's results in the Kentucky Derby will be invalidated and Mandaloun will be declared the winner.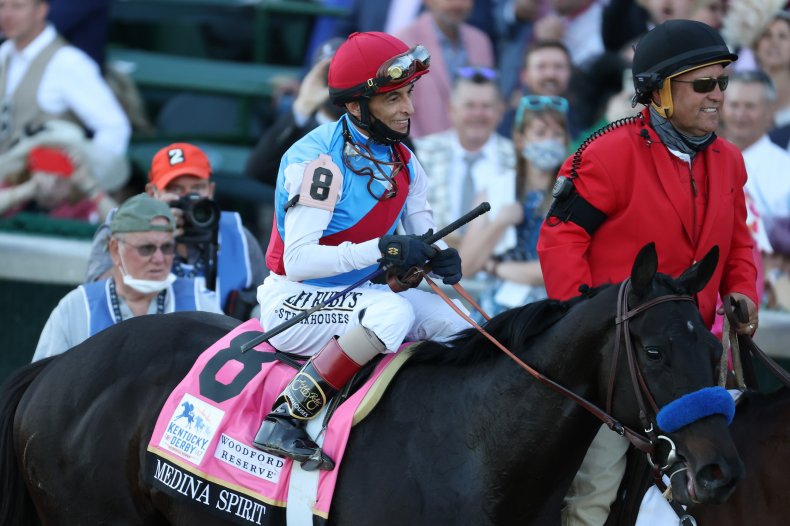 What happens to Kentucky Derby's winning bets?
While Medina Spirit's connections will not receive the $1.86 million winner's share of the Derby purse money if the horse is disqualified, bettors will be unaffected and those who bet on Medina Spirit will keep their winnings.
The three-year-colt went off at 12-1 and approximately $11 million was bet on the horse, out of a combined $155.4 million bet on the Derby.
What did Bob Baffert say?
On Sunday, Baffert firmly pushed back against the findings, insisting the horse had never been treated with the medication and that he had been "wronged".
"This is the biggest gut-punch I've had in racing and it's for something I didn't do," he told reporters during a press conference arranged outside his barn at Churchill Downs. "It's an injustice. I don't know what's going on in racing now but it's not right.
"I cannot believe that I'm here. I don't feel embarrassed, I feel like I was wronged. We're going to do a complete investigation. He's a great horse and he doesn't deserve this."
Medina Spirit is the fifth horse trained by Baffert to have failed a drug test in little more than a year. Betamethasone is the same drug Ganine tested positive for after finishing in the Kentucky Oaks in September last year. The horse was eventually disqualified and Baffert was fined $1,500.
"I'm not a conspiracy theorist," the trainer added. "I know everybody is not out to get me, but there's definitely something wrong. Why is it happening to me? You know, there's problems in racing, but it's not Bob Baffert."
Will Medina Spirit race in the Preakness Stakes?
Bar a last-minute surprise, Medina Spirit will take part in the Preakness Stake on Saturday. Mandaloun, however, will not be racing, which means there won't be a Triple Crown winner this year should Medina Spirit be stripped of his Derby win.