Can Medina Spirit Race in Preakness After Failed Drug Test?
This year's Kentucky Derby was set to be a positive return to a semblance of normalcy after last year's race was delayed and then held with no spectators due to the pandemic. On May 1, trainer Bob Baffert made history with his seventh career win at Churchill Downs, but a week later, the good feelings abruptly ended with the announcement that his horse Medina Spirit tested positive for a drug, leaving the second leg of the Triple Crown race at the Preakness in question.
The question on racing fans' minds today is: Will Medina Spirit be allowed to run in this Saturday's Preakness? David Joseph, a spokesman for the Maryland Jockey Club (the organization that runs the Preakness), told Newsweek a decision has not yet been made.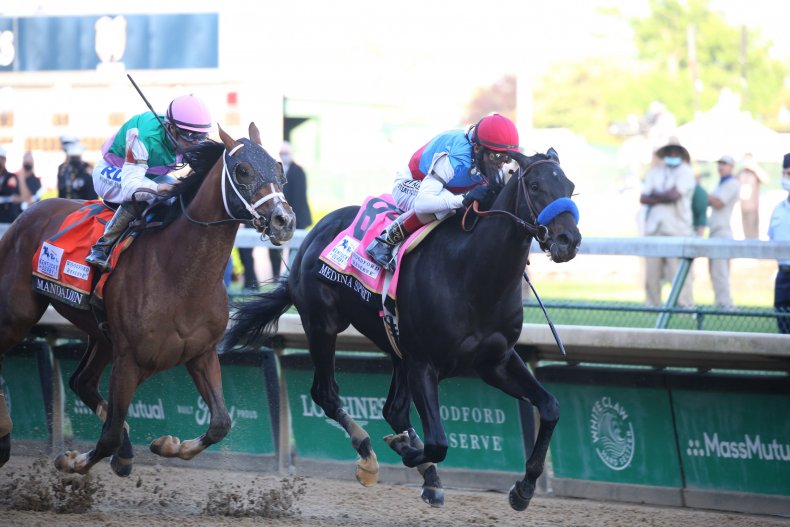 The Maryland Jockey Club (MJC) and 1/ST Racing (the company that owns the Pimlico Race Course where the Preakness is held) also released a statement on Sunday following the announcement about the positive drug test.
It read, in part: "1/ST Racing and MJC intend to review the relevant facts and information relating to the reported medication positive as a result of the post-race blood sample testing completed by Churchill Downs following the 147th Kentucky Derby involving Medina Spirit trained by Bob Baffert. We are consulting with the Maryland Racing Commission and any decision regarding the entry of Medina Spirit in the 146th Preakness Stakes will be made after review of the facts."
J. Michael Hopkins, the executive director of the Maryland Racing Commission, suggested the fate of Medina Spirit is not up to the governing body he represents. He wrote to Newsweek that the commission "would not be making any decision or comment on this matter since the issue occurred in Kentucky." He also declined to speculate on how the commission would respond should any further evidence against Baffert emerge.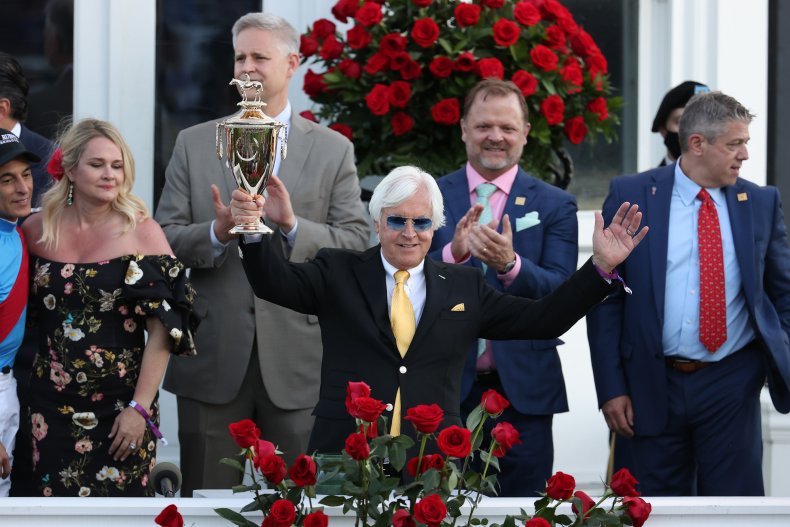 Baffert is accused of administering a more-than-acceptable amount of a corticosteroid to Medina Spirit before the Derby. A positive drug test showed twice the allowable limit of betamethasone, an anti-inflammatory that is not technically illegal, but can only be used therapeutically no later than 14 days before a race. (Betamethasone is also not technically considered a performance-enhancer.)
Baffert denies the horse used the drug at all. While not specifically saying he is being targeted, he did wonder why his horses keep getting flagged. The Kentucky Derby marks the fifth time in a year one of his horses has tested positive for a drug. It's also the second time in a year one of his horses tested positive for betamethasone after his filly Gamine was found to have more than the acceptable threshold in her system in last year's Kentucky Oaks.
Speaking to reporters at Churchill Downs after the positive test was announced on Sunday, he said he would fight the result. He also said: "There's problems in racing, but it's not Bob Baffert."
As of now, Medina Spirit is still considered the winner of the 147th running of the Kentucky Derby. Before the horse is disqualified, a second test—called a "split sample"—must be shown to be positive, according to Kentucky Horse Racing Commission regulations. That sample's results could play a large part in Medina Spirit's fate in the Preakness.
Natalie Voss, the editor-in-chief of the horse racing publication Paulick Report, further explained Medina Spirit's eligibility in the Preakness. She wrote to Newsweek, "Legally, the hands of state racing commissions are tied until there is a ruling from Kentucky. Commissions in general cannot refuse a trainer entries, but they can suspend a trainer's license, which will effectively prevent the trainer from entering horses while suspended. No state can impose sanctions on a trainer's license without making a ruling, and a ruling can't be made until after the split sample testing is complete."
Voss also noted that "[s]tates will reciprocate each other's rulings in terms of suspensions." In other words, if Baffert's license were to be suspended in Kentucky, Maryland (home of the Preakness) and New York (home of the Belmont, the third leg of the Triple Crown) would also recognize that suspension. There is an appeal process, though, which Voss said could be lengthy, and thus "if a ruling were issued that resulted in a suspension, it's unlikely Baffert would be made to serve it before the appeals process concluded—and that could be months or even years."
It's also possible a racetrack's ownership could deny Baffert from entering horses without commission rulings. In fact, Churchill Downs already suspended Baffert and announced that the second-place horse in the Derby, Mandaloun, will be declared the winner should the split sample also turn up positive.
"Churchill Downs will not tolerate it. Given the seriousness of the alleged offense, Churchill Downs will immediately suspend Bob Baffert, the trainer of Medina Spirit, from entering any horses at Churchill Downs Racetrack," track officials said in a statement released Sunday.
Voss thinks it's possible that Preakness track owners 1/St Racing could follow Churchill Downs' lead and suspend Baffert, but there's not much precedence for the move. She wrote, "It is possible that the racetrack ownership could decide to exclude Baffert's horses as a matter of exercising private property rights. This is not something that happens very often, and I'm not aware of it ever happening while the results of a split sample test are still pending, except for Churchill's announcement yesterday."
Now it all comes down to the split sample, which was drawn from Medina Spirit's blood post-race and sent to an independent laboratory. The results from the sample may not come back for weeks.
Baffert has said he fully intends on Medina Spirit's running in the Preakness Stakes. On Monday, his attorney Craig Robertson said he is prepared to file a temporary restraining order that would prohibit Pimlico Race Course from denying Medina Spirit's entry in Saturday's Preakness.