A Kentucky judge has swatted down an attempt by famed horse trainer Bob Baffert to avoid penalties related to a positive drug test for Medina Spirit during last year's Kentucky Derby.
The ruling from the state appeals court judge means Baffert's training license will be suspended for 90 days. Additionally, he will be banned from Churchill Downs, the race track that famously hosts the Kentucky Derby. The ruling is the latest after Medina Spirit, a 3-year-old colt trained by Baffert, had his Kentucky Derby win vacated after testing positive for elevated levels of an anti-inflammatory steroid called betamethasone.
The 90-day suspension imposed earlier on Baffert by the Kentucky Horse Racing Commission will now go into effect Monday, April 4, reports Thoroughbred Daily News.
Baffert had appealed the suspension, arguing it would be ruinous to his training business in California because nationwide reciprocity laws would require him to close his barn, disburse the approximately 100 horses in his care and lay off nearly 80 employees, Thoroughbred Daily News reported, citing the judge's order.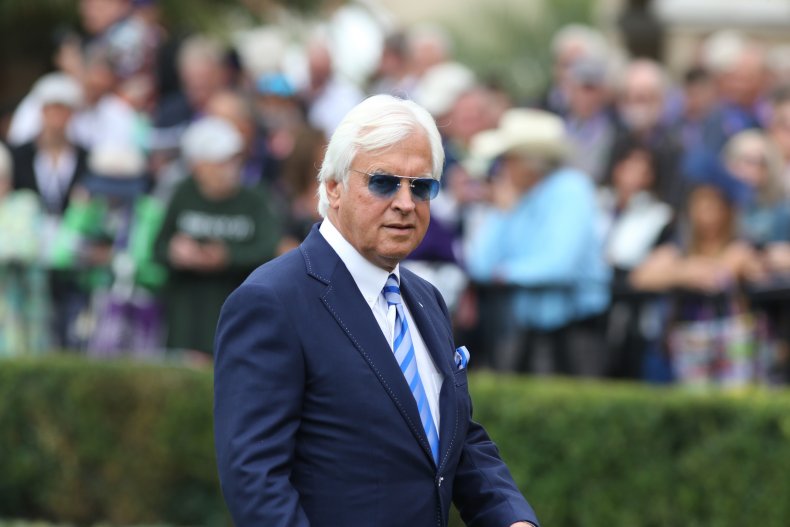 "We were disappointed by today's decision, but it's important to understand that the court made it clear that it denied the stay purely on procedural grounds and not on the merits, all of which point to Bob ultimately winning this case," Clark Brewster, attorney for Baffert, told The Courier-Journal.
Brewster told the paper that he would "continue to fight for Bob's ability to race and win in Kentucky."
Marty Irby, executive director of advocacy group Animal Wellness Action Action, welcomed the judge's ruling, saying it would prevent what he called the "notorious trainer" from running horses at next month's Kentucky Derby.
"Baffert's flagrant disregard for the rules of horse racing has resulted in this long overdue consequence, and we hope this decision will help lift the cloud of darkness that's loomed over the grounds of Churchill Downs in Louisville for the past several years," said Irby.
As result of the judge's ruling, Baffert will be banned from Churchill Down for two years beginning Monday, reports The Courier-Journal.
Baffert has denied any doping of the race horse, which later died of a suspected heart attack.
"[It's an] injustice to the horse," Baffert said in May of last year in response to the positive test. "I don't feel embarrassed, I feel like I was wronged. But I'm going to fight it."
Newsweek has reached out to Baffert's attorney for comment.