Medina Spirit, Who Tested Positive For Steroids After Winning Kentucky Derby, Dies On Track
Medina Spirit, a three-year-old Colt and controversial winner of this year's Kentucky Derby, died on Monday at Santa Anita Park in California of a suspected heart-attack.
The horse was completing a workout around 7:45 a.m. when he collapsed near the finish line and was taken off the track by ambulance. A cause of death has not officially been reported by the California Horse Racing Board, but the colt's owner, Amr Zedan, told Thoroughbred Daily News that it appeared to be a heart attack.
"It was quick and he didn't suffer. It's unfortunate. In a moment like this there is not much that we can do. All I can say is that he gave us the ride of our lives and brought everyone together," Zedan told the news outlet.
CHRB Equine Medical Director Jeff Blea added that there were signs of trouble toward the end of the horse's workout after watching a video of the incident.
"He looked like he was struggling the last part, and the rider was pulling him up," Blea told Thoroughbred Daily News. However, by the time a track veterinarian could reach the colt, it was reportedly too late.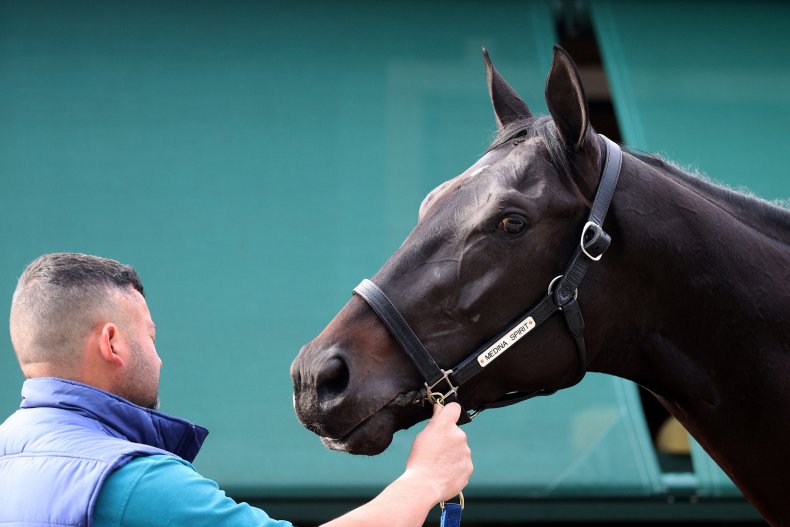 Medina Spirit has been at the center of controversy after he won the 2021 Kentucky Derby and later tested positive for the drug betamethasone, an anti-inflammatory steroid that is legal to use but cannot be found in a horse's system on race day.
The horse's trainer, Bob Baffert, was subsequently suspended from multiple race tracks due to the positive test. However, the Kentucky Horse Racing Commission has not yet charged Baffert or sought to overturn Medina Spirit' win, according to the Los Angeles Times.
Last week, Baffert's attorneys said drug results have shown that the steroid was administered through an ointment, rather than injection, in order to treat a rash.
"It has now been scientifically proven that what Bob Baffert said from the beginning was true – Medina Spirit was never injected with betamethasone and the findings following the Kentucky Derby were solely the result of the horse being treated for a skin condition by way of a topical ointment – all at the direction of Medina Spirit's veterinarian," Baffert's lawyer said last week, according to Louisville Courier-Journal
Medina Spirit has won five lifetime races, including the Kentucky Derby and Awesome Again.
"We had such high hopes for him and so many plans," Zedan told Thoroughbred Daily News on Monday."We were going to go to the Saudi Cup and possibly to Dubai. We wanted to campaign him all next year. The last thing I expected was to hear something like this. It is God's will."
Newsweek contacted the CHRB for additional comment, but did not hear back in time for publication.