Medina Spirit Wins 2021 Kentucky Derby as Trainer Bob Baffert Sets Record
Medina Spirit on Saturday won the 147th Kentucky Derby at Churchill Downs in Louisville, Kentucky. It had 13-1 odds to win the race, which is the first leg of horse racing's Triple Crown.
Medina Spirit is trained by famed trainer Bob Baffert, who won a record seventh Kentucky Derby as a trainer.
Among the leaders of the entire race, the yearling that was bought for just $1,000 held off favorites Essential Quality and Hot Rod Charlie, and Mandaloun, down the back stretch to edge them out for the roses.
Mandaloun had a 26-to-1 shot at winning the race, and posed the biggest threat to Medina Spirit most of the race. It finished second, just a half a length back, but ahead of both Hot Rod Charlie (5/1) and Essential Quality (2/1), who finished a length behind Medina Spirit.
Medina Spirit is the first horse since Mine That Bird in 2009 to win from the No. 8 gate.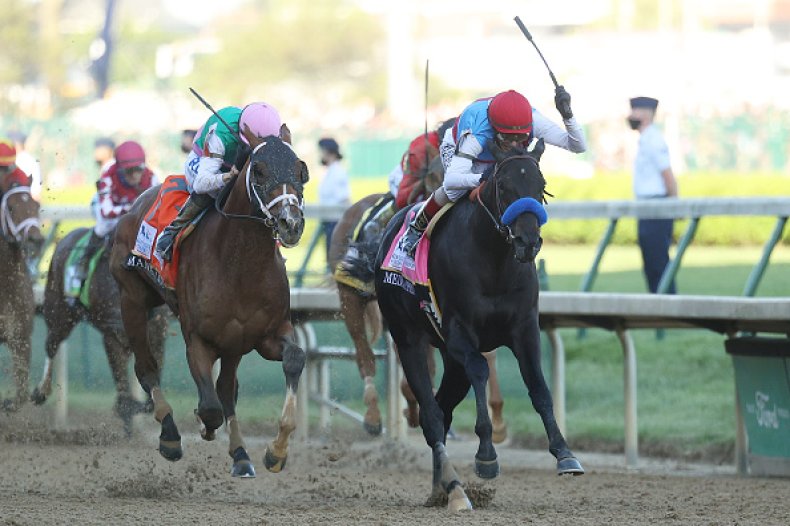 Baffert didn't bring his best horse ever to this year's Kentucky Derby, which made it hard for him to realize he'd won a record-breaking seventh race at Churchill Downs.
"It still hasn't set in," Baffert said after the race. "Medina Spirit has never trailed in a race, but I thought that might change when I saw the others catching up."
Baffert won his first Kentucky Derby in 1997 with Silver Charm, and he won it in 2015 with American Pharaoh, who went on to win racing's Triple Crown that year.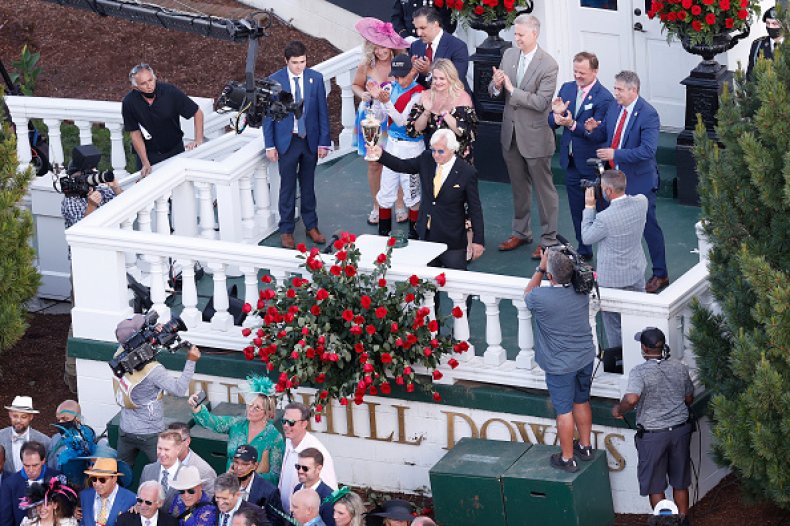 Here are the results from the 147th Kentucky Derby on May 1, 2021.
Medina Spirit
Mandaloun
Hot Rod Charlie
Essential Quality
O Besos
Midnight Bourbon
Keepmeinmind
Helium
Known Agenda
Highly Motivated
Sainthood
Like the King
Bourbonic
Hidden Stash
Brooklyn Strong
Super Stock
Rock Your World
Dynamic One
Soup and Sandwich
King Fury
There were originally 20 horses slated to run this year's Derby, but King Fury was scratched before the race because of fever, bringing the total to 19 for the actual race.
Saturday's race was the first time it was back on the first weekend in May, and also the first time again with fans, since the 2019 season. COVID-19 pushed the race to September in 2020, when it was held with no fans.
The race on Saturday had an announced attendance of 51,838 fans, which is now the largest-attended sporting event in the United States since the COVID pandemic began.
Mike Smith, 55, was the jockey riding Midnight Bourbon. This was Smith's 27th Kentucky Derby, which breaks the record previously held by legendary Bill Shoemaker.
Here are the next two legs of the Triple Crown:
May 15, 2021 — Preakness Stakes (Pimlico Race Course, Baltimore, Maryland)
June 5, 2021 — Belmont Stakes (Belmont Park, Elmont, New York)
The last Triple Crown winner was Justify in 2018, and the previous Crown winner was American Pharoah in 2015, which ended a 37-year drought with no horse that swept the three races (Affirmed, 1978).
-