Mediterranean Diet: Why Was a Study Showing Its Benefits Retracted?
From preventing Alzheimer's to protecting us from frailty, numerous studies point to the potential health benefits of following a Mediterranean diet. But one study into the lifestyle has been retracted after problems were found with how it was carried out.
There is no one specific Mediterranean diet, and so the term is characterized by the consumption of high levels of fruits, vegetables, whole grains, beans, nuts, and seeds. Olive oil is the main source of fat, and followers also consume low levels of dairy products, fish, eggs, wine and poultry.
Red meat and processed foods are eaten as little as possible. On average, a relatively large amount of calories come from monounsaturated, rather than saturated, fats. Experts believe this combination of foods can prevent a range of diseases.
However, the New England Journal of Medicine has retracted one study into the diet published in 2013. The Predimed study claimed those who ate a version of the Mediterranean diet including olive oil were 30 percent less likely to have a stroke, heart attack or die from other cardiovascular conditions compared with those who consumed a low-fat diet. A diet which included mixed nuts was meanwhile associated with a 28 percent lower risk.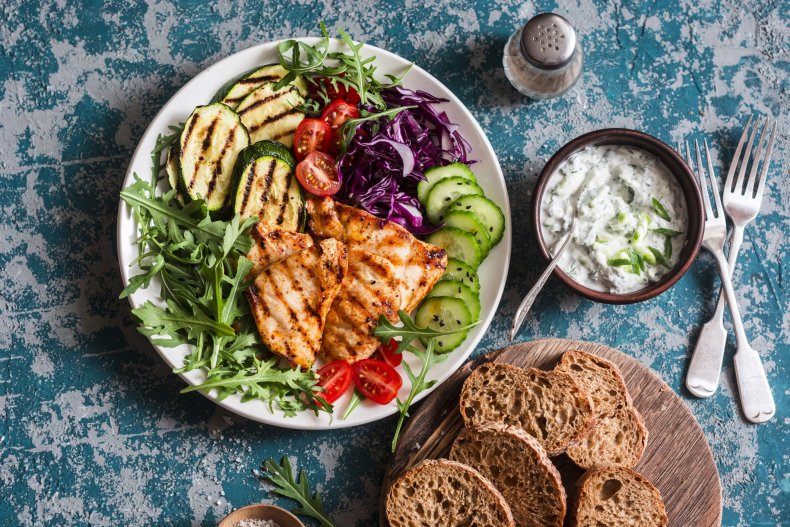 But the authors later acknowledged the diets assigned to the study participants were not properly randomized in some cases. The team re-assessed their findings and have replaced the 2013 version. Studies are retracted in order to signal there is an issue with the conclusion of a paper, and ensure that scientific research is water-tight.
Dr. Miguel Ángel Martínez González of the University of Navarra Medical School, who was lead author of the study, told Newsweek there were "minor imperfections in randomization" affecting at most 14 percent of participants which do not change the conclusion of their work.
The retraction doesn't mean the results should be dismissed entirely, or that the Mediterranean diet is not beneficial.
Dr. González stressed the new version of the study has been peer reviewed, is of the highest standard and the results remain the same, he said.
"Both Mediterranean diet interventions did lower (causally) the incidence of hard cardiovascular events," he said. "For the average person of course [following the Mediterranean diet is] the best to prevent heart disease. This is consistent with a very wide array of published papers."
Dr. Frankie Phillips, a registered dietitian and BDA spokesperson, told Newsweek the restraction is not cause to question the benefits of the diet.
"The wealth of other studies shows that the Mediterranean diet is a very healthy diet to follow, and ticks pretty much all of the boxes when looking to what comprises a healthy balance of foods. Whilst this study has been shown to be weaker than first suggested, it does not give any reason to think that this diet is problematic in any way."
David Allison, dean of the School of Public Health at Indiana University in Bloomington who was not involved in the study, told NPR the legs had been kicked from under the study, somewhat.
However he added: "I don't know anybody who would turn around from this and say, 'Now that this has been revealed, we should all eat cotton candy and turn away from the Mediterranean diet.'"
This article has been updated to include comment from Dr. Frankie Phillips.