Mediterranean Migrants Adrift, at Sea and Ashore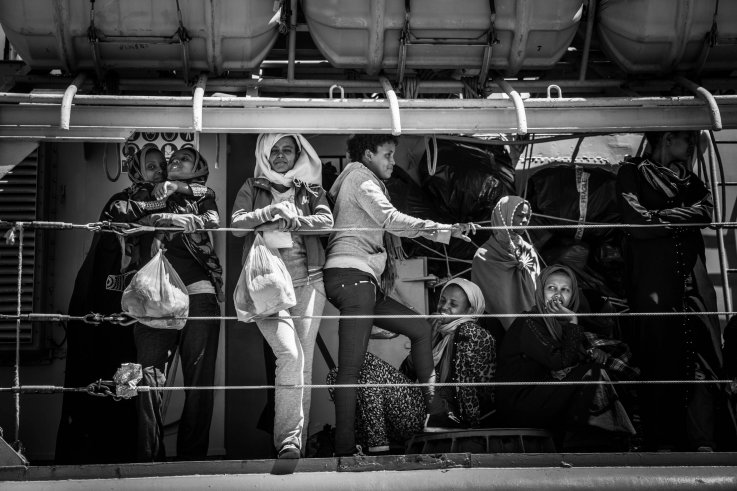 Since 2000, around 22,000 Middle Easterners, Asians and Africans have drowned in the Mediterranean. Many perished in the seas between Africa and Lampedusa, the small, southern Sicilian island just 180 miles from Tripoli and the closest part of Europe to Libya.
In the past 18 months, the number of those trying to reach Europe—and dying along the way—has accelerated. In 2014, more than a quarter of a million migrants tried to cross the Mediterranean, of whom 3,702 died. The European Union predicts the crossings could exceed 500,000 in 2015, a spike the International Organization for Migration is warning could bring 10,000 deaths.
Read our feature story: Migrants and the New Mediterranean Mafia
Traffic is rising for various reasons: civil wars in Libya, Yemen, Syria and both Sudans, as well as repression in Eritrea. Europe is not blameless in these disasters. NATO helped depose Muammar el-Qaddafi in Libya, the European Union supported an ethnically divisive government in South Sudan, and both NATO and the EU have done little to stop Syria's implosion.
Africans arriving in Europe often remind those who object to "economic" migration that the wealth that now attracts migrants was amassed, in large part, by Europeans who migrated to Africa in pursuit of its riches in the 19th century. Nevertheless, Europe has reacted hesitantly to the news that the Mediterranean is becoming a mass grave.
The EU's dawdling attempts to address the 2008 economic crisis, and its slow and uncertain response to the flood of migrants, have raised questions about its ability to cope with the crisis and even, its critics say, to function at all. If there is new hope, it lies with Italy's elite anti-Mafia prosecutors, who have argued that because people smuggling is a form of organized crime, and one that affects Italy, this human disaster comes under their jurisdiction.