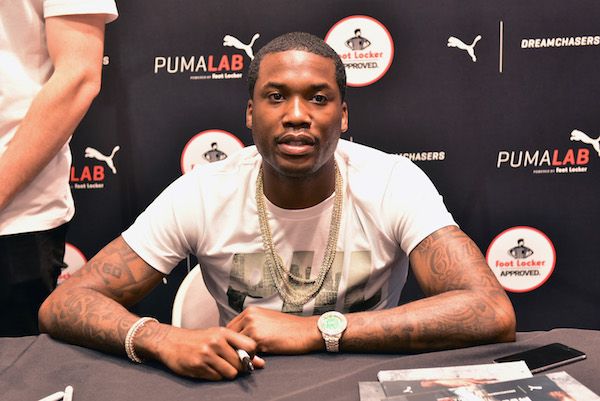 A police officer who arrested rapper Meek Mill in 2007 was named on Philadelphia District Attorney Office's "Do Not Call" list, a document obtained and released by the Philadelphia Inquirer on Tuesday warning prosecutors of several officers suspected of corruption.
A document listing the names of 29 current and former officers with a history misconduct includes Reginald Graham, the officer who aided in the 2008 conviction of Mill. The rapper, real name Robert Rihmeek Williams, was 18 when he was arrested in 2007 for carrying a gun while shopping at a local Philadelphia grocery store.
Although the list contains a summary of penalties officers are facing, details surrounding Graham's were limited. But the document did state Graham was being "investigated by federal authorities for several alleged acts of corruption." It also noted that the officer played an integral role in Mills arrest more than a decade ago and that he was the only officer to testify during Mill's trial.
After serving eight months in jail, Mill was placed on five years's probabtion. But in November 2017, he was arrested again and sentenced to two-to-four years in prison for violating the terms of his probation.
Mill's lawyer Joe Tacopina has long accused the Philadelphia judicial and police systems of exploitation and unfair treatment of Mill, whose 2017 album Wins And Losses peaked at No. 3 on Billboard's Top Album's chart. "The release of the so-called 'Do Not Testify' list supports everything in the motions filed by Mill and others wrongfully arrested by Officer Graham for post-conviction relief," Tacopina said in a statement to TMZ on Wednesday.
Recently, a woman serving as a court clerk during Mill's probation hearing was fired after court administrations discovered she solicited Mill for money. Wanda Chavarria reportedly slipped Mill a letter asking the 30-year-old to help pay for her son's college tuition.
Genece Brinkley, the judge who's overseen all of Mill's trials including his 2007 incident, is also under investigation regarding the handling of Mill's latest prison sentencing. Tacopina filed an appeal motion and requested to have Brinkley taken off the case, citing the judge's alleged "infatuation" with Mill as grounds for her removal.