Philly Clerk Wanda Chavarria Fired for Asking Meek Mill for Money During Rapper's Prison Sentence Hearing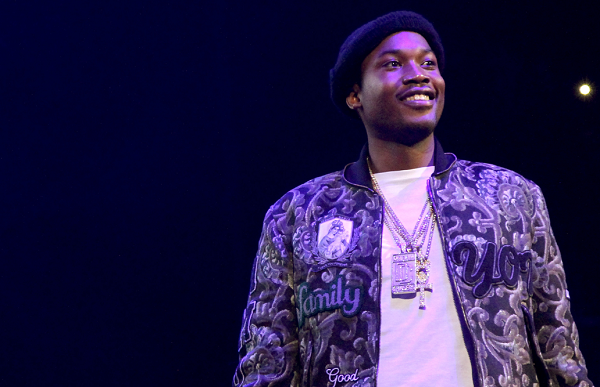 In the latest chapter of the drama-filled trial of Philadelphia rapper Meek Mill, a woman serving as a court clerk during his prison sentence hearing was fired on Tuesday after court administrators learned she asked Mill for money.
Wanda Chavarria slipped Mill (born Robert Rihmeek Williams) a note during his November 6, 2017 hearing, asking if he would help to fund her son's final college semester at Virginia Commonwealth University.
TMZ obtained the letter, which read, "This will probably be my son's last semester at VCU if the tuition isn't paid for this year and unfortunately with my bad credit, I am unable to secure a loan or cosign a loan for my son. Anything you can do is very much appreciated. Every little helps—please donate what you can to keep him attending VCU."
Chavarria told TMZ that Mill never replied to her note. Hours after slipping it to him, Judge Genece E. Brinkley sentenced the rapper to two to four years in prison for violating the terms of his parole on two separate occasions.
Chavarria, who worked for the Philadelphia court system for close to three decades, said Brinkley wasn't aware of the note before she delivered Mill's sentence.
A spokesperson for the First Judicial District of Pennsylvania issued a statement on Tuesday confirming that Chavarria had been terminated following a review of her conduct during the November hearing: "The Philadelphia courts have always prioritized fairness, impartiality, and the highest ethical standards. The courts fully expect all employees to conduct themselves in a principled and professional manner so as not to infringe upon the neutrality of the courtroom."
Prior to this latest incident with Chavarria, there was another featuring Judge Brinkley. Immediately following Mills's sentencing in November, his lawyer, Joe Tacopina, appealed the motion and requested Judge Brinkley's removal from the case, alleging she was "infatuated" with the "Dreams and Nightmares" rapper. Brinkley has presided over Mill's case since he was initially charged with drug and gun possession in 2007.
"[Brinkley] is enamored with him…She showed up at his community service for homeless people," said Tacopina, who additionally accused the judge of asking Mill to remake a Boyz II Men song and give her a shoutout on the track.
Brinkley is currently under investigation for partial treatment of Mill, who remains behind bars at the State Correctional Institution in Chester, Pennsylvania. On Friday, the judge was ordered to release Mill case transcripts conducted in Brinkey's hearing chambers.