Meena Harris, the niece of Vice President Kamala Harris, received more than 6,000 retweets and 35,000 likes on a since-deleted tweet, blaming white men for the violent shooting in Boulder, Colorado, on Monday.
According to screenshots of the deleted tweet, as of 6:59 p.m. ET on Monday, Harris received 6,564 retweets, 35,700 likes and over 300 quote tweets.
"The Atlanta shooting was not even a week ago. Violent white men are the greatest terrorist threat to our country," Harris wrote in the tweet that has since been deleted.
The removal of her tweet comes shortly after the Boulder Police Department identified the suspect as Ahmad Al Aliwi Alissa, a 21-year-old Arvada, Colorado, resident. Quotes from the Prophet Muhammad were posted on a Facebook page that appeared to belong to Alissa.
In addition to identifying the suspect in the mass shooting, the Boulder Police Department also identified the 10 victims who were killed on Monday. The Boulder Police Department previously identified one of the victims as their own Officer Eric Talley, but on Tuesday they announced the names of the nine additional victims, which included Denny Stong, 20; Neven Stanisic, 23; Ricky Olds, 25; Tralona Bartkowiak, 49; Suzanne Fountain, 59, Teri Leiker, 51; Kevin Mahoney, 61; Lynn Murray, 62; Jody Waters, 65.
In the thread of her deleted tweet, Harris wrote, "I saw Boulder trending and I immediately knew. My heart is with everyone affected by this horrific tragedy."
Shortly after deleting her tweet, Harris issued a response on Twitter, writing that "I deleted a previous tweet about the suspect in the Boulder shooting. I made an assumption based on his being taken into custody alive and the fact that the majority of mass shootings in the U.S. are carried out by white men."
According to data from Statista, white shooters accounted for 66 of 121 mass shootings from 1982 to 2021.
While police responded to the Monday's shooting at the King Soopers supermarket in Boulder, Alissa was shot and transported to a local hospital shortly after.
"The man who gunned them down will be held fully responsible," Boulder District Attorney Michael Dougherty said during a press conference on Tuesday.
During the press conference on Tuesday, Boulder Police Chief Maris Herold did not provide any further information on the suspect or possible motives.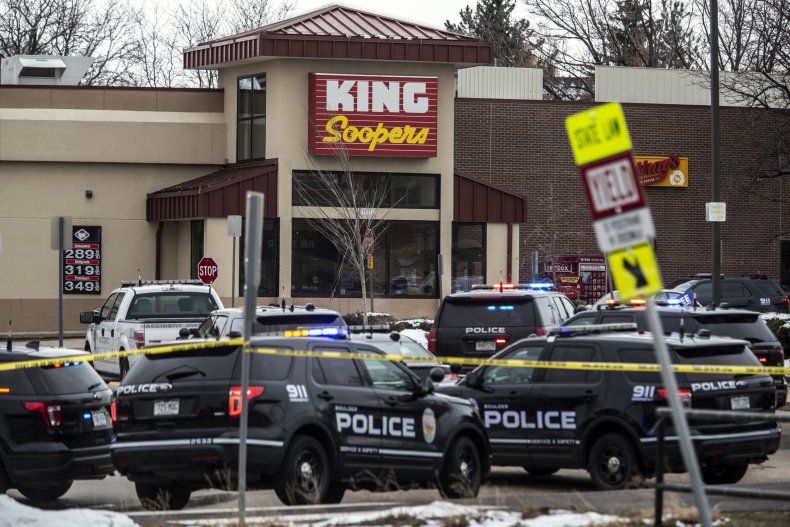 NBC News reported that according to court documents, Alissa purchased a Ruger AR 556 rifle on March 16.
After being taken into custody, Alissa was charged with 10 counts of murder in the first degree and will soon be transported to the Boulder County jail as he awaits his court proceedings.
Newsweek reached out to Harris for comment but did not receive a response in time for publication.
Correction, March 24, 2021, 10:45 a.m. ET: A previous version of this story mistakenly referred to the 10 people killed in the shooting as suspects. This article was updated to correct the spelling of Denny Stong.