Meet America's Favorite Cop
On a Friday night at Common Ground High School in New Haven, Connecticut, Officer Tommy Norman is the man of the hour. The Arkansas police officer recently visited with Bereavement Care Network, a local non-profit organization that assists families affected by homicide. At this meet-and-greet event, Norman took dozens of pictures, shook numerous hands and gave out even more hugs.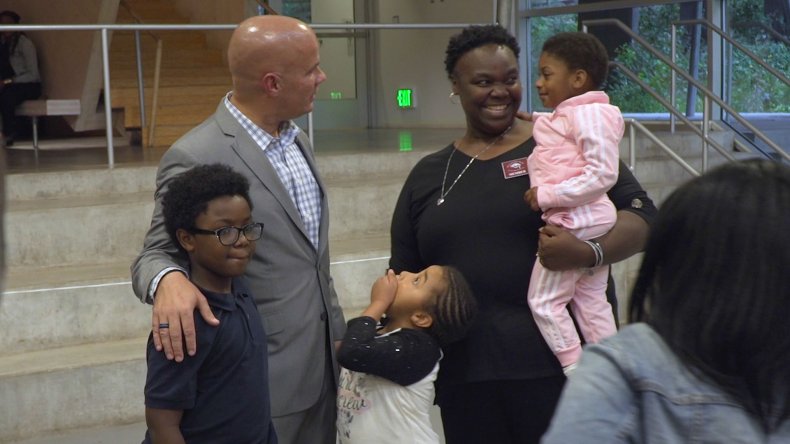 The 46-year-old travels all over the country on behalf of his Mission Give Foundation, which he founded in North Little Rock, Arkansas, to serve his community beyond his duties as a law enforcement officer.
"When my time on Earth is done, I don't want people to just remember me as a man in a uniform," Norman tells Newsweek. "I want to prove to people that you don't have to be a police officer to make a difference."
The veteran officer has spent more than 20 years employing a tactic he believes to be most effective in keeping neighborhoods safe: community policing. Norman says the two main components of community policing are forming relationships and maintaining commitment to those relationships.
"It starts with the heart. So as a police officer, your badge should have a heartbeat and not an ego. Your badge should have empathy, it should have respect, compassion," Norman says.
His passion for the community goes well beyond his normal patrol route. He is known for his off-duty involvement with children, elderly and the disabled. "It's forming relationships with people that I think some of society would forget about or turn their backs on," he explains.
Norman is a local legend in his community of North Little Rock, and he makes his presence known. His vast number of social media followers spot him in different neighborhoods, visiting with residents of the community, distributing gifts on behalf of his foundation and engaging in local events.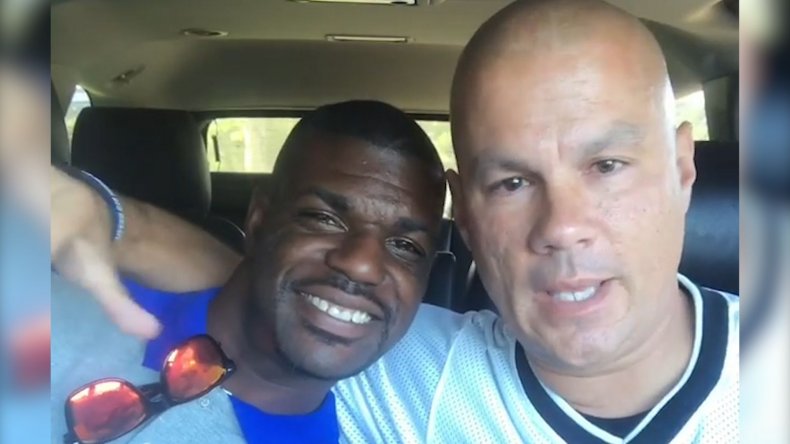 Norman credits his strong relationship with the community to the firmly held promise that he will always be around.
"That's huge when it comes to community policing, [for] people to see your face every day, [to] be visible but not only in uniform," Norman says, adding, "You go right back out there on your day off, or maybe when your shift is over, because the community becomes ultimately a part of your family, and you spend as much time with them as you can."
The officer had been posting about his outreach on social media for a few years when in 2016, rapper The Game gave Norman a shoutout on Instagram. The rapper and his son Harlem started a GoFundMe page to aid Norman's work through his foundation. The fund exceeded its $50,000 goal, eventually exceeding $73,000.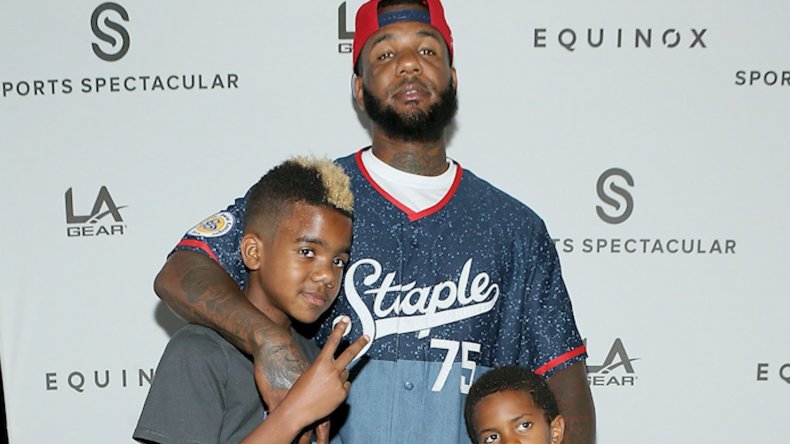 The increased exposure led to Norman's social media following jumping from a few hundred thousand up to more than one million, making him Instagram's most famous police officer. All of this came at a time when contentious debates were being had about the role of race in the 2016 Dallas police shootings. "All these people across the world were really frustrated, and being a police officer myself, it disappointed me. I know police officers do a lot of great work across the world," Norman reflects.
The officer also expressed his hope that police and members of the community could break through racial and cultural barriers. "It's just humanity," Norman says. "You talk about caring for people that aren't your color, communities of color. You should go in there and get to know people that you have nothing in common with, get to know their stories."
He adds that he is honored to be hailed as an example of overcoming obstacles to serve and protect the community. "To know that the world ended up having a lot of faith in me and people counted on me, and now I travel across the world speaking about my work as a public servant, it's a huge honor," he said.
The exposure has prompted numerous celebrities and public figures to contact Norman, thanking him for his work and supporting his foundation. In 2017, Grammy Award-winning singer Bruno Mars provided 25 floor seats at his concert in North Little Rock to local youth and gave Norman $10,000 in Foot Locker gift cards for disadvantaged children. Community organizations around the world are now reaching out to Norman to visit and share his philosophy of giving back to his community.
"I share my story first of all. I share my story as a young boy in North Little Rock, who at a young age wanted to give. And that carried on as a police officer. I share that anybody can make a difference," Norman says.
The Arkansas officer came to New Haven to share his experience and learn more about the work being done by Bereavement Care Network, founded by Nakia Dawson-Douglas after the loss of a close friend in 2011. "His mom asked me to help her with the funeral as far as going to the funeral home, to the cemetery. At that time, that was not my cup of tea," Dawson-Douglas says.
Dawson-Douglas soon realized there was a greater need in the city of New Haven. According to the New Haven Register, in 2011 the city suffered 34 homicides, a significant figure in a city with a population under 130,000.
Since its founding in 2013, Bereavement Care Network has served 37 families, aiding with funeral costs as well as providing food, clothes and emotional support to the families that have lost loved ones to homicide.
"My reward with Bereavement Care is before I leave the door, the parents say 'Can I give you a hug?' And they didn't know me from anything walking in, but they want to give me a hug because I actually just helped them with their loved one's funeral," Dawson-Douglas says.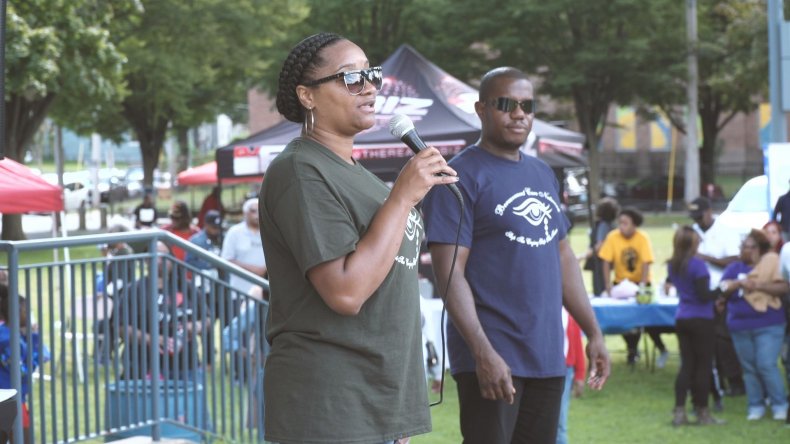 In 2017, New Haven saw its lowest homicide rate in over a decade with just seven homicides for the year. Along with a reduction in homicide, the city saw a drop in violent crime across the board.
Police Chief Anthony Campbell credited the decrease in crime rates to numerous collaborations with the community, including Project Longevity—an initiative launched to bolster a relationship between law enforcement and neighborhoods through community policing.
At the Bereavement Care Network march, New Haven Mayor Toni Harp thanked the organization for its work in raising awareness of violence and driving down crime. "You have been doing this [event] for six years and crime has gone down, but not far enough," Harp continued, "So thank you for holding up our young people who we lost, keeping them in our minds, and committing yourselves to reducing violence in our community."
Dawson-Douglas acknowledged the use of community policing in New Haven, but said many families are uneasy when dealing with police. "A lot of my families tend to stray away from police because of their fear of, 'Oh you didn't solve my son's case,'" Dawson-Douglas says. She hopes Norman can serve as an example to New Haven families on the benefits of starting a dialogue and relationship with law enforcement.
"You deal with homicide detectives, you deal with the chief. You deal with so many officers and [families affected by homicide] really don't, they tend not to trust. Officer Norman has that following where he's actually trusted in the community. So I want him to bring that awareness to New Haven where I think the families will look at our officers in a different light," Dawson-Douglas says.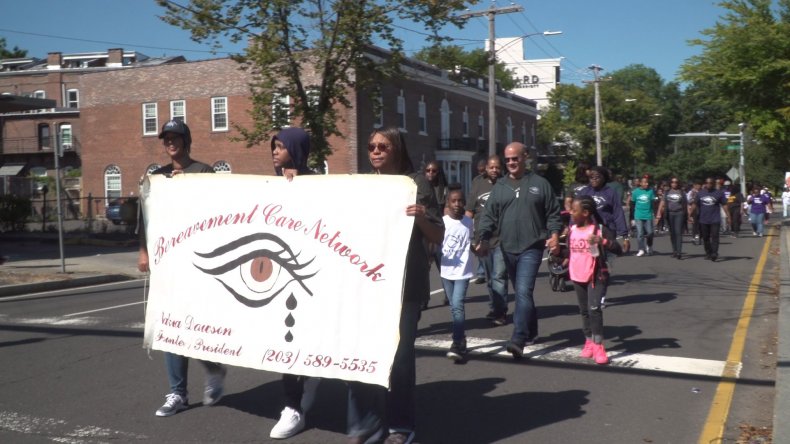 Norman acknowledged negative headlines about relations between police and the communities they patrol. In his view, the onus of improving relations on a large scale will fall equally on both parties. "It's going to take police officers getting out of their police car, visiting the local boys and girls club, visiting the local nursing homes, visiting local barbershops... It also takes community members to maybe approach an officer, engage in a conversation to get to know that officer as well."
At each march and rally event, Dawson-Douglas addresses the families she works with, saying, "Look in the front of you, look behind you, look to the left of you, look to the right of you. Everyone you're looking at are dealing with the same pain. You're not alone."
Norman says making a real difference will take everyone getting involved. "As long as you get out there, if you make a difference in one person's life, you've changed the world. You've changed the world for the better through at least one person."
This article was updated to include additional information about Tommy Norman's Instagram account.