'She's Got A Donald Trump Head': Meet the Arkansas Man Whose New PAC Calls for Sarah Sanders to Run for Governor
Sarah Sanders isn't running for governor in her home state of Arkansas, despite recently unveiling a campaign-style website. But if rumors and speculation that the former White House press secretary turned Fox News contributor become reality and she decides to run in 2022, a group of Arkansans will be ready.
Jarrad Shelton, a 39-year-old lifelong conservative and Arkansas resident who is the father of two daughters and is a landlord, has created a political action committee (PAC) to raise money and support: Draft Sarah Huckabee Sanders For Arkansas. Sanders' years-long role as one of President Donald Trump's fiercest defenders is something that Shelton believes would make her an ideal Republican Arkansas governor.
"That's what we want our leader to look like. It's someone who can take the attacks and still move forward, get our message out there and try to make Arkansas a better place, despite people attacking her. Much like Donald Trump does," Shelton told Newsweek by phone on Wednesday. "She's got a Donald Trump head, for lack of a better term. She does it her way and it's the right way. She's not gonna be bullied. She's not gonna be pushed around. She's going to stand firm and get her message out there."
Apart from his day job as a landlord, and now the head of a PAC, Shelton published a book in 2017, The Intolerant, 'Tolerant' Party, that aims to show "who the true 'racist' party in America is," according to its description. The book also delves into Shelton's belief that "racism and bigotry are at an all-time high" because of the "'tolerant' Democratic Party and their policies."
Sanders left her post at the end of June after nearly two years working at the White House. In the last few months of her tenure, she stopped delivering formal media briefings from behind the press secretary's podium, which was unusual — even for the Trump administration. Rather, Sanders began conducting more impromptu press gaggles outside the White House or appearing more regularly on Fox News.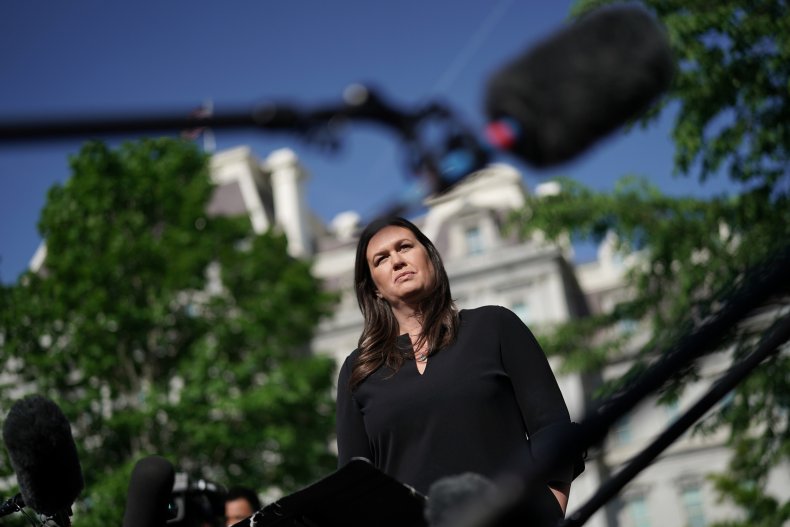 News of her resignation came with the blessing of her boss, who encouraged her to one day run for Arkansas governor — a position Sanders' father, Mike Huckabee, held for more than a decade from 1996-2007.
"I hope she decides to run for Governor of Arkansas - she would be fantastic," the president tweeted at the time.
During her time as press secretary, Sanders told numerous and frequent falsehoods — like claiming Trump created more jobs for African-Americans than Obama, Trump never "promoted or encouraged violence," Obama ordered then-candidate Trump to be wiretapped and "countless" FBI agents expressed support for the firing of former Director James Comey — and was often ridiculed for it by critics and questioned by reporters about her credibility.
But her inaccurate track record doesn't concern Shelton, and it's something that he believes most Arkansas voters won't care about either.
"She was attacked by everybody. So, even if she never told anything that may have been a stretch of the truth, she was going to be attacked anyway," he explained, suggesting that some of Sanders' false remarks were the result of reporters attempting to goad her into saying something misleading. "Things that she's done behind the podium don't concern me or Arkansas residents at all. We all saw the media attack her daily. It's not concerning at all."
In an announcement last week, Fox News revealed Sanders would make her debut as a paid contributor on Fox & Friends' live audience show the morning of September 6. The program is one of Trump's favorites on the cable news network.
Shelton said that neither he nor any of the other individuals involved with his PAC have even reached out to Sanders, much less spoken with her, in order to stay clear of any future potential allegations they could have violated Federal Election Commission rules regarding candidates coordinating and communicating with PACs. His PAC has unsuccessfully tried to reach Mike Huckabee and the Huckabee family to receive their blessing.
Shelton pointed to Sanders' maiden name as an obvious trait that could benefit a potential gubernatorial campaign, but he doesn't believe she would ride the coattails of her father. Afterall, he pointed out, "the Huckabee name means a lot in Arkansas."
"The name Huckabee in Arkansas represents a couple of things: honesty, integrity, faithfulness. She would do things ethically," Shelton claimed, citing her religious upbringing, "and do things the right way."