Meet the Canadian Athlete Changing Sports' Attitude to Gender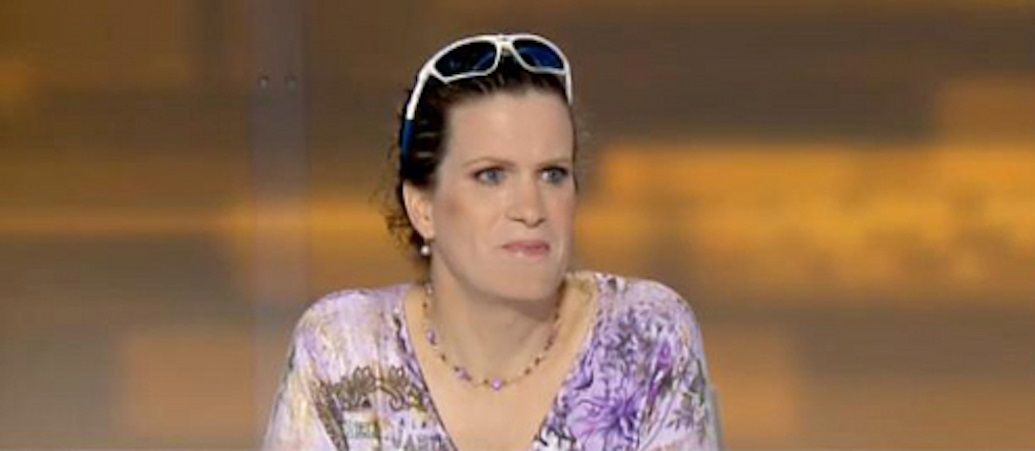 "This case is not about men or women or transgender athletes. It's about how we accept each other as human beings," Kristen Worley tells Newsweek.
What if everything you thought you knew about the line dividing men and women in sport was wrong?
It's simple, isn't it? You're born a girl or boy, grow up into a woman or a man. You compete like that, win medals like it, die like it. Your gender is a fixed entity, immutable, constant.
Simple? It's not a word you hear Kristen Worley, an elite cyclist, use very often.
Worley is a female athlete who has transitioned from male to female. She has undergone sex reassignment surgery, so she no longer produces any sex hormones—no testosterone or estrogen. And that, given her profession, is a fundamental problem.
The courageous Canadian sportswoman is taking on the International Olympic Committee (IOC) and four other major sports governing bodies in a landmark lawsuit that starts on February 29.
She alleges that the IOC's policies on hormone regulation make it dangerous for transgender athletes to compete by forcing them to suppress their testosterone levels to a point that endangers their health.
These policies have already changed twice during the course of her more than decade-long campaign. But, Worley still believes they discriminate against athletes who have successfully changed their gender.
Her case asks pressing questions of how sports' governing bodies distinguish between men and women. But it also has the potential to inspire more athletes to exercise their human rights, by setting a legal precedent—opening up sports-based disputes to courts of law rather than courts of arbitration, where they have traditionally been heard.
"A fully transitioned male-to-female person has no source of testosterone," explains Adrian Dobs MD, professor of endocrinology at Johns Hopkins University in Baltimore, Maryland. "The controversy comes with the question of whether that person, in addition to being treated with estrogen, needs a low level of testosterone similar to a biological woman who has testosterone coming from her ovaries."
It is a controversy magnified in sports, where testosterone is crucial to recovery after strenuous effort. "High-performance females have elevated levels of testosterone," Worley says. "The issue is that the IOC [International Olympic Committee] doesn't interpret women as having any."
The IOC defines male and female athletes in large part by their testosterone levels.
It has a limit of 10 nanomoles per liter of testosterone in the blood (the hormone is also present in the body tissues) under which a woman has to remain in order to compete, ostensibly to avoid accusations of an unfair competitive advantage. Over that level, and she is classified as "hyperandrogenic" and subject to bans from competition.
Female hyperandrogenism is the production of higher than normal—or "excessive"—levels of sex hormones. It can manifest as excessive hair growth and acne. For the IOC, in blunt terms, it means a woman has a competitive advantage because she is too close to being a man.
Dutee Chand, a female Indian sprinter, fell foul of the IOC's regulations in the summer of 2014, and was banned for a year after failing a hormone test. That ban was cut short in July 2015, when the Court of Arbitration for Sport (CAS), professional sport's dispute resolution body, stated that new medical evidence was required to show that elevated levels of testosterone in a woman provided a competitive advantage.
This is an important point to note. For Worley, the terms transgender, transitioned, and even male and female are inadequately nuanced. We all produce male and female sex hormones. So, in her view, setting limits on testosterone dependent on gender is anathema.
"It's a problem that we think women have estrogen and men have testosterone," Worley says. "We have to educate people to show that both genders have these hormones, but at different levels."
If the IOC has faced difficulties in classifying biological women, then its attempts to tackle the field of transgender athletics have proved even more challenging. Prior to 2003, the IOC did not allow athletes to compete classed as the opposite sex from their birth. Then, provoked by an increasing number of cases of transitioned and transgender athletes who wished to compete at an elite level, it announced the first of its policy changes.
The new ruling, known as the Stockholm Consensus on sex reassignment in sports, gave transgender athletes the right to perform as Olympians for the first time in history, provided they had undergone gender reassignment surgery. This was based on the laws in most Western countries, which required surgery to have occurred for an individual to legally change their gender.
It was a leap forward, but the IOC was still insisting on a full transformation for a man who wished to compete as a woman. That includes the removal of the testes, which secrete testosterone. An athlete would have to change his or her body to compete as a member of the opposite sex.
The ruling came too late for Worley to compete at the Athens Olympics in the summer of 2004. But she passed the IOC's requirements, gained her racing license, and began competing under the new policy—the first athlete to do so. At one point, she had designs on the 2008 Beijing Olympics.
But as she trained more often and harder, she began to get sick.
"I started to see deterioration," Worley tells Newsweek from her home in Toronto. "My body could not perform at all." Testosterone, which she could no longer produce, is vital for the body's all-round health. "It controls absolutely everything," says Dr. Richard Petty, Medical Director of the Wellman Clinic in London. "A lack of testosterone presents itself in a multitude of ways, not just to do with sex."
Worley would exercise, and be unable to recover at her normal rate. "I compare testosterone to the amplifier on a music system," Petty says. "It's all to do with volume. You are given physiological equipment which is modified by the presence or absence of testosterone. When testosterone is not present, that equipment will not work as well." In severe cases, an athlete who has undergone a complete surgical transformation from male to female might even be pushed into a postmenopausal state. That means enduring hot flushes, mood changes and headaches.
A partial answer to Worley's problems was permission to take synthetic testosterone, which is otherwise considered a banned substance in sport. But that permission took over three years to arrive, and she says allowed her testosterone in too small an amount to maintain her health—below, even, the level produced by a biological, non-athletic woman. It also required that she be tested six times a year, to monitor her testosterone levels.
Finally, in January 2016, came another policy change, possibly prompted by the raised awareness of transgender rights in Western nations, removing the need for female-to-male transgender athletes to have surgery in order to compete in the Olympics.
Progress? For Worley, the IOC is still shooting the wrong messenger, by demonizing testosterone and making male-to-female athletes suppress their natural hormone levels, and, by consequence, risk their health.
"We are concerned about any person who has been male early on in life and gone through puberty, who has the potential for retaining some male advantages in their lifetime," an IOC member close to the latest recommendation tells Newsweek. "So we set a cut-off level for testosterone."
For Worley, this has now gone beyond a sporting issue and become a question of human rights. Her case is being heard not by a sporting body but in a human rights court— the first time the IOC has been challenged in this manner. "There needs to be a legal system for athletes to seek human rights," she says. "This is going to change the sports system."
This formidable competitor is not only trying to change the way we view how gender is defined in sports. She's trying to change sports itself.
Newsweek has approached the IOC for comment.