Meet the Dogs of Chernobyl: These Wild Animals Are Up for Adoption
As dusk falls on Chernobyl packs of dogs run wild, turning their snouts up at the sky to howl at the moon. During the day, the dogs sunbathe on the roads of nearby Ukrainian villages that are so choked with plants that the asphalt is no longer recognizable. When hundreds of temporary workers stream out of the train station every morning to continue the clean up of the nuclear power plant accident that rendered this area a nuclear wilderness 32 years ago — dogs run at them. These humans are their main source of food.
A lot of the dogs live their whole lives on the concrete of the vast industrial complex around the Chernobyl Nuclear Power Plant, where they befriend the workers and share their lunches. The dogs live in some of the harshest conditions in the world. Most of them don't make it to their fourth birthday.
"If we see a five-year-old dog, we call him grandpa," an environmental radiologist who works in Chernobyl, Lucas Hixson, told Newsweek.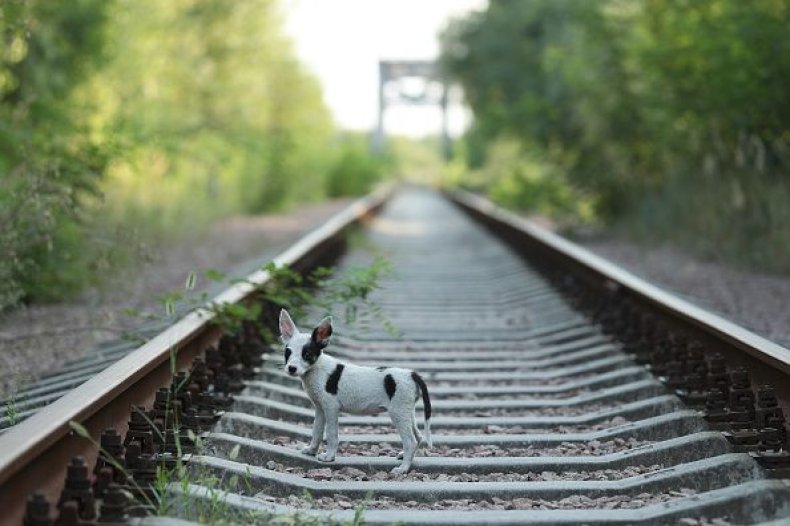 These dogs lead hard lives. But their main threat is not the radiation that this area is so famous for, he said. It is the freezing temperatures. Those that do survive the winter have to contend with predators like the wolves and boars that run freely though the 1,000 square-mile exclusion zone.
That is why The Clean Futures Fund, an organization co-founded by Hixson in partnership with SPCA International, launched a rescue and adoption program to give the dogs a different, better life. In early July Hixson flew to John F. Kennedy Airport in New York with 15 dogs that he and his team had rescued. In early July Hixson flew to John F. Kennedy Airport in New York with 15 dogs that he and his team had rescued.
They had an emotional meeting with their adoptive families in America. "It was a pretty powerful experience," Hixson said in the days that followed. The organization has already rescued another 15 puppies from two litters that will go up for adoption. (When precisely has not yet been announced.) Applications will be rigorously screened to make sure that the dogs go to stable, loving homes.
"The dogs are the unintended victims of the accident, so anything we can do to improve their quality of life and to ensure that they have a better hope for the future, we are going to do," Hixson said.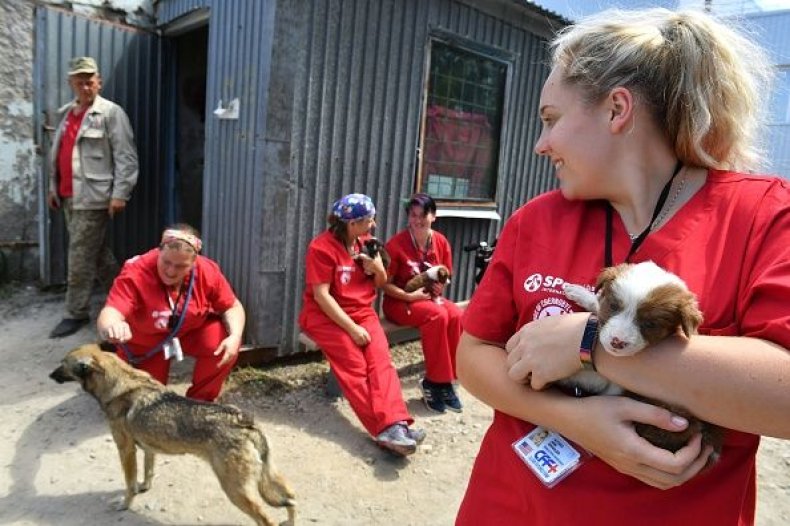 At the time of the nuclear blast, the residents of the nearby city, Pripyat, then home to 50,000 people, rushed to flee the radioactive fallout. Many of them left their pets behind, intending to come back for them later. Most of these people never returned. The city remains mostly abandoned today, and the dogs that roam Chernobyl are thought to be the decedents of those deserted animals. Clean Futures Fund has reported that the canine population has increased in recent years to as many as a thousand.
"If you are a dog lover, come to Chernobyl – You will love it," a contractual worker who was supervising some of the clean up at the power plant over the last nine months, Tim Mollohan, told Newsweek.
More than a dozen puppies gambol over to him when he arrives to work in the morning. "A lot of people start their day with a cup of coffee – I can't start my day unless I pet the dogs," he said. "Me and my colleagues always discussed how it would be cool to take one of our Chernobyl dogs home."
When he saw a post about the adoption program on Facebook a few months ago, he called his wife. She agreed that a Chernobyl puppy should share their home in Georgia once Mollohan came back to the country this month. On his return trip to the U.S., a mischeivous puppy that he named Freddy accompanied him.
Freddy, who is three months old with a black and white spotted coat, was rescued with a litter in an auxiliary maintenance shed about 300 feet from the unit four nuclear reactor -- the very reactor that exploded on April 26, 1986, precipitating the disaster, still one of the worst in nuclear history.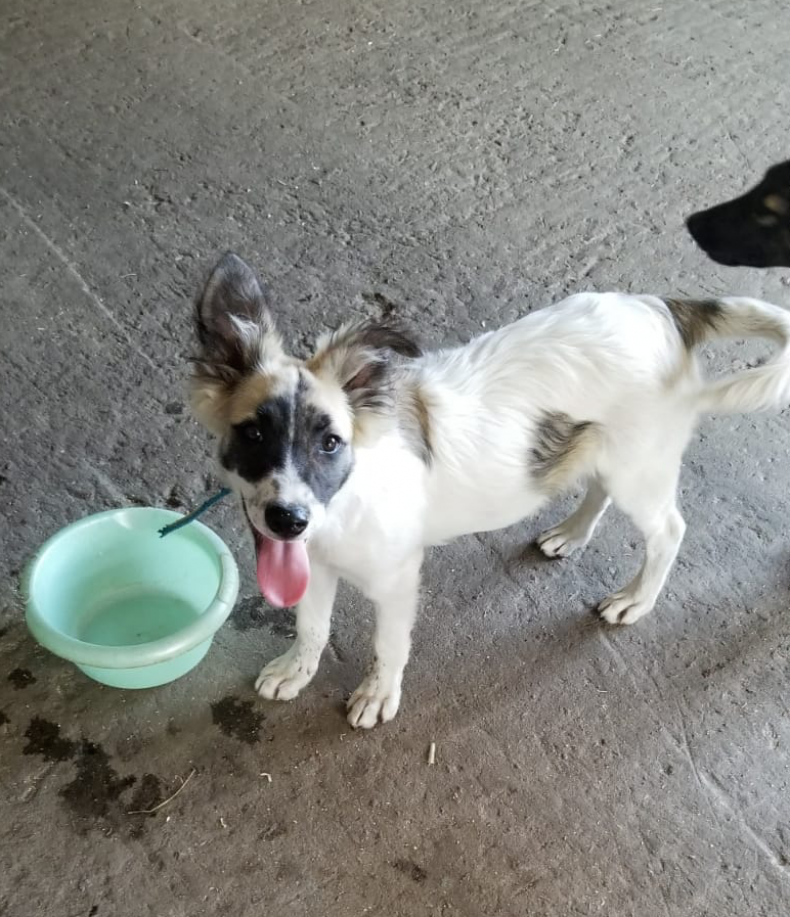 Before the dogs land in their new homes, radioactive dust is cleaned from their fur. They are quarantined for a few weeks and given a thorough exam before earning a clean bill of health. "All the dogs have been screened and examined for any sort of contamination in their bodies. They certainly pose no significant threat to anybody handling them," biologist Tim Mousseau told Newsweek.
A scientist from the University of South Carolina, Mousseau has been studying the affects of radiation on wildlife in Chernobyl since the early 2000s and is currently conducting research on the dog population to evaluate the animals for DNA damage.
So far, he has found that most of the dogs live in parts of the exclusion zone that have relatively low levels of contamination -- perhaps because that allows them to be near the people who have come to the area for temporary work. Some of the dogs have consumed small amounts of the radioactive particle cesium-137, one of the main contaminants left in Chernobyl.
But this particle is metabolized and removed from an animal's system after weeks, or at most months, of being fed an uncontaminated diet, said James Beasley, a research ecologist at the University of Georgia.
It's possible that certain species in the exclusion zone have developed a tolerance to radiation through low levels of exposure. But so far research has only shown this to be true in bacteria, Mousseau said.
All the dogs in the adoption program are spayed and neutered, so there is no possibility of them passing on their genes while living in the U.S. regardless, Mousseau said.
"Most of them do not seem to be radioactive, that was a bit of a surprise," he said. "We saw absolutely no dogs with two heads or any major genetic abnormalities."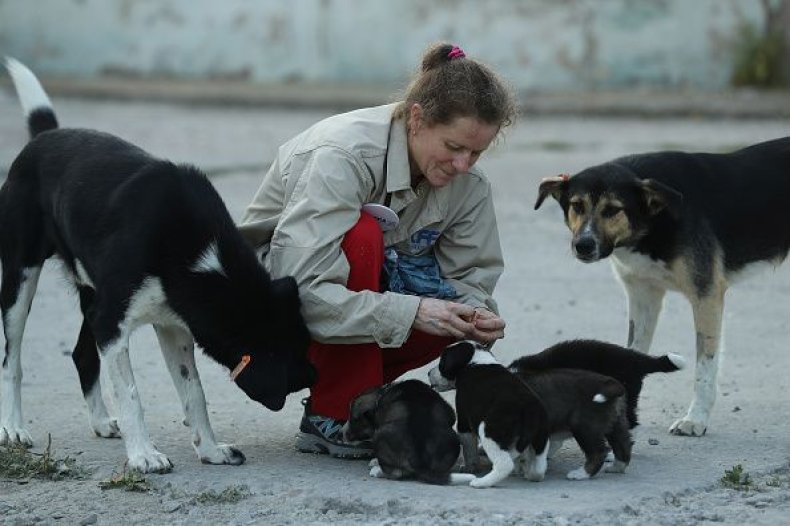 This is not the case for all wildlife in the exclusion zone. Mousseau has documented birds with tumorous beaks and infertile rodents. The spider population has shrunk and some species of birds are dwindling.
The dog population, on the other hand, is thriving. And the most surprising thing about these animals is their robust health, he said. The Chernobyl dogs are characterized by their big floppy ears and their thick, muscular bodies. "The big breeds that persist through natural selection are the tougher and stronger breeds. You don't see Maltese or Chihuahuas running through the zone," Hixson said.
When Hixson came to Chernobyl for the first time as a volunteer with a vocational exchange program in 2013, he was caught off guard by the number of stray dogs roaming the streets. He fell in love with the canine population as well as the people who live in the area and started The Clean Futures Fund, with his partner Erik Kambarian, in 2016. Their organization has established a dog shelter and veterinary services in Ukraine.
Earlier this year, Hixson himself became one of the first Americans to adopt a puppy from Chernobyl. It was the second dog that his team treated at their veterinary clinic in Ukraine. He named her Dvaa, which means "two" in Russian.
"She has this really beautiful, curious personality," he said "She definitely stole my heart."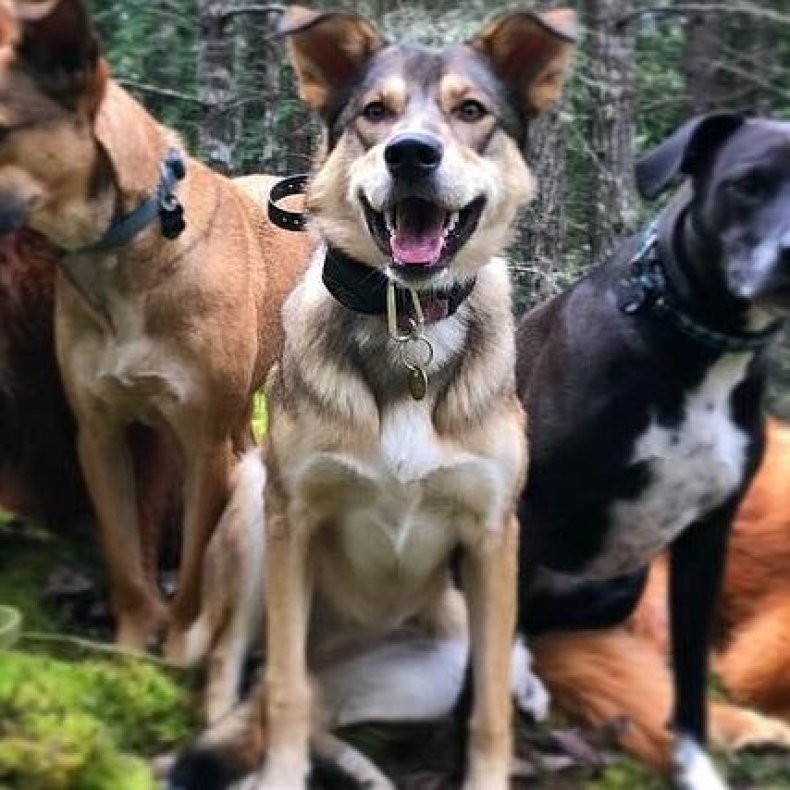 Before the launch of the rescue and adoption program, the organization had released Dvaa back into the zone where they found her, but she kept coming back, trying to hide in the building.
"She would sit down in the surgery room and just watch the veterinarians doing their work," Hixson said. "She would come and walk through and almost inspect what we were doing and make sure we were doing a good job."
She is now living with Hixson's parents outside of Chicago.
"Animals play an important part in our lives. I think sometimes until you really have an animal, it's very difficult to understand how much they can mean to you, how much they can provide for you. It's an incredible symbiotic relationship," he said. "These dogs are just like any other puppy. They love attention. They need love."