Sipping a can of beer and devouring french fries in a Brussels hotel room, Eliot Higgins doesn't look like the type to get involved in armed conflicts. The Englishman has a baby face, slumped shoulders and a soft Midlands accent. But over the past three years, the 36-year-old former administrator and obsessive gamer has spent hundreds of hours scouring the Internet to find out the truth about faraway wars—from the use of chemical weapons in Syria to Russian troops invading Ukraine—all from the comfort of his couch.
Using social media posts and YouTube videos like pieces of a jigsaw puzzle, he and his eight volunteers, collectively known as Bellingcat, have been able to fill in holes about what happened on various battlefields across the globe. These self-taught open-source intelligence analysts can geolocate a Facebook video of a missile launch by matching the landscape to a different image on Google Earth, or use Instagram posts to track armored vehicles as they trek across rugged terrain.
Western intelligence officials have praised Higgins's efforts (he was in Brussels to share his work with NATO), but his hobby has also made him some powerful enemies. In 2013, the Leicester native used YouTube videos to expose the Syrian government's use of chemical weapons. A year later, ISIS attacked his website after he posted the possible location of where a militant beheaded James Foley. And now he has become an enemy of the Russian state. Armies of Russian bots troll him relentlessly on social media, and Kremlin-controlled media outlets frequently denounce him. "We must be causing the Russian media to pull their hair out," Higgins says, "considering the amount of attention they're paying to us."
What has mainly provoked the Kremlin's ire is Bellingcat's work on Flight MH17, the Malaysia Airlines Boeing 777 shot down over eastern Ukraine last summer, killing all 298 people on board. Russian officials were quick to blame the flight's destruction on Ukrainian forces. But over the past year, Higgins and his cohorts have been systematically debunking Moscow's version of events. With the European Union reviewing its sanctions against Russia ahead of the July 17 anniversary of the crash, Higgins is about to release a new report, "The Other Faces of MH17," in the hope of further discrediting Moscow's claims. "Because the Russians are lying about so much stuff, there's so much to debunk," he says. "If they weren't...I probably would have gotten bored quickly."
The lies, Bellingcat says, started with a press conference last summer which the Kremlin claimed a Ukrainian Su-25 fighter jet shot down the passenger plane. Russia's Defense Ministry presented radar data appearing to show another aircraft in the vicinity of MH17, and the Russian Union of Engineers said wreckage indicated the plane was destroyed by heat-seeking air-to-air missiles. A man claiming to be a Spanish air traffic controller in Kiev even gave interviews to the Russian media, saying two Ukrainian fighter jets had followed the Malaysian plane. Then a satellite image appeared, apparently showing an aircraft firing on the airliner.
Gradually, however, each piece of this "evidence" was proved to be fraudulent. The Spanish Embassy said there was no Spanish air traffic controller at either of Kiev's airports. Experts dismissed the radar blip as falling debris from MH17. One of the Russian designers of the Su-25 stated publicly that the aircraft could not fire at a target flying at the passenger jet's altitude, and that only a surface-to-air missile could cause the plane to break apart as it did. Finally, Bellingcat exposed that satellite photo as a crude composite of Google images, with the Malaysian Airlines logo not even correctly placed on the aircraft.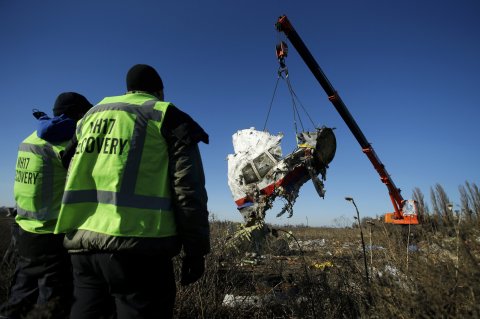 For Higgins, the only credible theory of what happened is Kiev's version of events—that a Russian-supplied, Russian-operated Buk missile launcher shot down MH17. It was one of those launchers, spotted by The Associated Press in rebel-held territory near the crash site, that originally piqued his interest. Ukraine's military says the launcher was part of a complex anti-aircraft defense system Russia has been building in eastern Ukraine since last summer. "In June, three Buks arrived, situated near Donetsk, in Torez and to the north of Novoazovsk," says Oleg Zakharchuk, deputy chief of Ukraine's air force. "[Our planes have] a radar warning receiver system, and our pilots on patrol were exposed to the radar's activity from time to time. The pilot could see in his cockpit that he was within the area of a Buk's activity. That was exactly the area the Boeing went down."
Never without a Plan B, Russia switched to an alternate theory—MH17 was hit by a Buk missile, but it was launched from Ukrainian territory and fired by troops loyal to Kiev. Once again, the Kremlin offered satellite images to back it up. But Bellingcat purchased its own satellite images, again indicating the Russian ones had been digitally altered. Russia's Ministry of Defense did not respond to telephone or email requests from Newsweek for comment on Bellingcat's findings.
"The Russian propaganda technique is to flood the Web with huge amounts of misinformation in an effort to undermine genuine facts," says Vitaliy Naida, a senior official at Ukraine's state security service. "The aim is to constantly raise new questions and make absolute truth seem unattainable."
Higgins says he's experienced the Kremlin's strategy firsthand. In recent months, Russian state media outlets have hounded him for interviews and called him a coward for refusing to talk. Some critics say he's a CIA agent. Others believe he helped overthrow the pro-Kremlin government in Kiev during the Euromaidan revolution. Higgins maintains his group is independent. "We have a software engineer at Microsoft, a law student, even someone who was in the Stasi [East German secret police] 25 years ago," says Higgins. "We have people from Finland, Poland, Holland, Germany and the U.S."
One reason for the Kremlin's unwelcome attention is that Higgins is no longer content to simply debunk Russia's claims. For months, Bellingcat has been geolocating social media posts to trace the movements of the Buk missile launcher seen by The Associated Press. The trail led from rebel-held eastern Ukraine back to its base in Russia, so the researchers scoured the social media profiles of Russian soldiers from the unit they believe crewed the launcher. "We've collected over a hundred social media profiles of soldiers in order to reconstruct the unit," Higgins says, "establishing who's who and who was in the convoy that transported the MH17 Buk towards the border with Russia."
For the first time, Higgins and his team say they're going to put names and faces behind the tragedy. They've handed the information over to a team of investigators from the Netherlands, Malaysia, Australia, Belgium and Ukraine, who are leading a criminal inquiry into the crash. Investigators say it's still too early to comment on the Bellingcat report, but didn't rule out the possibility that it could contribute to witness subpoenas, extradition requests and prosecutions. "We're familiar with the report," says Wim de Bruin, a spokesman for the Netherlands' Public Prosecution Service, "but we need to establish for ourselves the cause of the crash in a way that we will have enough evidence to go to court, to point to suspects and see whether it's possible to trace and to prosecute them."
Back in his Brussels hotel room, Higgins is emphatic that no one needs to take his word for it, that the evidence against the Kremlin speaks for itself. "There's so much debate about what Russia is actually doing, but we can say, 'Look: Here's the evidence. Here are the photos. Here are the videos. This is what Russia is up to.'"