Meet Ruth Buffalo, the First Native American Democratic Woman in North Dakota's Statehouse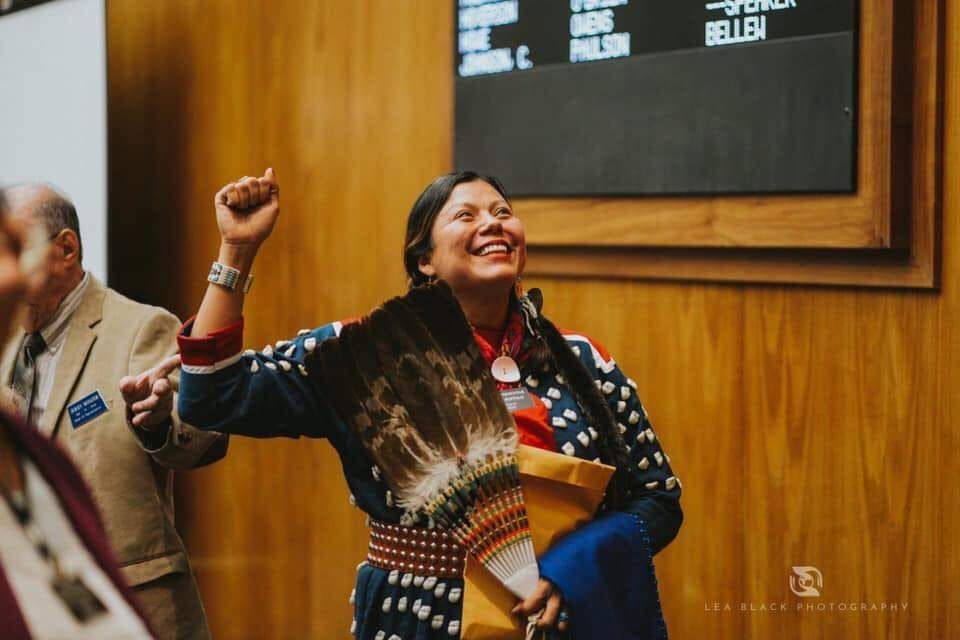 In Bismarck, North Dakota, last month, Ruth Buffalo stood alongside other newly elected lawmakers in traditional regalia and raised her hand—making history as the first Native American Democratic woman to be sworn into North Dakota's state legislature.
The Native American dress she wore was a replica of one her grandmother owned, and was completed with an eagle-feathered ornate fan given to her by her clan brothers hours earlier.
"[Eagle feathers] are often given to family members to celebrate an accomplishment," she told Newsweek. "The dress was made for me by a lady from our tribe years ago."
On November 6, Buffalo unseated State Representative Randy Boehning, who had championed the state's voter ID law that many Native Americans viewed as an attempt to suppress their votes. Under the law passed by the North Dakota Supreme Court two weeks before the midterms, citizens in North Dakota were required to have a residential address in order to vote—a post office box was no longer enough.
Advocates for the law argued that it would prevent voter fraud, despite no evidence to suggest that fraud could or had ever taken place. For Native American communities, the law functioned as an additional barrier to their citizens, many of whom lived in buildings that lacked numbers and streets without signs. Although some of the houses were officially registered, many Native American inhabitants didn't know their exact address.
Despite the uphill battle, tribal governments and advocacy groups in the area refused to give up, with many scrambling to assist their communities in getting necessary identification in time for the midterms. Their anger and frustration resulted in unprecedented turnout across the state as they triumphed over laws they believed were designed to keep them out.
And although they were unable to save their preferred congressional candidate, Senator Heidi Heitkamp, Buffalo beat Boehning to take the 27th District, which includes the Republican Fargo area.
Buffalo, a member of the Mandan, Hidatsa and Arikara Nation, recalled that her successful grassroots campaign focused on issues that affected her community, such as health care and education.
"My main focus was just trying to reach as many voters as possible at their doorstep and having conversations on what mattered most to them," she said. "I didn't have a huge budget with big donors or big corporations endorsing me. The governor endorsed my opponents. What I did have was people power, hard work and dedication. My campaign was pure grassroots, people led and people driven."
Read Newsweek's interview with Buffalo below (condensed for length):
Tell me about how you got into politics.
I've been an active community member for a long time. From when I was 10, I saw things that needed to be fixed in my hometown and community of Mandaree. After we lost my baby sister to a drunken driver in 2012, I found myself working to get a narrow road widened and advocating for other causes to ensure a safer community for everyone.
My education—my master's in public health—really brought me full circle in realizing that through policy we have the opportunity to ensure good health for everyone.
Why do you think an unprecedented number of Native American voters turned up for the midterms in your state?
People are realizing the importance of their vote and they are becoming more informed of the voting process. The Supreme Court ruling, passed just two weeks before the election, also put everybody on high alert. Despite the barrier, the resilience of many communities shined through across the state of North Dakota.
How did North Dakota react to the voter ID laws?
When I was knocking doors, meeting people and having conversations with voters during the last two weeks of the election, people definitely expressed their concerns with the Supreme Court ruling. These were young white men who were openly saying they couldn't believe this was happening to Native Americans in their state.
There are good people in North Dakota that see when injustices are happening. With any change, you want to prepare people and not just drop the bomb on them two weeks prior to the deadline. That's not good business either way you look at it.
With any negatives you can find the positives...that's the goal. We want people to be well informed and to be aware of these processes, to be proactive and to get to a place where voting is second nature. People still have hope and are mobilizing for change to continue fighting for good overall policies.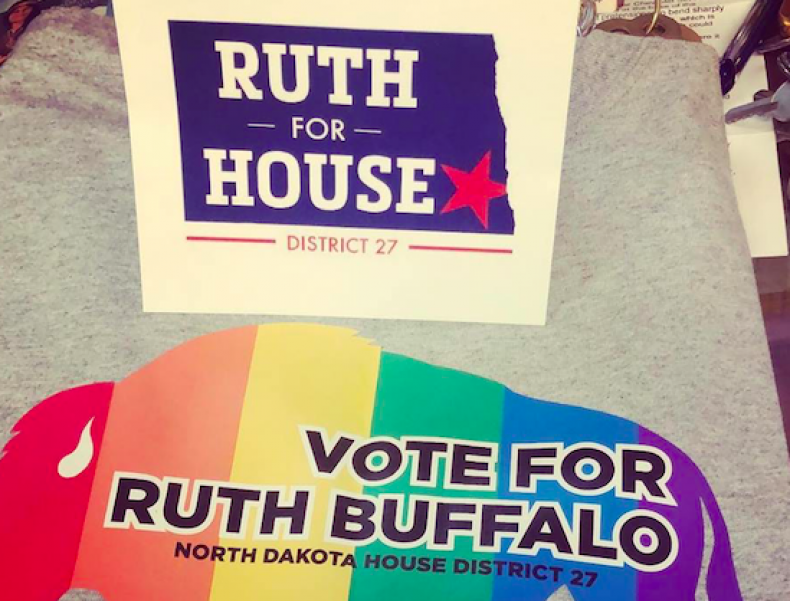 Tell me about what worked for your campaign in terms of reaching voters and inspiring turnout.
I just did a lot of listening and connecting with voters at their doorsteps. We made creative animated videos focusing on issues that mattered most to our voters. We had a strong social media presence on Facebook and Instagram. We held monthly coffee conversations with the candidates and opportunities for volunteers to phone bank and canvass with us. I also tracked my miles walked while outdoors, knocking and canvassing neighborhoods, which kept my constituents and supporters engaged in my campaign.
I lost my race in 2016 for the state's insurance commissioner. That year a lot of my family members, including older first cousins, voted for the first time, which really inspired me to carry this work forward. I want to keep educating new voters and reaching those people who wouldn't have normally voted had they not known someone directly or met somebody at their door asking for their vote. My main focus was just trying to reach as many voters as possible at their doorstep and having conversations on what mattered most to them.
That was also probably my most effective tool. I didn't have a huge budget, big donors or corporations endorsing me. The governor endorsed my opponents. But what I had was people power. My campaign was truly a grassroots effort. Pure people led and people driven.
What were the issues you focused on during your campaign?
We stressed the importance of a more prosperous North Dakota for everyone. One of our main focuses was on improved health care access for everyone, including behavioral health services. We also looked at property taxes because constituents were concerned of becoming homeless as a result of rising property taxes. Also making sure our education system is well-funded and students are not walking away with outrageous loan debt. Those were our three main areas.
We also looked at improving barriers for working families, including the rising childcare cost. Safer communities was also a concern among many.
What are your plans for your constituency over the next few years?
As a freshman, my first goal is to continue to learn about the process within the legislature. I plan on hosting monthly listening sessions or community forums in District 27 and will also continue to look at ways to fine-tune existing laws, whether it's through an amendment or adding language to strengthen existing laws to ensure our communities are safer for everyone.
You've made headlines in recent months due to your politics and outspokenness about being a Native American politician, how has that experience been?
It's been unexpected, but throughout it all I just keep thinking of what my ancestors went through for us to be here today and I hope I'm making them proud. There is so much work that needs to be done to make sure our future generations are well taken care of in terms of a more prosperous future for everyone, which includes safe and strong communities.