Meet Matthew VanDyke, Former U.S. POW Training Ukrainians to Fight Russia
Matthew VanDyke, an American who is training Ukrainian civilians to fight Vladimir Putin's army, began his work helping people in war zones to defend themselves after his journalist friends James Foley and Steven Sotloff were captured by Islamic State militants in Syria and brutally beheaded on camera in 2014.
Their savage killings shocked VanDyke, who had spent time as a prisoner-of-war himself in Libya only a few years earlier, and inspired him to set up Sons of Liberty International (SOLI), a non-profit security contracting firm that trains threatened civilian communities to defend themselves.
"After they were killed, I thought about what I could do to have an actual impact on the conflict and that was sort of the catalyst for start starting Sons of Liberty International," VanDyke told Newsweek.
After Foley and Sotloff's deaths, VanDyke got in contact with a Kurdish friend in Iraq who put him in touch with Iraqi Assyrian Christians who were looking to start a force to fight the Islamic State militant group, or ISIS.
"The Iraqi-Syrian community had had their land abandoned when ISIS attacked. The Peshmerga [Kurdish fighters] and the Iraqi army had just run away and they had woken up with ISIS in their backyards. So this was a group that was a persecuted minority that needed help and nobody was going to help them," VanDyke said.
VanDyke, a documentary film-maker from Baltimore, Maryland, later travelled to the region and ran a covert training program for the group, marking the genesis of SOLI.
VanDyke, 42, originally came from an academic background and had spent many years traveling North Africa and the Middle East since 2007, after studying the Arab world at the University of Maryland.
But his life took a new turn while he was traveling in Libya in 2011, when he ended up joining the rebel fighters in the country's civil war, opposing the rule of Muammar Gaddafi. In March 2011, VanDyke was ambushed in Brega and taken prisoner, spending some of his time in solitary confinement. He escaped in August that year, continuing to speak up in support of the Arab Spring.
Fighting in Ukraine
Today he is based in Ukraine, training civilians who have signed up to fight the Russian army since it launched the invasion against its neighbor on February 24. VanDyke has been working with the Territorial Defense Forces, a military reserve of the Ukrainian army made up of civilians.
SOLI's role is be a "force multiplier", he said, by helping these people be effective on the frontline, where they are likely to end up.
"I can bring in 10 or 20 of my guys, and we can train thousands of Ukrainians very quickly and very competently. And we can also train Ukrainians to become trainers themselves so that Ukraine can tap all the manpower that they have. Because they're not allowing men of military age to leave the country, they have a reserve of millions of potential soldiers, but they have no way to train them."
"Their military is at the front so they're not able to train them. If we don't train them, they're not going to get trained."
VanDyke started a training program in the western city of Lviv on April 18 and plans to train fighters in the capital Kyiv and in eastern Ukraine, closer to the frontline of the Russian offensive. The training covers an array of different areas, including marksmanship and military strategy.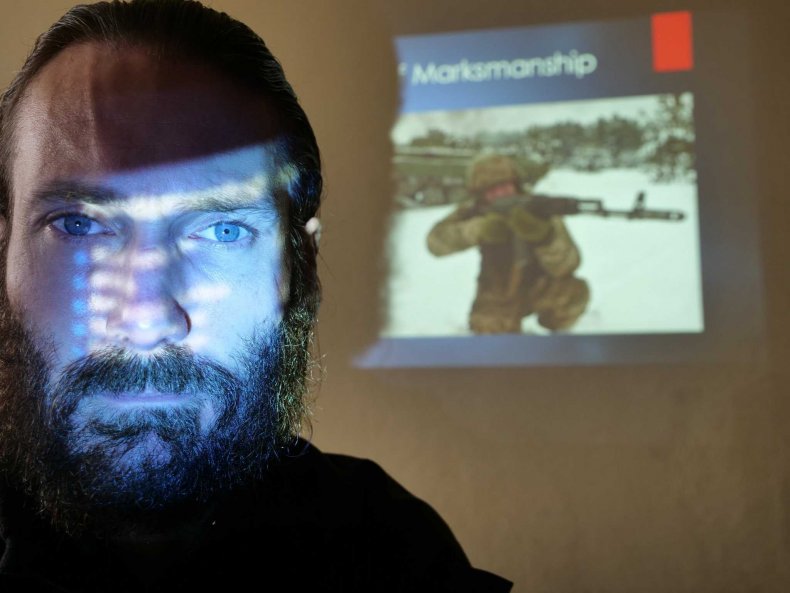 VanDyke intends to expand the program. "Everywhere where there's a need, we will expand with more teams so really the only real limit to our capability is our funding, and making sure that we have the right personnel because we're highly selective. We take less than 1 percent of applicants," VanDyke said.
SOLI is entirely funded by donations, and has received applications from hundreds of people wanting to help train Ukrainian forces. VanDyke says training experience is important when considering applicants, because "a soldier doesn't always make a good trainer."
As well as typical references and criminal background checks, VanDyke gauges their reasons for wanting to join the conflict and what the applicant does in civilian life.
'Thinkers not trigger pullers'
Working for SOLI is different to the typical American or European military experience, he said.
"We operate more in a way like Green Berets operate in the U.S. Army, kind of separate from the main force, way outside the wire is the term—where we're relying on ourselves and on the force we work with."
SOLI trainers range from ex-U.S. Special Forces officers to "highly motivated" young marines, as well as former Air Force pilots.
"I try to recruit people that are thinkers not trigger pullers," VanDyke said. "What matters to me most is intellect, problem-solving skills and thinking outside the box."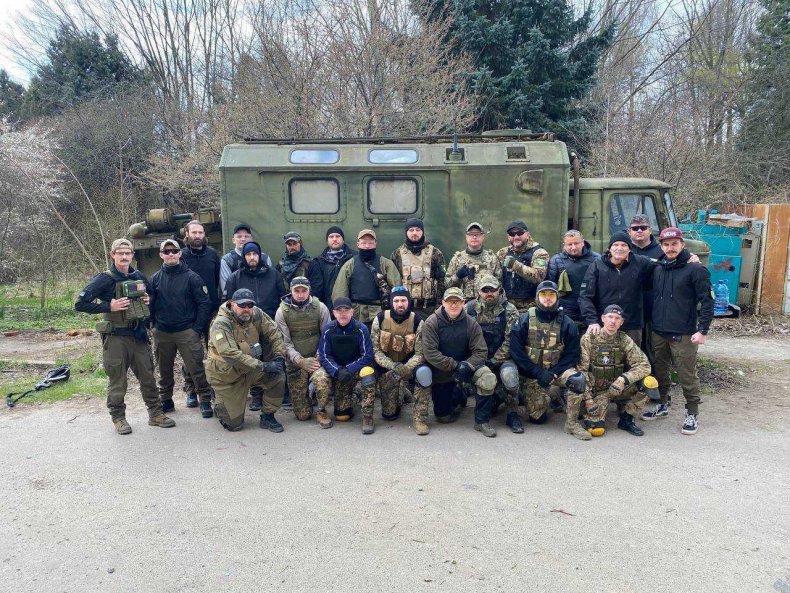 In the training, VanDyke has met Ukrainians from varying backgrounds. They include IT specialists, taxi drivers, and office workers, and some of these have proved to be "diamonds in the rough" in terms of military potential.
"You never know who's going to be the best fighter, the best shooter...who's going to command the respect of their peers and emerge as a leader," he said.
More than 20,000 foreign volunteers have reportedly headed to the war zone to join a Ukrainian Foreign Legion fighting the Russians. Many of them are Americans.
"Part of the issue with Americans that are just running over here on their own and wanting to go to the frontline and thinking that they're going to contribute is Ukrainians now—the Ukrainian army—has more experience fighting a conventional war against Russia than any other people on earth by now," VanDyke said.
Ukraine is different to the typical Afghanistan and Iraq experience many Western military personnel have had where they were fighting insurgents, rather than a modern army.
A long war
He believes the war will drag on much longer than many anticipate. Ukraine so far has mainly been on the defense, which can give an army an advantage, VanDyke said. But it will be much harder for them when they have to go back on the offensive to drive Russians out of their country, especially in the eastern region of the Donbas, which is now the flashpoint of the conflict.
"There's a good chance that a lot of people right now in Ukraine who don't think that they're going to have to see combat are going to end up having to see combat," he added.
VanDyke believes the war is at "a pivotal point" that was starting to shift more in Russia's favor, but he has been encouraged by the similarities he has seen between Ukraine and Libya in terms of the willingness of civilians to fight for their country.
"They remind me of that, which makes me stay committed. I mean, we're here in Ukraine until there's no Russians left, no Russian occupation of any territory in Ukraine, including Crimea. So we're fully committed as long as they want us to stay, we'll stay."