Meet Kevin Gage, the Man Who Lost Kelly Preston to John Travolta
On Sunday morning, actress Kelly Preston passed away after a her two-year battle with breast cancer. Though many fans know of her 29-year marriage to John Travolta, Preston was married before Travolta—to her SpaceCamp co-star, Kevin Gage.
In the '86 space comedy, Preston played Valley girl, Tish Ambrosé, a smart and sassy teen with photographic memory. According to the actor's official website, Gage played a NASA camp counselor in SpaceCamp, though sadly, his scenes ended up on the cutting room floor. But that didn't stop the duo from meeting and falling for each other. Preston and Gage married in Hawaii in 1985, but divorced after two years of marriage.
On Bravo's Watch What Happens Live!, Preston discussed her previous marriage with host, Andy Cohen. The Twins actress admitted that when she met John, she was actually still married—to Gage!
When Cohen asked if it was love at first sight with Travolta, Preston said, "Kinda. Well, I was not that happily married, let's put it that way. I was really with the wrong person."
Gage has his own YouTube Channel, where you can see clips from his current movies. Here are some tough guy roles you may recognize Gage from: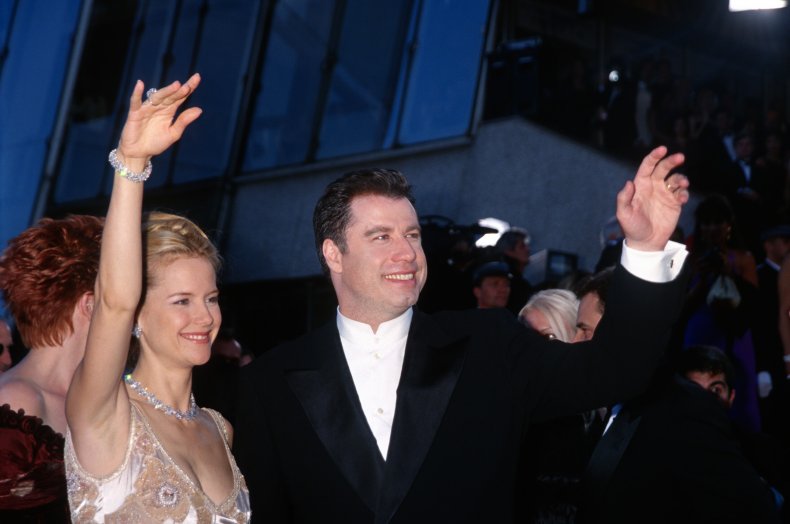 Call of Duty: Ghosts
Gage has a voice-acting role in the first-person shooter game, Call of Duty: Ghosts. Gage can be heard as the gravelly voice of the antagonist, Gabriel Rourke, in the video game.
Con Air
Gage pops up briefly in the opening scene of the action-packed film, Con Air. The drunken Billy Joe (Gage) ends up provoking Cameron Poe (Nicolas Cage), a former Army Ranger, into a fight. Nobody wins in this brawl as Billy ends up dead and Cameron is sent to prison for Joe's death.
G. I. Jane
You may also recognize Gage from his role in Ridley Scott's military movie, G.I. Jane. Gage played SEAL instructor Max Pyro, who has no time to be nice and soft to the cadets. Pyro pushes his new female recruit, Jordan O'Neil (Demi Moore), to her breaking point during the drills.
Blow
In the drug biopic, cocaine smuggler George Jung (Johnny Depp) doesn't realize he has been set up to take the fall. Leon Minghella (Gage) lets George incriminate himself during their recorded conversation. Gage captures Leon's conflicted emotions as he just betrayed his friend but gets a lighter prison sentence in return.
Heat
Gage played the creepy and psychotic criminal, Waingro, in the epic crime thriller, Heat. Just when the gang of robbers were about to make their clean getaway, Neil McCauley (Robert De Niro) witnessed Waingro assassinate a security guard in cold blood. After McCauley kicks him out of his team and almost kills him, Waingro plans on getting payback.