Meet 'Russia's Paris Hilton,' Kseniya Sobchak, Vladimir Putin's Rival for President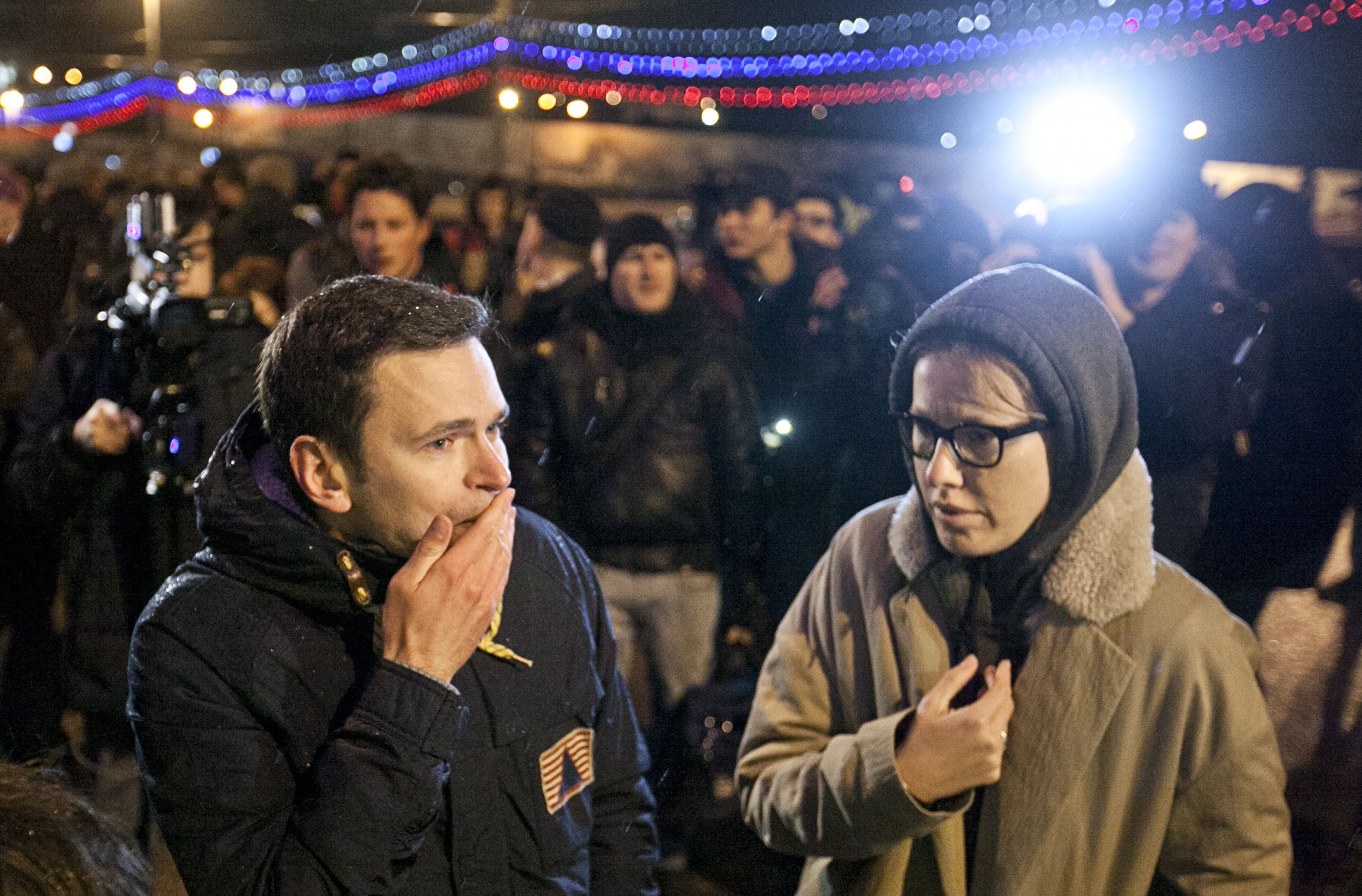 After weeks of speculation, Kseniya Sobchak—one of Russia's most famous socialites, once rumored to be President Vladimir Putin's goddaughter—has announced she is running to succeed him.
Putin has declared no intention to retire and is still polling as a heavy favorite to win a fourth term in the March elections. With most Russians unaccepting of a female president, Sobchak is not a likely winner. Her metamorphosis from a tabloid celebrity at the start of the millennium into a journalist and sympathizer to bona fide Kremlin critics is as unique as it is unlikely to win over mainstream support in Russia.
Her announcement has sparked an array of suggestions as to what her motivations for running could be. Since last month, media outlets in Russia have published numerous reports that Putin's administration has itself encouraged Sobchak to run, in a bid to make the theatrics of a Russian election seem fresh or to split the opposition, who rally increasingly under the banner of protest leader Alexei Navalny.
The 36-year-old daughter of Anatoli Sobchak—St. Petersburg's late mayor, who once mentored and employed Putin—occupies a unique space in Russian public life. Both her parents, her mother being Senator Lyudmila Narusova, are members of the political establishment that Navalny and those like him have long existed outside. Since taking to the streets against Putin's return to the presidency in 2012 alongside this very opposition, Sobchak quickly became one of the most recognizable faces of Russia's liberal circles.
Shedding her reputation as "Russia's Paris Hilton," earned from years of hosting programs such as Big Brother's Russian analogue Dom 2 and her own reality television show Blondinka v Shokolade, Sobchak has become a popular interviewer of figures, ranging from Navalny to the aging stalwarts of Russia's pro-Kremlin legislatures and bureaucracies. In Russia's media climate, few networks acknowledge figures like Navalny alongside Putin and his two regular also-rans, Communist Party head Gennady Zyuganov or far-right firebrand Vladimir Zhirinovsky.
Given her past and occasionally present penchant for glitzy parties and celebrity, Sobchak has attracted an audience by being personable and good humored about her own idiosyncratic callings.
Already, Putin's spokesman Dmitry Peskov has given her bid to run for president more airtime than Navalny's, whose name still rarely passes Peskov's or Putin's lips even after specific questions about his protests, activism or police detentions.
"You know, Kseniya is a talented person," Peskov told Dozhd, the independent network that employs Sobchak. "Over the last few years, she has gathered experience in many different areas, she is well educated, and I think if she has some political view, she will have to start acquiring experience from zero, because politics is different from journalism and show business."
Complimentary but already sounding as though in campaign mode, Peskov underlined that politics "is a different matter" from Sobchak's work so far, including her anti-Putin protests.
"Political convictions...they are not slogans," Peskov said, taking the first of possibly many swipes to come at Sobchak's credentials.
To her followers, convinced by the reports that she is running at Putin's behest, she said she would step down the moment authorities allow Navalny to run—a virtual impossibility, according to Russia's electoral commission. A controversial fraud conviction will conveniently keep him legally barred from public office for years. She said she saw Navalny as a "friend and ally."
As far as the Kremlin link, Sobchak wrote in her blog: "This is a lie. I have not had any direct or indirect contact with the presidential administration about this."
Her role, if she does get official backing to register on the ballot, will likely be, whether by default or design, similar to billionaire Mikhail Prokhorov, who took on Putin in 2012. Resourceful, Westward-looking but a political novice, Prokhorov was cast as the liberal voice in a choir of conservative candidates, in a political performance containing scant acknowledgments of the bursting protest movement on the streets of Moscow.
Candidly billing herself as the "against everyone" candidate in an op-ed for Russian daily newspaper Vedomosti, on Wednesday, she told readers, "This is not a campaign for Sobchak, but a campaign against the way our political and social life is constructed today." In the piece, she acknowledged her political beliefs only formed fully over the last five years.
Playing down her chances of actually winning, she claimed that she would open her campaign to platform the views of voters whose top candidates cannot run.
"Maybe I am excessively romantic, but we have enough cynical politicians. All the same, I, Kseniya Sobchak, have enough common sense to understand that the authorities will want to use my coming forward to legitimize these elections," she wrote, underlining that if she decided not to run, this would not make the state more lenient on Navalny or other sidelined candidates.
Outlining her principles, Sobchak noted that Russia should be a "European" state, partnering the "flourishing" economies of the West, cease state funding of religious bodies, suspend anti-democratic barriers and empower enterprises in a "free economy."
Sobchak will now campaign to collect 300,000 signatures from Russian citizens to receive ratification from the electoral commission and hold a conference next week with a fuller manifesto.