Meet The Man Walking Around The World With Only His Dog For Company
Walking around the world is an especially "ruff" journey for this guy. Tom Turich left his home in New Jersey five years ago and embarked on a 25,000-mile, seven-continent walk around the world. Four months into his journey while in Texas, he adopted a pet dog named Savannah. Since then, the duo covered over 16,000 miles across 33 countries together.
"During the first two years of this adventure I walked from New Jersey to Uruguay," Turich recalled. "I was held up at knife point in Panama, did ayahuasca in the Amazon, and climbed 15,000 feet over the Chilean Andes. The three years since walking The Americas, I was almost taken out by a bacterial infection, needed seven months to recover, then walked Europe, North Africa, across Turkey and into Georgia. I peregrinated The Camino in Spain, had a twenty-four hour police escort through Algeria, visited the village of my family name (Turčić) in Croatia and became the first private citizen granted permission to cross the Bosphorus Bridge on foot (the Istanbul bridge crosses from Europe to Asia)."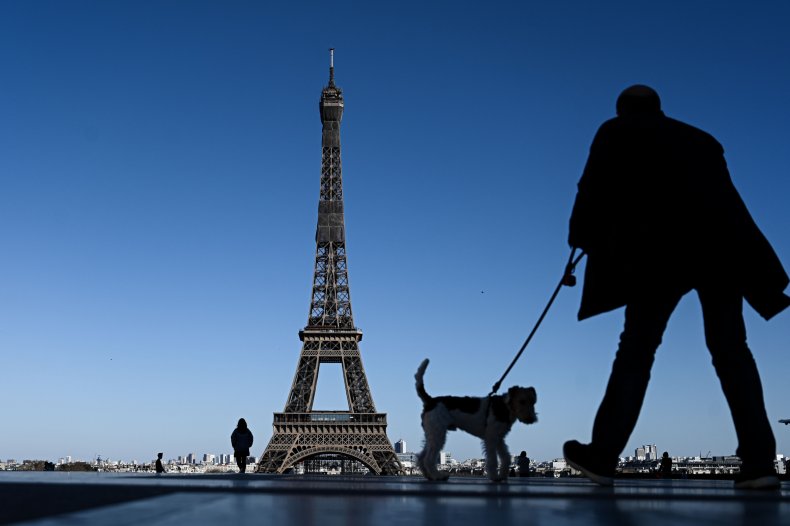 While on lockdown in Baku, Azerbaijan, Turich did a Reddit AMA on April 26. He gave fans some insight into his unique journey.
The globetrotter spoke about the spontaneous nature of travel. "That's one of the wonderful things about traveling this way - I'm perpetually open to serendipity. I'm out in the world colliding with new people. In Scotland I had a cop find me sleeping at a bus stop then come by in the morning to give me coffee and danishes. In Turkey a fruit vendor saw me on the news and proceeded to load me down with fruit. In the Argentinian summer I walked four hours through a downpour, staggered into a church, and was welcomed by a priest who brought me to his parish and gave me a bed for the night. Lots of great moments."
He also spoke about how the coronavirus pandemic has effected the duo's incredible journey. "Coronavirus has thrown this entire year off track, that's for certain. But this was a pretty tenuous year to begin with, I needed to balance a couple large scale things for it to go as planned." Turich explained that Ulaanbaatar, the capital of Mongolia along with Uzbekistan was part of the plan, but due to lockdowns and travel restrictions, these stops were put on hold.
"Overall I'm just playing things by ear like everyone else," he said. "I'm constantly checking embassy websites. When countries reopen we'll move a little more and stop if needed. But Sav and I are doing fine in our lockdown for the moment!"
Turich has found the journey life-changing, and has a different understanding of the world. "I didn't realize how naive I was before beginning this. The journey has given me a much better grasp of the world and how people exist within it. When I read about a country now I have a good context of how to place that information. I'm much less likely to generalize or unknowingly blow things out of proportion.
He was also touched by the enduring connections he made along the way. "The variety of people I've met from this walk has been astounding. I have friends all over the world, living all sorts of different lives. That's an incredible thing."
As for those who got wanderlust from reading about Turich's adventure, he gave some advice for aspiring travelers. He recommended saving as much money as possible, and to go on hikes. "I didn't do a great deal of hiking before beginning, but the first leg of my trip was five months in the US so I had time to figure things out in my own country where I knew the culture and norms," he noted. "You'll want some experience finding places to sleep and sorting out what you need to bring and what you don't."
For more about Tom and Savannah's journey, check out The World Walk blog.