Meet the Master Carver Who Turns Pumpkins Into Portraits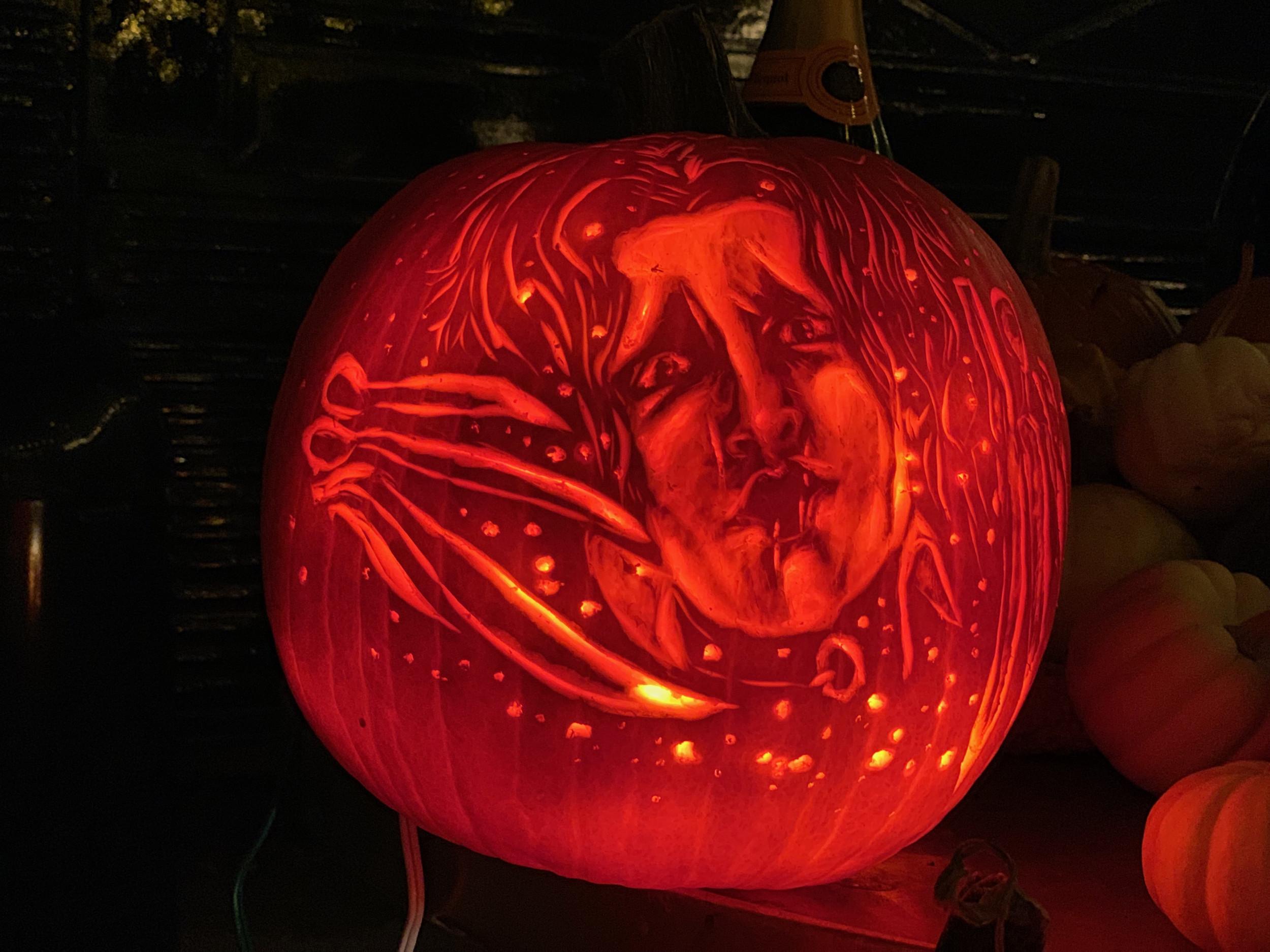 Carving a basic jack-o-lantern in 45 minutes? Sure, no problem, unless you're talking about a portrait of Lady Gaga, Beyoncé or someone's pet poodle. Now that's no easy feat, unless you're Brent Pumpkins, master pumpkin carver extraordinaire who carves celebrities' mugs as well as faces on the spot at New York's High Line Hotel.
We sat down with the master carver to talk about why pumpkin portraits and why his fleeting "moment of art," while sure to rot away, won't soon be forgotten.
NEWSWEEK: Why pumpkins? And how did you get started?
BRENT PUMPKINS: Why pumpkins? Well, it did start out as a hobby. I grew up in Ohio and I am a musical theatre performer first. And I was traveling with Chicago, the musical. We had about a six-week layoff before our next gig and it was during the Halloween season, so I'm kind of crazy and I had a lot of creative energy to burn. I started with Elsa from Frozen. I rounded it out doing more Frozen characters, because, this being five years ago, I knew people like them. And the movie was popular still.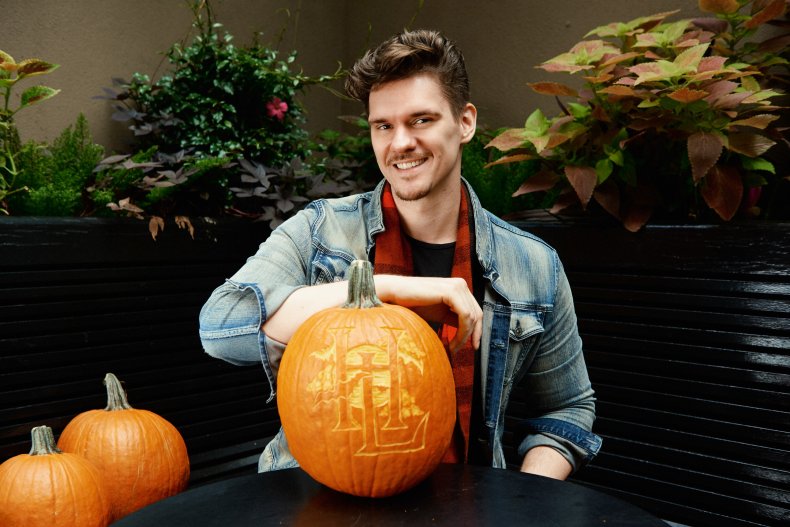 I kept posting my work and it was something to keep me motivated and interested in creative during my layoff and I got kind of obsessed. But a real basic version of Elsa, the moms and aunts and grandmas kind of came out of the woodwork saying like, "Do you think I could get one of these from my daughter or my niece?" And friend, Brent Pumpkins was awakened. And by the end of that first season, I was carving Lady Gaga as the Countess from Horror Story.
I did realize I had a knack for it. The first season I was on the local news in Cleveland. So it was kind of like, "There's something here." People love pumpkins. And it is such a niche form of art once a year that I can still do my career as well. But now it seems that Brent Pumpkins is kind of taking over right now.
Before pumpkins, what was your artistic medium?
Singer, dancer, actor, but as far as drawing skills, I've drawn my whole life. I grew up drawing Pokemon and Dragon Ball Z, and all those animated things. I've recently remembered I used to have a sketchbook of famous actors and actresses like Kate Winslet and Sarah Michelle Gellar, so I was trying to go from realistic drawings at that young age too. But it was reawakened on pumpkins, and then I kept watching tutorials. So, I'm self-taught.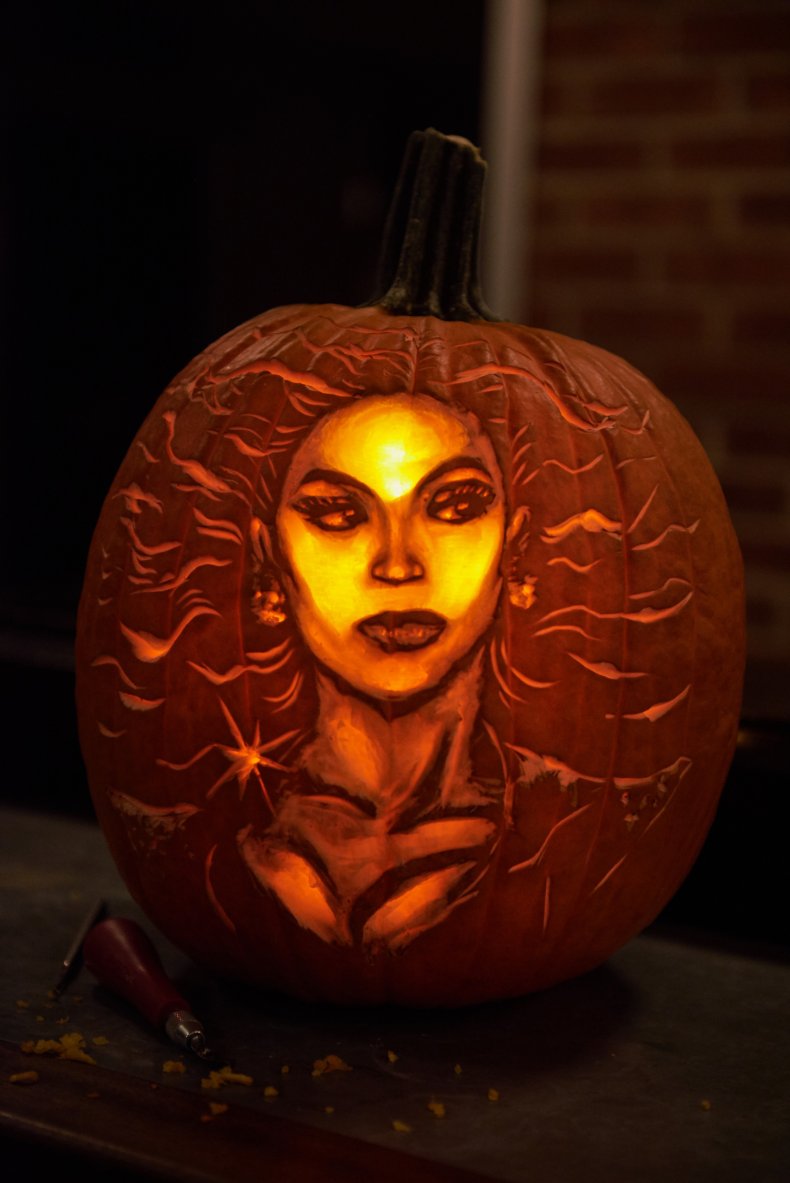 So how long does it take to carve a portrait on a pumpkin?
Something as intricate as Beyoncé? I like to say two hours or more, because I want to get it right. I want it to be an irreplaceable pumpkin.
When you're doing someone's face, like even this pumpkin here (points to a dog portrait) or even Captain Picard, you don't want to screw it up.
What is the number one request for this year?
Dogs? A lot of Hocus Pocus. A lot of that Midler. I think the recurring theme this year is also, "Let's try to stump the Pumpkin Carver." If you had requested Keanu Reeves (editor's first request, before deciding to gift a dog portrait instead) that would have been right up with it. It's no small feat to carve a portrait in 45 minutes to an hour. So the recurring theme is let's try to stump the carver— see if he can squash it.
What do you think about the idea that your art is essentially going to rot?
I always tell people realistically it's a rotten piece of squash. Don't get it twisted. However, everything lasts on social media. And so, you know, much like this portrait for your friend (point to dog portrait carved on pumpkin), this is going to be something she photographs and something that is illuminated in front of her. I've noticed from especially pumpkins like this, they mean so much more.
I had a portrait pumpkin session carving a newborn baby with a puppy next to it. The mom waited to see the result. When she came over, she said, "You did that in 45 minutes? Can I give you a hug?" Even though they're going to rot there's something really special about it. And that's why I keep going back to it.
Check out some of Brent Pumpkins' creations.