'Meet Me in St. Louis' on Zoom From Irish Rep Is a Holiday Treat
Irish Repertory has done as much as anybody to advance the Zoom play during the pandemic. With its latest entry Meet Me in St. Louis: A Holiday Special in Song and on Screen, the company adds a musical to its résumé, and it is a holiday treat.
One of the first things to say about Meet Me in St. Louis in any of its incarnations is that it doesn't contain a single important line. There are no references to politics, social causes or diseases; and in a year that is suffering from an acute case of important-itis, that is a welcome relief. For two hours, you can, as Judy Garland once sang, forget your troubles. In fact, aside from some nontraditional casting, there is only one line or so that makes this show even current.
In one respect, that is a throwback to its source materials. Both the eponymous movie and Sally Benson's New Yorker stories about her life growing up at 5135 Kensington Avenue in St. Louis were pure nostalgia, meant to be an escape from the headlines of the day—the post–Great Depression and World War II era. Most of the stories were written right after the U.S. entry into the war, and the movie was released in 1944.
It it about as light a movie as one could hope for. The darkest character is little Tootie, whose naïve obsession with death rivals that of a college sophomore. And the scariest plot point revolves around the family's possible move to New York. (Then as now, nobody wants to live in New York.)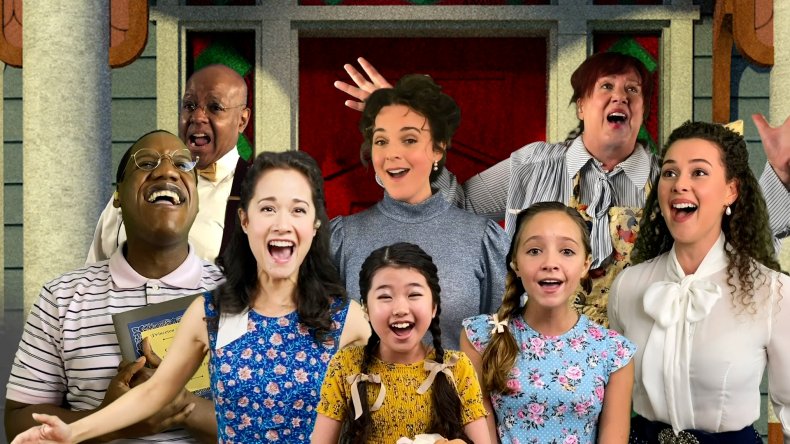 Irish Rep's ensemble cast is uniformly great. And the fact that this cast can be called an ensemble at all is a compliment in itself. It is actually a series of finely crafted close-ups. Only rarely, when characters have to interact up close and personally, do the seams show. We even have what might be the first on-Zoom kiss, and it is of course suitably chaste but right on the mark.
Shereen Ahmed, who had been touring as Eliza Dolittle in the Lincoln Center production of My Fair Lady, has perhaps the toughest acting assignment, stepping into the role of Esther, which Judy Garland made famous, and singing three songs ("The Boy Next Door," "The Trolley Song" and "Have Yourself a Merry Little Christmas") which Garland made standards. And she very sweetly makes it and them her own.
As Tootie, Kylie Kuioka exhibits all the precocious charm that made Margaret O'Brien a star in the movie role. And you can throw in a beautiful singing voice to boot.
Melissa Errico, who has been a part of the Irish Rep family for years, takes on the role of Anna, who was played by Mary Astor in the movie and Charlotte Moore in the 1989 Broadway production. There are never enough songs for Errico, but she is a treat to watch.
As she has done with such musicals as Finian's Rainbow and On a Clear Day You Can Live Forever, director Charlotte Moore has pared down this work, which was staged for a much larger venue—in this case the Gershwin Theatre—and created a lovely little entertainment.
With each new Zoom production, Irish Rep is stretching the boundaries of the form. This show is an amalgam of theater, video and decoupage, and a testament to the talents of the technical staff and designers. That they can produce anything given the limits that Zoom imposes is amazing enough, that it comes off so well is too much to have expected. Perhaps the best thing that can be said about this is that with rare exceptions, one forgets that these actors are often many miles away. You can ease back into your seats and into the St Louis of 1903 and 1904. And for two hours these days, that is not a bad place to be at all.
When Zoom plays become a footnote to theatrical history—and that can't happen soon enough, maybe next year all our troubles will be out of sight—Irish Rep's body of work will be at the top of the list and an excellent example of how theater goers were able to cope during the pandemic.
Meet Me in St. Louis: A Holiday Special in Song and on Screen is playing now through January 2, 2021. For screening information and tickets go to IrishRep.org.