Meet Miss New York Nia Franklin, the first post #MeToo Miss America Pageant Winner
The first winner of the revamped Miss America competition is New York representative Nia Franklin. The runner-up was Bridget Oei, Miss Connecticut.
Following the #MeToo movement, the pageant underwent a restructuring and was renamed Miss America 2.0. The term "pageant" was dropped from the title in favor of "competition." The event was held in Atlantic City, New Jersey on Sunday.
"It took a lot of perseverance to get here," Franklin said in her acceptance speech, according to CNN. "I want to thank my beautiful family, my mom and my dad, who is a survivor of cancer. I grew up at a predominantly Caucasian school and there was only five percent minority, and I fell out of place so much because of the color of my skin.
Franklin, who is black, said music has helped her discover who she was. "Growing up, I found my love of arts, and through music that helped me to feel positive about myself and about who I was."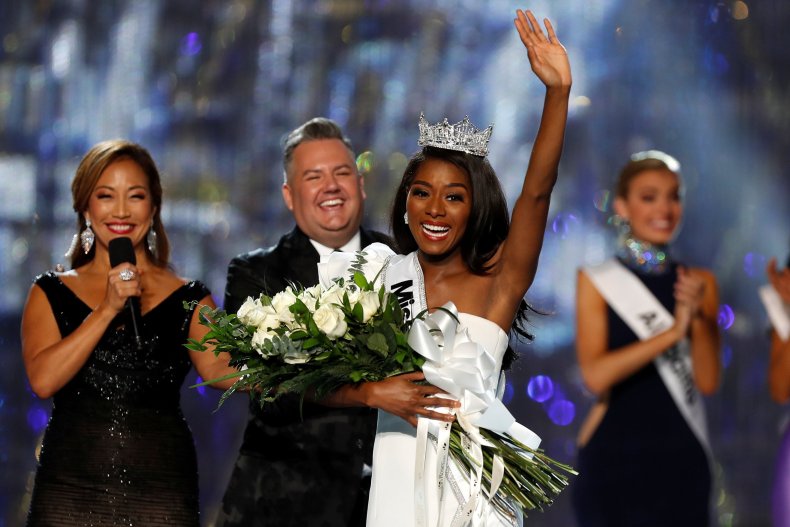 Franklin is an opera singer who grew up in Winston-Salem, North Carolina. She studied music composition at UNC School of Arts before moving to New York for the Kenan Fellow program at the Lincoln Center in Manhattan.
Miss America decided to remove the swimsuit competition and change the evening gown portion of the event to allow contestants to wear whatever expressed their personal style. Time was also allotted to allow competitors to advocate for a social cause.
"Starting this year, candidates will no longer be judged on outward appearance," the Miss America website states. "The choice of wardrobe is now open so everyone can express their own very individual style. But more importantly, their voices will be heard. Throughout the competition, candidates will have opportunities to advocate for their social initiatives. And to demonstrate how they are uniquely qualified for the exciting, challenging 365-day job of Miss America."
Viewers gave a mixed reaction on social media. "I don't know why all of the upset about Miss America 2.0 was necessary. Tonight's shows made me feel proud to be a woman and confident to one day watch it with my future daughter," one person wrote on Twitter.
"I'm seriously pulling for all of these girls. Thanks for making them so human, Miss America 2.0. This is awesome," another person said.
There was negative feedback as well. "Time to move to Miss America 3.0 because 2.0 is a trainwreck," someone said.
"What? No walk as Miss America? Just an awkward pace across the stage. And no 'There she is…' music? Not a fan of Miss America 2.0. Bring back 1.0 please," another person wrote.