Meet Olga Li, the Single Mother of Two Taking on Putin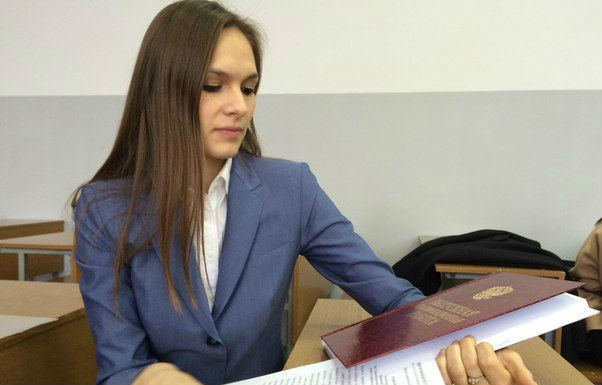 Olga Li speaks calmly, almost eerily so for a woman who is taking on Russian President Vladimir Putin—a fight which could land her two years in prison.
The 29-year-old single mother of two, who was born in a small town in Kazakhstan, is not the sort of opponent normally feared by Moscow's strongmen politicians. Yet from her office in a Soviet block of flats in the city of Kursk, the journalist-turned-regional representative has attracted the Kremlin's wrath. Hailed as a "wunderkind of local politics" by independent media in Russia, she is currently the subject of a criminal investigation. But, while the Russian government tries to charge her with "degrading the dignity" of state officials and endangering Russia's statehood—she is preparing to run for parliament as a member of the opposition.
"The opening of a criminal case against me is simply absurd," Li told Newsweek. Her video statements, posted on the site of People's Journalist, the local monthly newspaper she edits, take shots at powerful local and national officials. The videos consist largely of her, or a supporter, speaking directly to camera about instances of alleged corruption. They have garnered thousands of views and raised her profile outside her home region.
Her most direct criticism of the Russian president was delivered in a video entitled "An Appeal to Putin" that she posted last month. It has racked up over 376,111 views on YouTube. In under six minutes, Li accuses Putin of allowing "criminal conspiracy" at the top of Russian government, presiding over the "ruin of Russia's financial system" and the "destruction of the rule of law."
Li believes she is not alone in her disapproval of the current government—unlike official approval ratings, her own survey showed Putin's approval in Kursk was only 25 percent. In October, state pollsters reported his approval rating was at its highest ever—89.9 percent across all of Russia.
According to Li, she had addressed her criticism of corruption among regional officials to Russia's federal authorities in a letter written in June 2015, and documented her request in her paper's September edition. In her letter she warned that if her appeal was ignored she would air her views in public. She doubts if her views were taken seriously in Moscow, or if they reached the capital at all.
"Today, people's complaints are sent for consideration to the officials about whom they are complaining," she says. The way forward, she suggests, is to do away with "this garbage" practice and make politicians more accountable to their voters. Her video to Putin was inspired by the "impotence" of citizens in the "lawlessness" of modern Russia, she says.
Li has been openly critical of many local authorities, including the deputy chairman of the regional assembly, Viktor Karamyshev, from Putin's United Russia party, who was the first to announce the start of the hate speech probe. She has also clashed with prosecutors in Kursk, some of whom her newspaper colleagues are investigating for allegedly being tied to a corrupt million ruble road repair deal. Li hoped her video campaigns would make Moscow investigate suspicious deals more closely.
"Instead, the opposite happened," she says. "Those who rob the Russian people are not held responsible but those who inform people about it are."
Li, a political independent, is now looking for support from Russia's liberals to take her anti-corruption campaign to a national level. She is in talks with Russia's opposition Yabloko party and hopes to enter the upcoming parliamentary elections as their candidate in the autumn of this year. She says independent and opposition candidates often get their applications thrown out even if they have enough backing. While Yabloko are yet to give her a final answer, the Kursk representative is already feeling the difficulty of life in opposition.
"I am constantly receiving threats," Li says. "I keep having photos of the killed Boris Nemtsov sent (on social media). They opened an illegal criminal case against my colleague Konstantin Berezin," Li says, referring to the founder of the People's Journalist newspaper. She also claims she has received veiled threats against her family. Li's biggest fear is not the threat of prison but rather leaving her two daughters alone without her.
"My eldest is four years old, my youngest is two, she says. "Yes, I am afraid. But I want to live in a different kind of Russia where human rights are not just something on paper."