Meet the Opera Singer Who Is Georgia's Most Popular Politician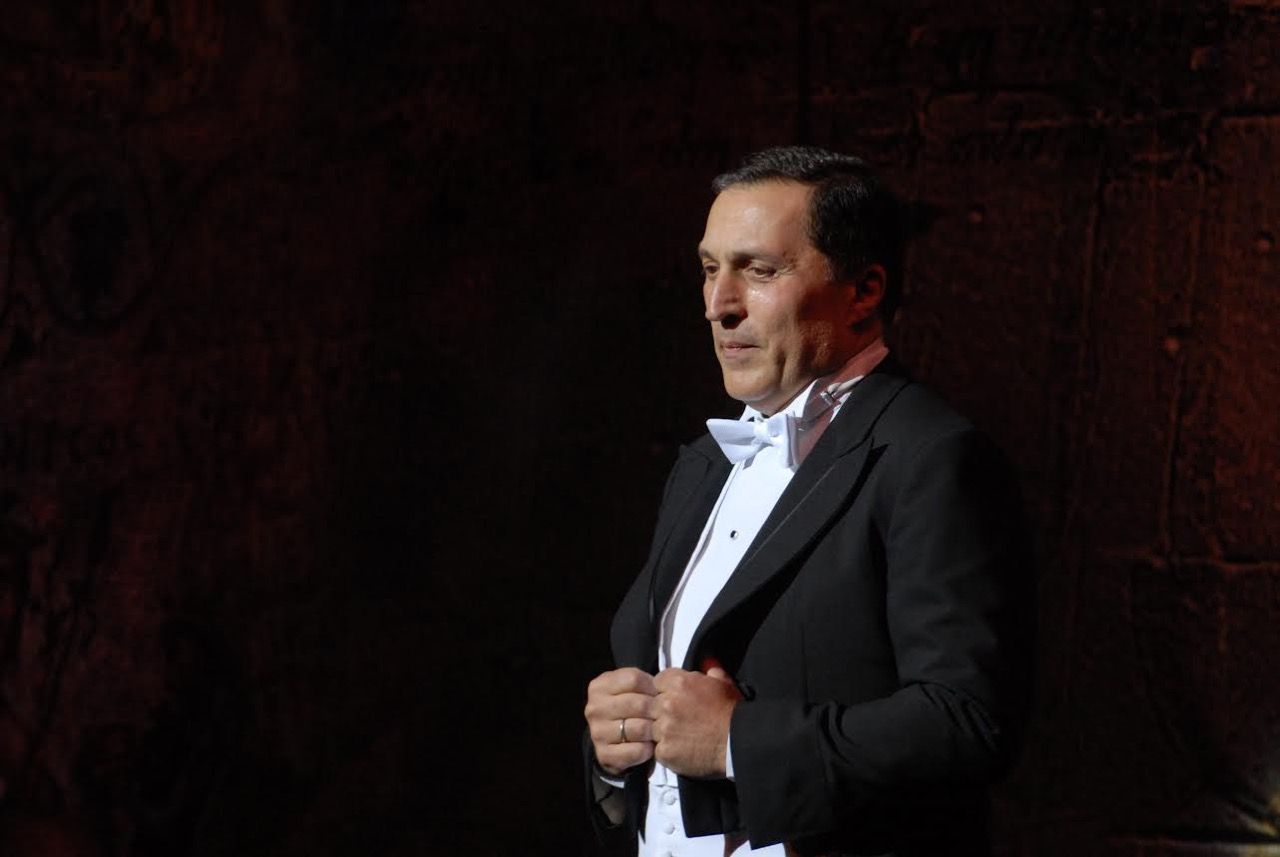 On the opera stage, he has led Attila's horde into battle and seized the Russian throne from its hapless tsar. Now Paata Burchuladze prepares for a role he hopes will let him change his home country of Georgia for the better and quite a few of his countrymen are backing him.
"I played so many kings, politicians and powerful people on the stage, from Philip II to Boris Godunov," he says cheerfully in a deep bass voice. "I will do my best to get the same applause, cheers and compliments in politics that I had on the stage."
Far from just being a celebrity side character to the upcoming parliamentary election, Burchuladze could well play the leading part. With both main parties, the ruling Georgian Dream and the center-right opposition, suffering in the polls, Georgians are looking for new leadership. And many think they have found it in Burchuladze.
Even before his party received official registration, a poll by the International Republican Institute estimated that Burchuladze's new Georgian Development Foundation party was already polling third, rising to second place in some recent surveys. Burchuladze himself was the most popular politician with a 75 percent favorability rating.
"Neither arts nor politics tolerate fake things," Burchuladze tells Newsweek. "If you are genuine and not fake and are talking to people from the bottom of your heart from the stage as an opera singer or a politician, people react in the same way."
The Georgian Development Foundation party will not be entering any coalitions before the vote. According to a party spokesman, the aim is to "win outright," although it remains to be seen if coalitions will be necessary after the vote. If the party wins, Burchuladze is their pick for prime minister.
He has promised to grow the economy by 10 percent in four years, create 250,000 new jobs in the private sector and "clean up" politics. All appealing promises to Georgians. He is also decidedly pro-EU and pro-NATO, but is content with Georgia remaining a prospective member for the time being and reviving more dialogue with Russia. Critics have dismissed his promises so far as catch-all and populist, capitalizing on Georgians' disillusionment with politics, but his supporters see him as a man of integrity, wanting to give back to his country.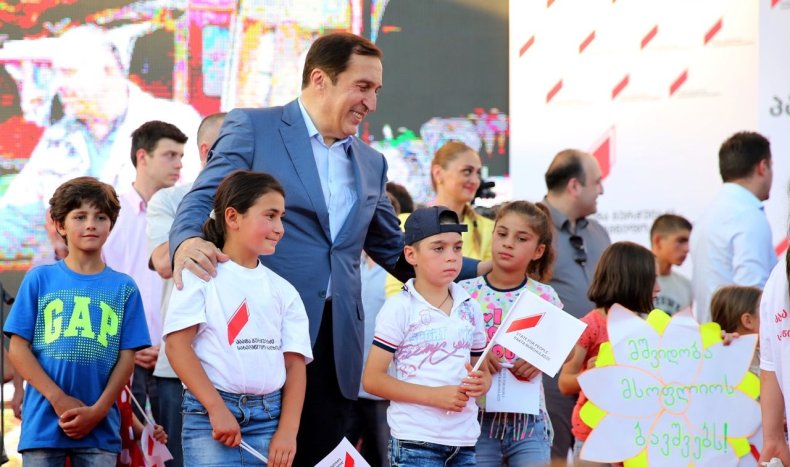 Burchuladze's work outside the opera saw him form his charity Lavnana (Lullaby) in 2004, dedicated to helping children in poverty and run with the blessing of the Georgian Church. He was also appointed U.N. Ambassador in 2006 and Unicef Goodwill Ambassador in 2010. In fact, Burchuladze was frequently asked if he would run for president in 2013, but he ultimately did not. Earlier this year, he made the sudden announcement that he would run for parliament, cancelling opera dates and putting some of his understudies to work.
"I, as a Georgian citizen, didn't see anyone I could be with, anyone I could support, to make sure our country was again moving in the right direction. That is why I stopped my opera career to enter politics," Burchuladze says.
His quick rise in the polls is similar to a handful of other politicians in former communist countries, who also rose to fame in other professions. In nearby Ukraine, ex-military pilot Nadiya Savchenko is currently the nation's most popular politician. Two years earlier, ex-boxing champion Vitali Klitschko was elected Kiev mayor after also polling as his country's most supported public figure. In Poland, punk rocker Pavel Kukiz led his party into parliament after surprising analysts and finishing third in the presidential elections in 2015.
"I will tell you why these people are so popular," Burchuladze says. "They are talking to people with their language. I am doing it here as well. When politicians come and make promises they are talking the way they do, and it's the politicians' way. People do not believe it anymore."
After four different governments, Burchuladze says Georgian leaders have followed a similar pattern, starting off with a wave of optimistic changes, before instability or in some cases even military combat helped bring their demise. Now Georgia remains torn between its bids to join the EU and NATO, both of which are currently on ice indefinitely and its strained relationship with its neighbor Russia.
"For 25 years our country has been independent," Burchuladze says. "And what has happened in those 25 years is we have had different leaders and with each one there has been some positive change. In principle, I have supported each of these leaders, because in their ways they have changed the situation for better but there have always been all these problems," he says.
"Now the government is not doing anything, nothing is moving forward. Things are not necessarily getting worse, but we are stuck," Burchuladze says. The ruling center-left Georgian Dream coalition has presided over a currency slide, during which the Georgian lari devalued to its worst level since 2004 earlier this year. By the end of last year a National Democratic Institute poll found that 76 percent of Georgians felt their country was not changing or moving in the wrong direction.
Only 19 percent felt their country was heading the right way—a huge drop since 2011, before Georgian Dream came into power, when the same survey found nearly 60 percent gave the same answer. The top two problems for Georgians were joblessness and poverty.
The government's more proactive policies have often sought to castigate the previous government, most notably charging ex-President Mikheil Saakashvili with abuse of power in absentia in 2014. That is not to say that Saakashvili and his United National Movement are more popular though. Although the poll found them most capable of handling relations with the West, they were seen as least capable of dealing with Russia.
Besides the economic woes of the biggest unresolved issues on Georgia's agenda is the status of its two separatist regions—South Ossetia and Abkhazia. Russia's longstanding support for the two regions has hampered trade and diplomacy between Georgia and its once biggest trade partner. The issue brought the two countries to war in 2008, when Saakashvili was in power, and Moscow is yet to recall its troops. This also means Georgia cannot join NATO, a longtime aspiration of many Georgians, as it lacks full control of its territory. Burchuladze thinks Georgian Dream have done little but criticize their opponents' approach to the country's territorial issue.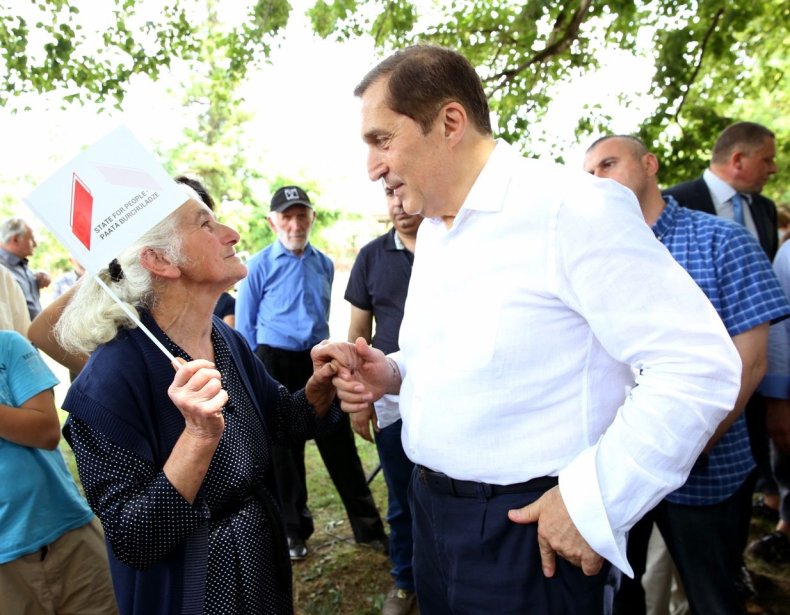 "Georgian Dream are talking all the time about what the previous government did wrong, instead of telling us what they achieved," Burchuladze says. "This must be stopped. Everybody must know that the previous government made mistakes, but this must not become a political vendetta."
"We must move on and look towards the future," he says. "The government doesn't show who our partners are. Are we looking west, to the EU or U.S. or are we looking north towards Russia again? The direction must be very clear for our partners to understand and our partners are Europe, the U.S. and NATO."
Georgia's wait for membership to either the EU and NATO seems on indefinite hold. Burchuladze's economic plan relies heavily on trade with the West. As of this month, Georgia can finally trade freely with the EU. Burchuladze's next objective is to convince the U.S. to strike the same deal.
"We want to improve our relations with Russia too," Burchuladze says. "But there are two things that we cannot compromise. These are our sovereignty and territorial integrity and our Euro-Atlantic foreign policy. We need a united Georgia."
He believes Georgia should speak to Abkhazians and South Ossetians, without Russia and perhaps offer them "strong autonomy," but within Georgia. Burchuladze has also ruled out furthering talk with Russian state company Gazprom about the possibility of a Russian oil pipeline through Georgia—something the current government have come under heavy scrutiny for considering.
"We want to be more independent and we would like to see the pipeline from Azerbaijan that is passing through us and going through Turkey to the EU to continue and expand," he says. "This is about our energy independence."
Burchuladze is adamant that Tbilisi should not bend to any attempts that could see Georgia compromise its longterm sovereignty. The Ukraine crisis is example enough how Russia can use its pipelines and troops on the to force another state's hand. "Other than that, with Russia we can negotiate everything else, might it be the economy, culture or the fight against terrorism," he says.
Yet for all of Burchuladze's affability and talk of opening dialogue with Russia, any discussion with Moscow will have to go through one man not known for compromising—Russian President Vladimir Putin. Military deployments and energy deals have been key to his presidency. How does Burchuladze envision negotiating with him?
"It is not about personalities but about the policy that Moscow has towards Tbilisi," Burchuladze says. "We have to make Putin realize that we will not compromise on Georgia's sovereignty and right to choose our own foreign policy line."
"At the same time, we have to persuade him that we are not looking for enmity and want peace with Russia and we can be good partners against terrorism in the North Caucasus," he says.
Putin's popularity at home has reached new heights; Russia's foreign policy has become more aggressive and direct and the West resolve against Russia has appeared far shakier than before. But Burchuladze thinks the threat of radical Islamism, and its prominence in Russia's regions, just north of the Georgian border, can convince Moscow it can use a stable ally nearby.
"It is in their interests to have a strong neighbor and partner and Georgia will be strong and stable only when it is part of NATO and the EU," he says. "Without Georgia, Russia cannot manage stability in our region. They have serious problems with terrorism in their North Caucasus regions: in Chechnya and in Ingushetia."
Russia's security services openly admit that over 4,000 Russian nationals have joined Islamist militant groups in Syria and Iraq, and its North Caucasus region is among the biggest sources of this outpour.
"We have to start talking to Russia more than we are doing so now, but it is dangerous to do this alone," Burchuladze says. "We must do this with our international partners."
"We have the potential to have positive influence in the surrounding countries." he adds. "All reforms here are also in Europe's interest because if we are democratic and prosperous, it gives Europe a strong partner and it can help influence our region."
Burchuladze is still cast as the Grand Inquisitor in next year's production of Don Carlo at London's Royal Opera House. He hopes his understudy is well prepared, because as things stand, Burchuladze is planning to stay in politics.
"I stopped my brilliant career in opera and people were telling me not to enter politics. 'It is not for the clean and beautiful people, it is just for dirty people,' they told me," Burchuladze says. "But I want to do this for young professionals in Georgia. I want politics to be for honest and good people.
"In 25 years, Georgian people have wanted to support and serve our government, but I want to make it the opposite. We shall make it so that the government serves you."