Meet the Owners of 'What the Duck,' the Rubber Duck Store That's Gone Viral on TikTok
When walking through Falmouth, Kentucky, you might be greeted with an unexpected pop of color and a sign that reads "What the Duck!" That's the name of a boutique that's probably unlike any shop you've seen before—it's one that specializes in rubber duck merchandise. And that adorable inventory is precisely the reason why "What The Duck! The Rubber Duck Emporium" has become a viral sensation on TikTok, even before it's expanded from local clientele.
The building's yellow door opens to welcome patrons into a yellow and blue sanctuary filled with nothing but rubber ducks—and a few other rubber duck–themed items. It's the design of 19-year-old owner Michael English and his co-owner and girlfriend, 18-year-old Bethany Beckett.
If you're in the market for (or just plain curious about) rubber ducks, look no further. The store's ducks come in a variety of colors, designs and professions. What the Duck's shelves are stocked with duck teachers, duck surfers, duck gladiators, duck musicians and duck astronauts. You may even stumble upon a two-headed rubber duck, or one that resembles Baby Yoda. The options seem endless, and What the Duck will even customize a clay duck to suit your duck-buying needs if the other options don't suit what you're looking for.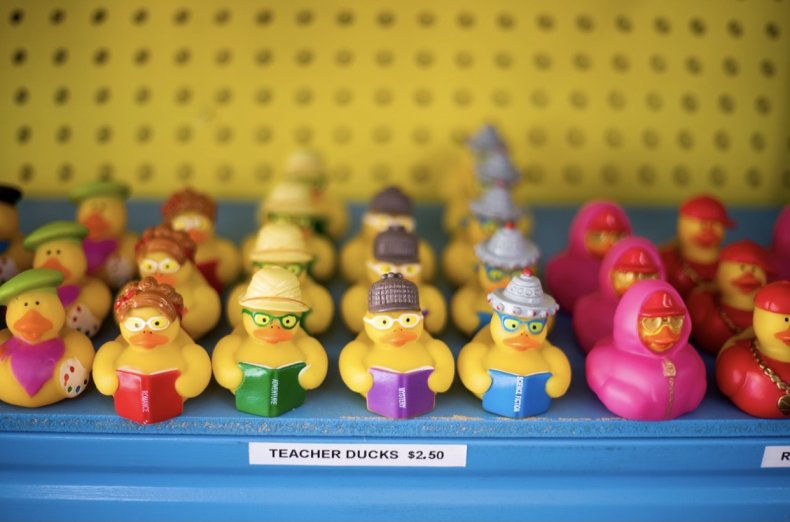 Of course, if you don't have use for a small duck, you may be questioning the purpose of a store with such niche merchandise. But despite English hearing questions from townsfolk—and the internet—his dream to open a duck store has been successful. So much so that What the Duck has built quite a following on TikTok.
English began publicizing his new business on the video app in September, and he's since grown his account to more than 350,000 followers. His individual TikToks, which dive into the inner-workings of the store and his and Beckett's sense of humor, sometimes reach millions of viewers. It's painless promotion for the shop, which is doing incredible business, according to English.
But sales aren't English's ultimate goal. "I began to notice not only my town but the whole country was lacking positivity," he told Newsweek, referring of course to the cultural mood of 2020. "There just wasn't much to go around. I wanted to do something that would lighten up our gloomy town. Something that would blow people's minds and make them smile."
So, English and Beckett chatted about what makes them happy. They ended up thinking back to childhood and something they both enjoyed: rubber ducks. "My first Halloween costume was a duck, we both had rubber duck-themed bathrooms, we both had duck stuffed animals we loved as kids, and so on. And then it hit me. I wanted to create a rubber duck store," he said.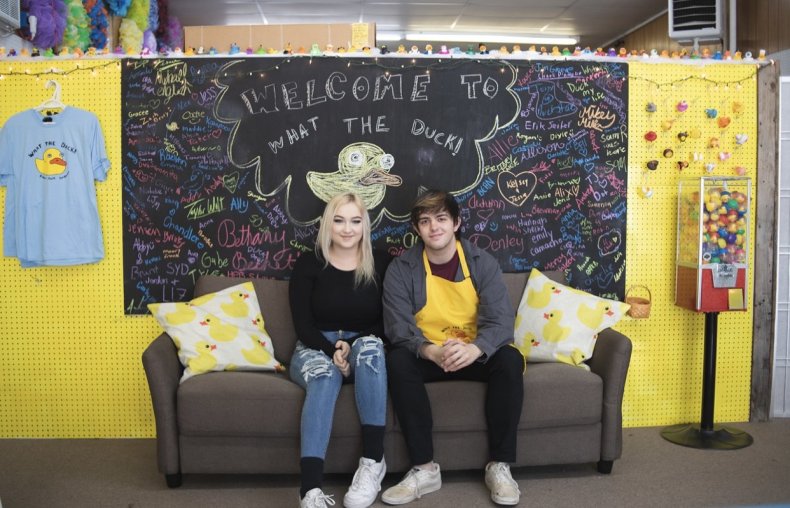 What the Duck! The Rubber Duck Emporium opened in October, as a continuation of those common childhood memories. And in keeping with that inspiration, Beckett and English aim to keep things fun both on and offline. The shop is open six days a week and, according to English's TikToks, they're spending an entire year of workdays dressing up as the rubber ducks they sell.
In every video, the connection between Beckett and English, as well as their personal love for the merchandise they sell, is apparent. As with any viral sensation, though, What the Duck has drawn hate and negativity from some viewers. There are comments on TikTok questioning how the shop can actually be a sustainable business. And some local folks apparently told English that he'd never succeed in such a limited market.
"So many people in my town doubted my dreams and said it would never work, but every day more and more people find themselves wanting to visit What the Duck," he said. "Not only are we running a rubber duck store, but the whole place is starting to double as a tourist attraction."
Regardless of skeptics and haters, the business has only grown since October. Just recently, the shop launched a digital shopping platform that includes international shipping, which is great news for the 350,000 TikTok followers that constantly inquire about the merchandise. Visit the comments section on any of English's videos and you're certain to find questions about shipping internationally and which specific ducks are currently in stock.
As passionate as he is about the shop, English knows that rubber ducks aren't the most essential products, or in the highest demand. But for him, it's not so much about the merchandise. "My entire mission here is to spread positivity. Some people might not need a rubber duck. And that's OK," he said. "But if they see my store and at least give a smile, then my day is made."
Whether you're looking for a rubber duck or in need of a smile, you can visit What the Duck! at 226 West Shelby Street, Falmouth, Kentucky, or follow English and Beckett's adventures every day on TikTok at @flippinmichaelbro.