Meet Peng Liyuan, China's First Lady to Be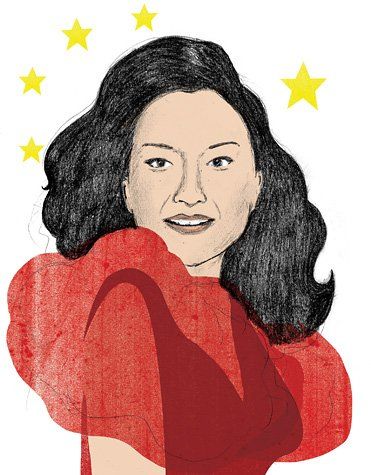 For proof of how weird political culture can be in China when compared with the West, consider this: in the aftermath of the country's once-in-a-decade political transition, government censors blocked the name of China's first-lady-to-be, Peng Liyuan, from Twitter-like microblogs. Ditto for references to her husband, Xi Jinping, the country's new Communist Party chief, as well as the search terms "Lady Peng," "Her Majesty the Empress," and, for good measure, "First Lady."
No matter. Peng is already wildly popular, having cemented her reputation as China's leading folk singer. Hundreds of millions of Chinese have been mesmerized by Peng's chiseled cheekbones, big hair, and dazzling outfits, which have ranged from Tibetan yak-wool robes to crisp military uniforms. Her status as a star—and her husband's role in politics—has even led to comparisons between her and France's glamorous former first lady, the singer and model Carla Bruni. But Chinese who know Peng—and their country's politics—say the analogy is flawed. For starters, Peng, 49, virtually disappeared from TV shortly after hubby was tapped as China's heir apparent in 2007. She's kept a low-profile ever since, working mainly as an ambassador for China's AIDS-prevention drive. Last February, just before Xi visited the U.S., Chinese authorities banned DVDs of some of Peng's more flamboyant performances from stores in Beijing. "Political sensitivities," explained one vendor.
In that sense, Peng, despite her celebrity status, is no different from previous political wives in post-Mao China who have largely shunned the limelight. This trend partly reflects a visceral backlash against the toxic legacy of Mao Zedong's last wife, Jiang Qing, a former B-grade Shanghai starlet who has been blamed for the bloody excesses of China's Cultural Revolution. It also partly reflects a longstanding Chinese tradition, which discourages women from dabbling in politics. "In ancient times, the empress was never allowed to cultivate her own supporters," said Li Yinhe, a sociologist and gender studies expert at the Chinese Academy of Social Sciences in Beijing. "And communist culture hasn't given official roles to first ladies."
Peng has yet to appear in public since Xi was annointed earlier this month as China's new leader; there was no highly publicized "victory embrace" between China's new power couple, like the one Americans witnessed between Barack and Michelle Obama. Yet ordinary Chinese like the Xi-Peng narrative, especially her admission that Xi knew he wanted to marry her just 40 minutes after they met—even though her parents initially opposed the match. "They married for love; it wasn't arranged. And that's romantic," says Li. "Communist cadres are often seen as robotlike, but Peng is warmly accepted by people." That acceptance has bolstered Xi's popularity at a time of considerable uncertainty in China. Perhaps politics in the East and West aren't so different after all.