Who Is Rhone Talsma? Man Who Ended Amy Schneider's 'Jeopardy!' Win Streak
It was the end of an era for Jeopardy! ace Amy Schneider on Wednesday, when her seemingly unstoppable run on the show came to an end after 40 victories.
The engineering manager enjoyed a sizable lead when going into Final Jeopardy, but found herself stumped on the clue, which was: "The only nation in the world whose name in English ends in an H, it's also one of the 10 most populous."
California-based Schneider failed to come up with the correct response—"What is Bangladesh?"—slicing $8,000 from her $27,600, and leaving her in second place while Rhone Talsma, who guessed correctly, emerged the victor with $29,600.
Schneider, who walked away with a grand total of $1,382,800, admitted after the game that she knew she was facing a formidable opponent in Talsma, as she said: "I had thought that Rhone was going to be tough going into it.
"I loved hanging out with him, we had great conversation before the taping, but I could tell that he was here to play and that he was going to be good.
"I still came very close to winning, but I did feel like maybe I was slipping a little bit. And once it was clear that he was fast on the buzzer, I knew it was going to be a battle all the way."
So who is the man that brought an end to Schneider's reign? Here's what we know about him so far.
Talsma is a multimedia librarian at Chicago Ridge Library who, according to his LinkedIn page, completed a Bachelor of Arts degree in Women's and Gender Studies from Illinois' DePaul University in 2015.
He then went on to earn a Master of Library & Information Science from the University of Illinois Urbana-Champaign in 2018.
"I'm still in shock, I'm still overwhelmed!" Talsma said in an interview with the Jeopardy! team following his win. The video can be viewed here.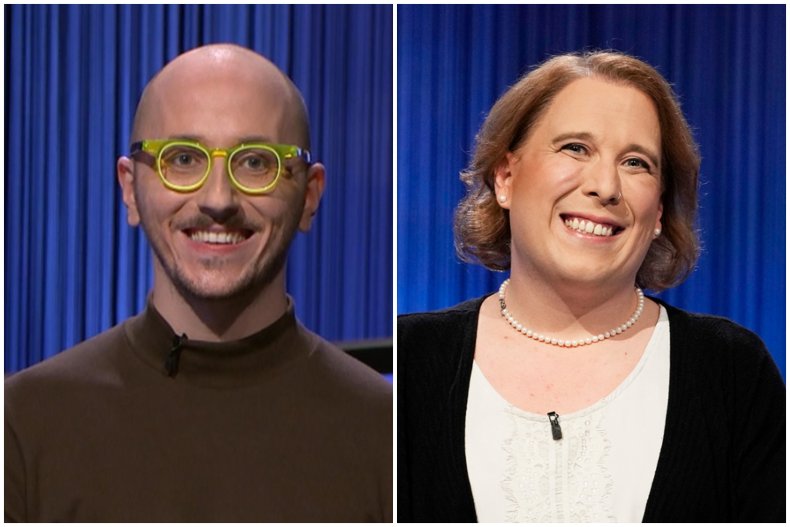 Talsma shared on Twitter on Wednesday that his debut episode was actually taped on November 9—days before Schneider's first win aired on November 17.
"I basically saw the ending of a movie and then watched it unfold in slow motion over two months," he wrote. "And had a cameo...this is a rough metaphor. It was cool to realize the performances I saw in-studio were clearly among her best!"
As he watched Schneider's run, Talsma said "it became obvious that this was more than just me slaying a giant—I slayed an undeniable legend, someone destined to have a unique & profound impact, especially on queer and trans communities everywhere."
He added: "This was a lot! I knew many would have intense reactions to the end of the Schneider Slaughterhouse—people who deride the recent influx of ultra champs would be relieved & excited, people who had become attached to Amy would resent me & compare me negatively to her."
In an interview with the Chicago Tribune, Talsma said that his very profession gave him the upper hand on his debut Jeopardy! episode, explaining: "It is literally in my job description to find answers to any question directed to me at the reference desk.
"Sitting at the desk for eight hours a day, I'm almost guaranteed to learn something new thanks to a question from one of our patrons."
While he doesn't have an area of "deep expertise," Talsma said that librarians have a reputation for doing well on Jeopardy! thanks to knowing a little about many subjects.
Like countless other contestants before him, Talsma has long been a fan of the show, making his winning episode something of a full-circle moment when he met all-time Jeopardy! champ and current host Ken Jennings.
"I remember watching Ken Jennings' winning streak when I was 11 years old and being amazed at how much he knew," said Talsma. "I've always just really enjoyed trivia, especially in subjects like geography and history.
"I'm also very competitive and usually perform well under pressure, so I figured with enough prep I wouldn't be half bad if I got on the show."
While Schneider told Newsweek in November that it had taken her more than a decade of trying before she finally won a place on Jeopardy!, Talsma revealed that his own path to competing on the show was slightly smoother.
He told the Chicago Tribune: "I started taking the online test about five years ago, and this was my first time actually getting to audition.
"Once I realized I had been cast, I only had about a month to study, so I dedicated some time to studying areas that I didn't feel that confident in—mostly Shakespeare and cinema.
"I feel like the best way to study for Jeopardy! is just to watch the show every day and pay attention to what subjects come up a lot and how the clues are worded."
Still, no amount of behind-the-scenes studying could have prepared him for becoming the man who unseated 40-time champ Schneider, who is second only to Ken Jennings in consecutive games won on the show. Jennings won 74 times.
"I am, first and foremost, incredibly proud of myself," Talsma said. "Getting on the show was in itself a huge accomplishment, and I had no expectation of winning, especially once I found out I was going against a record-setting champion.
"As a huge fan of the show, once I realized Amy's significance in Jeopardy! history, I felt incredibly humbled to play against her, let alone be the one to bring her streak to an end."
"I intensely admire Amy," he went on. "Her breadth and depth of knowledge is just unreal, and she is a kind, good-humored, confident-yet-humble person. Basically, she embodies all the traits I strive for in myself!"
After making her Jeopardy! debut, Schneider launched a new Twitter account, on which she has been sharing detailed play-by-plays of each of her games and fielded encouraging messages from fans. Her follower count has surpassed 100,000.
Talsma, who described Schneider as a "role model," admitted in his interview that she will be something of a tough act to follow when it comes to her popularity with fans of the show, which enjoyed a sizable boost in ratings during her win streak.
"There is the lingering nervousness around how I'll be received by fans," he said. "Amy is enormously popular, and I know that I'll likely be compared to Amy now, probably in an unflattering way.
"I know that many will comment on how luck played a role in my win, but one thing I learned from being on the show is that luck is a much bigger determining factor in anyone's Jeopardy! success than people realize."